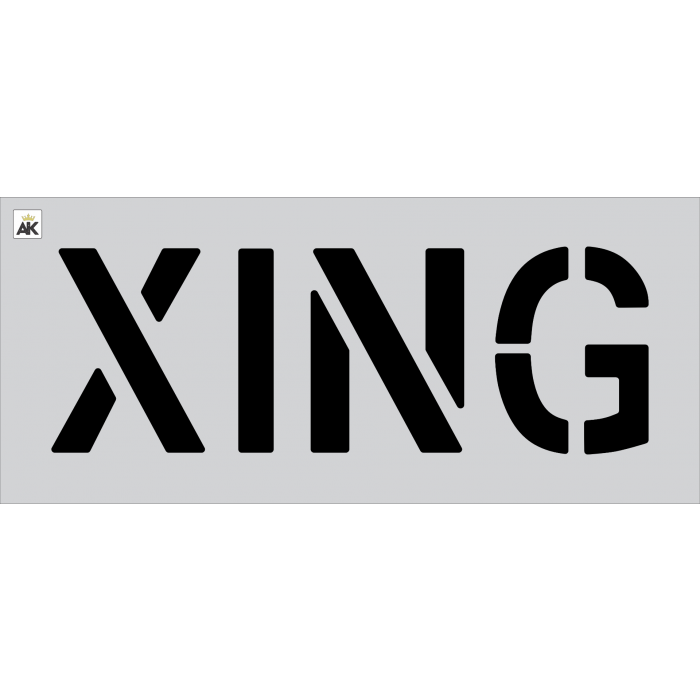 12-inch "XING" stencil ensures that your markings for pedestrian crossing are crisp, accurate, and properly aligned.
Read more
Highway pavement markings serve as a guidance system to inform motorists and pedestrians of proper traffic flow. The 12" XING" word stencil, when properly combined with "PED", creates a clear direction of where pedestrians should cross to avoid roadway accidents.
Using the right kind of tools and equipment is as important as the actual pavement markings you paint on. That is why our stencils are made from industry-grade LDPE material so they don't easily deteriorate and tear after continuous use. Pliable yet strong enough to endure up to 3000psi of spraying pressure, this stencil measures at 18" x 41" overall and comes in 4 different thicknesses.
The sturdy and rust-resistant .080" ALU is made with Type 5052 aluminum alloy and can last for years and years. The thickest variant in the LDPE line-up is the 1/8" (.125") PRO-Grade LDPE. Considered as the optimum choice among professional pavement contractors, this clear stencil allows you to see exactly where you need to lay down your pattern, so you only get accurate results every time. No more guesswork and hit or miss paint jobs. Next is the 1/10" (.100") Light-Duty LDPE which is half as thick as its Pro-Grade equivalent. Created for medium to light usage, this 100 mm stencil would work best for contractors that offer striping and pavement marking services as a sideline - meaning, usage is not as frequent and stringent as full-time service. The last variant is the 1/16" (.060") Light-Duty LDPE. Although the thinnest option available, this stencil type is highly favored by establishments and organizations that do their own restriping every few years.
Specification
| | |
| --- | --- |
| Ready To Ship | Yes |
| Stencil Height | 12" |
| Stencil Width | 35" |
| Stencil Type | Word Stencil |
Customer Reviews
Top customer reviews
Customer Questions
are these one time use? or can they be cleaned and used multiple times?
Most contractors clean them and use them a few times. If you are rough with stencils in general, it is possible they would crack on the first go but in general that hasn't been our experience. If you're looking for something with more reusability, we can provide a heavy-duty version of these - just let us know.