Asphalt and Blacktop Crack Fillers
From crack sealer cubes to bottles of liquid crack filler, Asphalt Kingdom has all the crack filler supplies you need to get the job done.
Page
You're currently reading page

1

Page

2

Page
Looking to buy crack filler online? You've landed in the right place. Asphalt Kingdom is your number one source for hot pour rubberized crack fill and liquid crack seal online.
What to Use to Fill Cracks?
Found hairline cracks on your driveway? Or maybe you're an asphalt contractor who's looking for the best crack filling product for sale online?
Whether you're a homeowner who's looking for an easy and affordable crack filling solution or a contractor whose priority is to find high-quality products, we've got you covered.
There are many options available for you to fill the cracks on an asphalt pavement. Check them out below.
Watch this video for more information on the differences between liquid cold pour and hot pour asphalt crack fill.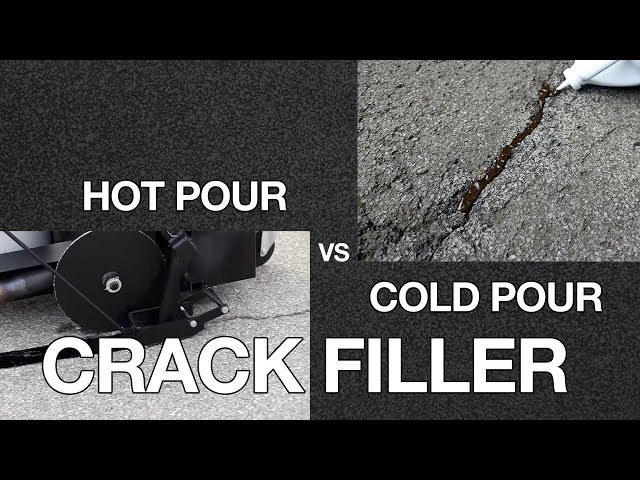 Alligator Cracking
Alligator cracks (also known as crocodile cracking) are characterized by narrow and shallow cracks that look a lot like spiderwebs.
This type of damage can show up just about anywhere on a driveway or parking lot. But they frequently show up in places where water frequently pools (like after a thunderstorm, for example). Crocodile cracks also form on the outer corners of a driveway's apron.
To fix this kind of asphalt crack, you can use Gator Patch. Gator Patch is an asphalt repair product that has a mud-like consistency and is spreadable.
This crack fill gets into those small cracks and fills them to create a tough, waterproof seal. It prevents water from seeping into the base layer and causing further damage to the pavement.
Gator Patch is a property owner's first line of defense against asphalt driveway or parking lot damage. Contractors, too, have been using it for many years to protect their customers' properties.
The good news? This patch is designed to be so easy to use that anyone – from ordinary homeowners to commercial property managers – can do it. Just pour the product onto the cracks, spread it using an asphalt squeegee, and let it dry and cure.
Shallow and Narrow Asphalt Cracks
Small asphalt cracks measuring between 1/8" and 1/2" can be fixed by using liquid asphalt crack filler or hot pour rubberized crackfill. Let's take a look at each of these options.
Liquid Crack Filler
The perfect solution for residential DIYers! Liquid crack fill has a consistency that resembles thick pancake batter and has a black-brown color. It works by adhering to the seams of the crack and dries into a tight, waterproof seal.
Liquid crack sealant is easy to apply, too. Simply unscrew the cap and replace it with the pointed plastic tip. Cut the tip and squeeze the contents of the bottle into the cracks. Make sure that the crack is filled properly to create an even surface.
It is applied into the crack using a U-shaped or V-shaped squeegee.
Hot Pour Rubberized Crack Fill
Asphalt cracks wider than 1/2" require a tougher and longer-lasting product, such as hot pour rubberized crack fill.
This parking lot and driveway repair product come in large cubes that are melted in a crack filling machine. Once the entire block is melted, it is applied using a melter-applicator or a pour pot.
Rubberized crackfill is typically used by contractors to repair midsize to large commercial parking lots and driveways. Many large commercial property owners and managers (e.g. airports, large shopping malls) also use this product to repair their pavement assets themselves.
Large Asphalt Cracks
Large asphalt cracks and potholes are a sign that the pavement has been neglected for many years. It can also mean that it was so poorly constructed it disintegrated prematurely.
In any case, this type of damage needs to be repaired immediately or property owners will find multiple mini lakes in their pavement.
To fix wide cracks, contractors can use Cold Asphalt Patch or Aquaphalt 6.0 Concrete and Asphalt Patch. Just place the product into the crack, activate it with water (if the product is water-activated), and compact it with a plate compactor or a tamper tool.
Asphalt Kingdom's Crack Filling Store: Your Ultimate Destination for Asphalt Care
Looking for the best crack filler online? Welcome to Asphalt Kingdom's Crack Filling Store, where quality and durability come together.
Here's why you should make us your first stop for blacktop crack filler.
Premium Quality. Every product on our shelf is rigorously tested to ensure it meets the highest standards. Say goodbye to subpar results and hello to a flawless finish.
Expert Guidance. Not sure which crack filling material is best for your needs? Our seasoned experts are always on hand to offer advice, ensuring you make the perfect choice every time.
Economical Choices. We believe in delivering value. With our products, you're investing in long-lasting repair solutions, reducing the need for frequent touch-ups.
Fast Shipping. Need your crack filler in a hurry? Trust in our speedy dispatch and delivery system to get your product to you in no time.
Proven Track Record. Thousands of satisfied customers can't be wrong. Join the ranks of those who have discovered the Asphalt Kingdom difference.
How to Apply Asphalt Crack Fill
The application method depends on what type of asphalt crack fill you're using.
A U or V squeegee is used to fill cracks with liquid crack fill. It's that simple. You can also use a pour pot bander to apply this type of crack filler.
It gets a little more complicated if you're applying hot rubber crack fill. You can use a melter kettle to liquefy a cube of crack sealer. You can apply it using a crack pour pot or a pour pot bander. Asphalt crack fill can also be melted inside a high-capacity melter oven.
But these crack sealing methods can sometimes take too long. As an asphalt maintenance contractor, you hate downtimes and want to make the process more efficient.
That's why we recommend that you use a portable crack filling machine to melt and apply crack filler. Asphalt Kingdom offers a wide range of crack filling machines that suit every property owner and contractor's needs. So go ahead and check out our crack filling equipment store.
Melt and apply crack filler for asphalt. Load the cube inside the machine. Wait for the temperature to reach 350°F.
Once the regulator exceeds 350°F, turn it down. This will prevent the hot rubber asphalt crack filler from crystallizing. If it crystallizes, it will become unusable.
Next, apply crack sealer efficiently using the "Conga Line method."
But what is the "Conga Line method?"
In this method, one of your crew will perform surface prep. He will then be followed by the leaf blower operator.
Once the surface prep and cleaning crew are done, they will be followed by the crack filling machine operator. Let it cure completely before using the driveway, road, or parking lot again.
Buy Bulk Asphalt Crack Sealer
Can't find the right asphalt crack filling products at your local store? Asphalt Kingdom's got you covered.
We have bulk crack fill available for contractors and property owners. Just visit the Asphalt Kingdom crackfill store to see which product suits your needs. You can also contact us or dial 1-866-399-5562 to talk to one of our crack fill experts and determine how many boxes or pails of asphalt crack filler you will need for your project.
Asphalt Crack Filling Calculator
Use our Crack Sealer Calculator to estimate quantities based upon the total linear feet of cracks that you need to seal.
Asphalt Crack Filler Calculator
Let us help you determine what you need.
Need advice on your crack filling project or want to place an order? Call us at 1-866-399-5562
Superior Blacktop Crack Fillers for Lasting Repairs
Revitalize your pavement with our premium blacktop crack fillers. Engineered to effectively seal and mend surface cracks, our products ensure enduring and seamless repairs. Trust in the durability and quality of our crack fillers to enhance the integrity and appearance of your surfaces. Say goodbye to unsightly cracks and welcome a smoother, more resilient pavement.