RY10 Asphalt Crack Fill Machine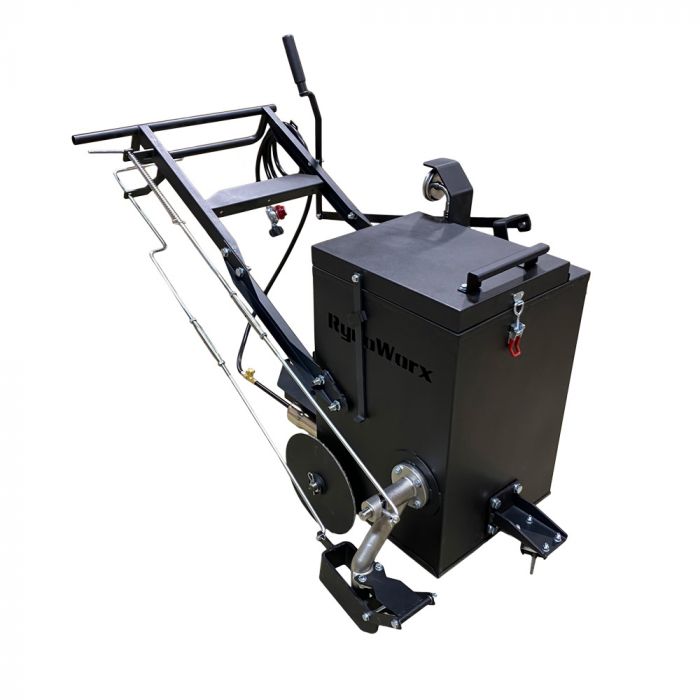 Add AK Make it a Biz Success Pack - Free With Purchase
Unlock your asphalt maintenance business's full potential with the AK Make it a Biz Success Pack, equipping you with expert-crafted tools and exclusive access to the AK Roundtable for accelerated growth and profitable opportunities.
Learn More

Make it a Biz Success Pack
Melt and apply rubber asphalt crack filler very easily at walking speed with the RY10 Asphalt Crack Fill Machine.
Read more
Fill asphalt cracks at walking speed and make money with the RY10 Asphalt Crack Fill Machine.
Easy-to-operate — virtually anyone can do it
Affordable entry-level machine
Neater and faster crack filler application
FREE SHIPPING
Delivered in: 7 to 10 Business Days
Add These To Minimize Your Effort!
Fill Cracks In Minutes With The RY10 Asphalt Crack Fill Machine
An asphalt crack filling equipment designed and engineered to melt down rubber cubes of hot pour crack filler and apply it at walking speed.
The 12.5-gallon melter and applicator crack fill machine is a safe and fast way to fill asphalt cracks. No more transferring molten crack filler from a melting kettle to a pour pot. Simply light the propane burner, drop in a brick of rubberized crack filler, and in less than ten minutes you'll be sealing cracks.
Seal cracks at walking speed. Heat and go.
Steel design means virtually no maintenance.
Shipped quickly right to your place of business.
The RY10 parking lot crack sealer machine is designed to melt down rubber cubes of crack filler and apply it in cracks at walking speed. Fill twenty-five feet worth of cracks in just 15 seconds. That's $10 in profit in just 15 seconds. It's a 2-in-1 unit designed to melt down rubber cubes of crackfiller and apply it at walking speed. Anyone can do it.
What Other Customers Say:

"I run your ry10 standard melter and it has been a great unit."


Gil Porter




Black Cat Asphalt Sealing
The RY10 blacktop crack fill equipment comes standard with a handy manual agitation. The optional Ergokit upgrade provides on-the-fly paddle agitator on the handlebars, which allows you to agitate the crack filler while pushing the machine. The agitator mixes the crack filler in the kettle so it melts faster and prevents blockage in the drain valve inside the kettle.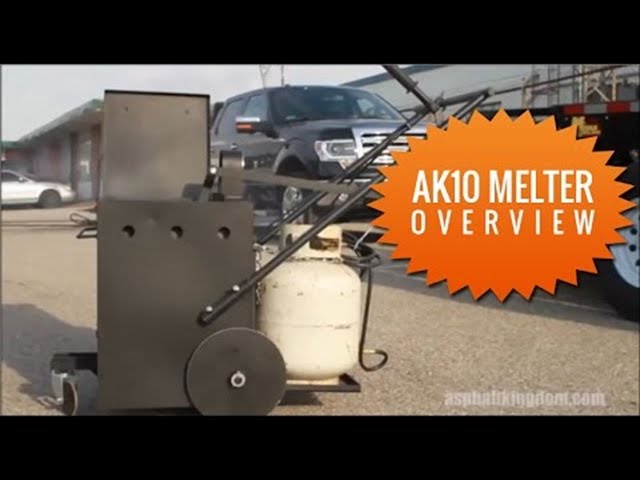 Choosing the Best Asphalt Driveway Crack Filler Machine
This crackfill machine is perfect for asphalt maintenance contractors or DIYers looking to fill cracks on parking lots or driveways. While the RY10 is the traditional introductory melter for crack repair, we highly recommend upgrading to the RY10 PRO with a halo-enclosed base burner and no flameouts. It's much safer, more productive and allows you to maximize your business further!
Feature

RY10

Wheels

3

4 for greater maneuverability and stability

Burner

Torch

Halo base burner melts crack filler down 50% faster than torch models

Saves 50% propane vs torch melter

Protected from wind and includes flame out sensor

Starter

Manual flame ignition

Enclosed electrical push-button starter

Agitation

On-The-Fly

On-The-Fly

Kettle

12.5 Gallons

12.5 Gallons

Propane Security

Heavy duty ratchet straps

Heavy duty ratchet straps

Kettle Tilt

None

Forward tilt in case of overloading

Handlebars

Adjustable from 35"-42"

Adjustable from 35"-42"

Valve

1.25" RynoValve with Drip Stop

1.25" RynoValve with Drip Stop
The RY10 Crack Fill Machine Includes:
1) Heavy duty bracket protects thermometer from accidental damage while in transit or during operation. You need your temperature gauge to operate your melter so be sure to protect it from damage.
With reliability and performance in mind, we've spent countless hours engineering this asphalt crack sealing machine that has now become one of our top sellers.
2) Optional Ergokit provides on-the-fly agitation. This allows you to agitate (mix) the crack filler while pushing your RY10 at walking speed. This prevents you from having to walk around the side of your machine to mix the rubber that is melting. It also prevents you from getting smoked since you're mixing from behind the machine instead of directly above the kettle chamber. It melts the crack sealer down much faster. And it prevents the valve from clogging on the inside of the kettle. Blockage can cause timely delays that prevent you from being as profitable.
3) Fully Equipped with CSA/UL approved regulator to provide precise control over fuel flow to the kettle.
Crack Fill Machine that's Easy to Use
One of the crack filler machines that is extremely easy to operate and comes with a detailed operating manual. Using the asphalt crack sealing machine is as simple as pushing a lawnmower or grocery cart.
Simply open the top lid of the kettle. Place your block of crack filler into the main chamber.
Light your torch and heat the machine up to 350°F. Allow the material to turn from solid to liquid form. Make sure to use your agitator to mix the crack filler while it's going through its melting process. This will allow you to melt the crack filler faster.
Once the crack filler is in liquid form, you can go ahead and start to apply the crack filler at walking speed. Be sure to let the crack filler block melt down completely before you start your application process; otherwise, you will be working in a stop-and-go fashion.
Grab the push handle with two hands and make sure the machine's applicator is over the asphalt crack. Squeeze the trigger lever that opens the valve down on the right hand side of the machine and push the machine, following the asphalt crack.

The valve will open and liquid crack sealer will flow down the application spout out into a horseshoe shaped scraper.
Don't overfill the horseshoe shaped scraper: it will overflow out on the edges. The horseshoe shaped scraper is on a pivot arm designed to follow the contour of the asphalt.
The scraper smooths out the crack filler and creates a watertight seal on the asphalt cracks. This prevents water from getting into the asphalt cracks, eroding the foundation or freezing and expanding and causing further damage to the asphalt investment.
If you have a lot of cracks to seal I recommend that you continuously feed the blocks of crack filler into the hot liquid inside the kettle. The solid cubes will melt faster this way and save you melt down time.
Here is an analogy we like to use: Imagine having a glass of hot water and placing an ice cube inside of that glass of hot water. The ice cube would melt much faster compared to if it was placed into an empty glass. The same applies to crack sealer blocks. If you place it in the melted material and submerge it, you will experience faster melting and be more productive.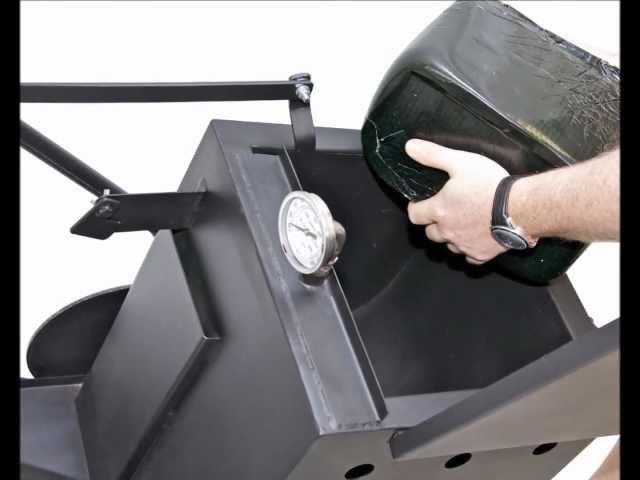 Quality and Reliability
We understand how important it is to have a reliable equipment to get your crack jobs done professionally. We have spent countless hours developing these machines with tour in house engineer. Our goal was to create a rugged machine that will hold up with the environment that it's working in and at the same time being extremely productive for you.
If you take a close look at the photos and videos you'll notice that the quality is really second to none. The precision welds are neat and strong, the parts and pieces that make up the unit are all top quality assuring you that you're getting a reliable long lasting unit that is safe and productive.
Asphalt Maintenance Contractors Should Own a Crack Sealing Machine!
The expected margins that can be earned when sealing cracks are around 70%. Most contractors charge $0.50 to $1.00 per linear foot for this service.
If you do some quick math, you'll soon see that earning $250 to $500 is easily achievable. Most driveways in North America range from 400 to 600 square feet and generally have 100+ feet worth of cracks. Parking lots have even more making this an excellent opportunity to add an additional monetization vertical to your business.
If you've used liquid pour crack sealants you know that the quality is substandard to that of solid hot pour rubberized. Generally, liquid crackfiller is water-based and only lasts for 6 months to a year. Homeowners generally use it. Solid hot pour lasts for up to three years and is recommended for contractors to use as its quality and lifespan is much better. The rubber-based compounds in the material have oil-based properties which allow for better bonding to the crack walls and takes way longer to break down compared to water-based.
Whether you're maintaining your asphalt parking lot yourself or providing asphalt maintenance services as a Contractor, we've developed a detailed crack sealing repair guide that will guide you through the step-by-step crack repair process that will give you the best results.
We understand that you need quality sealcoating equipment and supplies to get the job done right. We don't want you in the fog trying to figure things out. Our expert team at Asphalt Kingdom will help advise you on your project and make sure you're selecting the right asphalt crack sealing machine and sealing supplies.
For Expert Advice on selecting the right unit or to place your RY10 order, call toll free 1-866-399-5562.
Crack filler Calculator
Let us help you determine what you need.
Specification
Shipping Dimensions
Box 1: 26" x 26" x 10"
Box 2: 26" x 26" x 20"

Shipping Weight
Box 1 75 lbs
Box 2 98 lbs
Total 173 lbs

Assembled Dimensions
47.0" x 26.7" x 48.8"
Empty Weight
148.2 lbs / 67.4 kg
Max Capacity Weight
270.7 lbs / 123.0 kg
Fluid Capacity
12.5 US Gallons
Kettle Steel Thickness
14 gauge
Fuel Type
Propane
Max Fuel Pressure
30 psi
Burner Type
150,000 BTU/hr
Heating Torch
Valve Type
1.25" RynoValve™
Agitation Type
On-the-fly
Customer Reviews
Top customer reviews
I'm satisfied with it. Great products. Everything that I've purchased works great! It's worth Sharing!

I run your ry10 standard melter and it has been a great unit.

It is a wonderful product

It is a wonderful product, I love it, I used it twice already and it has saved me tons of money.

Je parle français et mon contact a cette endroit est Jennifer elle donne un super service merci beaucoup

Great Company with great products and service.

I would recommend Asphalt Kingdom to all in the Asphalt Asset maintenance industry.

After getting multiple quotes to seal my own driveway from between $1900-2800. (7000 Sq ft) I decided to buy this machine to fill the cracks and seal my driveway myself. Now I own the machine. Takes a good half an hour to get the crack filler melted nicely. Took about half an hour to build. Highly recommend for commercial or residential users.

Great Quality machine, but it does have one issue that keeps it from being a 5 star, the flame blows out very easily with a slightest of a breeze. I wish that Asphalt Kingdom would come out with a fix instead of offering a newer machine that address's this issue. Otherwise it's a good quality for the price machine.

Very nice product and super easy to put together! Shipped quick! Good quality powder coated parts! One part was damaged in shipping and was quickly replaced by action seal! It's maneuverability is awesome, the video on line doesn't do it justice it's easy to use!

we are very happy with the RY10. We were surprised and amazed that the machine was able to do that. we are surprised that it was very easy to fill the cracks using the RY10

The RY 10 arrived very quickly in two boxes - one 64 lbs and one 94 lbs. Solidly packed and no damage. I took my time to assemble it and it took about 2 hours from opening the boxes and it being ready to go.
I put in one block of filler and fired it up. And I mean fired it up. I had the burner up to about 5 ( just off the 0 mark) and it hit 400 ( red line) in about 10 minutes. I turned some of the paint white. I backed it to the two turns of the regulator ( as they said to do) and it dRead moreid take a bit longer, but it still melted nicely. I did repaint the damage with a high temp paint to keep it looking nice.

When I was done with the first half, I shut the unit down. It had filler in it, and the next day the tube below the valve was clogged as expected. When the filler was melted, I took the torch and lowered it a bit and used it to heat the valve and tube and it cleared in a few minutes.

I did make the mistake of pushing down on the handles when rotating the machine 90 degrees. That raised the foot and I dumped some filler. Let it rest on the ground.

I got this for home use/ maintenance so I need to roll over a lawn. The metal wheels of course sink in, so I used a dolly to move it.

Please understand that nothing said above is a complaint - just letting you know what I did. It worked great and saved me a ton of money and time.

Too be honest. Excellent service. Shipped and delivered in 48 hours. Couldn't ask for better service. Extremely impressed.
Start your Asphalt Maintenance Business with the most in-demand service!
Looking at doing crack repair as a business? Make your success inevitable with these valuable add-ons, yours free with purchase at Asphalt Kingdom!
You get:
Role-Playing Video

with Judd Burdon: find out exactly what to say when you pitch your business to customers, and how to answer their most common objections.

Crack Filling Proposal Template

: a professionally designed form that you can fill in and print off — convert more business when you look pro from the get-go.

Customizable Social Media Templates

: swipe these great graphics and post them on your Facebook or Google My Business pages — get valuable leads with these proven templates!

Phone Script

written by Judd Burdon for you or your sales team to use when prospecting new business.

Exclusive Access to AK Round Table Meetings

: join us on a weekly Zoom call and get answers to any questions you have about your business.
You don't need to spend valuable time learning in the school of hard knocks — take advantage of the experience we've gained helping 1000s of clients start their own business.
Just click 'Make it a Biz' when you add this product to the cart, and we'll send you all of the above absolutely free. Welcome to your asphalt kingdom.
Starting an asphalt maintenance business can be scary if you don't have the resources you need to succeed. Let us do the heavy lifting for you. Make It A Biz!
Customer Questions
What type of grease do I use to lube up the RY10 and RY10 Pro valve?
White lithium grease.
I have left over tar in my machine. Is it okay to leave it there and reheat it at a later time?
Absolutely! You just have to heat it up again when you are ready to use it.
How soon can you drive on newly filled cracks?
As soon as the crackfiller comes down to ambient temperature - sometimes as soon as 30-45 minutes when it is hot, and more quickly in cooler temperatures. Test with a stick: if you push down on the crackfiller and the crackfill doesn't tack to the stick, you're good to drive on it.
Does machine come with burner?
This unit comes with an external torch as its burner system. The RY10's big brother, the RY10 Pro, has an enclosed halo base burner.
How long does it take to melt a full pot on start up?
It takes approximately 30 minutes to get a full pot on start-up. If this is your full-time business, we'd recommend upgrading to the RY10 Pro which cuts melting time in half with its halo-shaped burner. For occasional repairs, the RY10's melting time is probably not an issue.
The torch will not ignite or the torch will not stay lit
Possible Causes
1) The fuel level could be too low
2) The propane cylinder valve could be partially or fully closed, which can restrict fuel flow
3)The pressure regulator valve may be in the off position or may not be providing sufficient fuel flow

Known Solutions

1) Check and refill your fuel tank
2) Ensure your fuel valve is fully open. You can do this by turning the knob fully counter-clockwise
3) You may increase the pressure from the regulator by turning the knob clockwise
If the weather is really hot, should I still be crack filling?
The crack sealant can be used in high-heat situations like deserts, but it has also been proven to stay flexible down to -0°F.
When melting the rubberized crack filler, does the whole block with plastic wrapper go into the melter kettle?
Yes, you can put the whole block into the melter kettle along with the plastic cling film. Don't worry because including and melting the plastic film is 100% safe. Plus, it will not affect the adhesion or the performance of the rubberized crack filler.
How do I clean the rubber off the RY10's shoe and wheels?
Use the RY10's torch to soften the crack fill on the shoe and wheels. You can then use a scraper (you can use a flathead screwdriver for this) to remove the softened rubber.
The asphalt comes out too quickly even by barely touching the release valve, is there something I can do to get the flow slower, or the release less touchy?
To make it a little easier to control the flow of the crackfill:
Lower the temperature of the kettle and it will cause the rubber to flow more slowly.
Lengthen the control arm for the valve by adjusting the turnbuckle. That way, you will be able to have the handle closer to the handlebars, and your hand will be more closed, which should provide more control for the valve operation.
How often should I clean my crack repair machine?
It's good to clean it out completely after 5 uses; otherwise there is a possibility of charring rubber in areas where there may be multiple layers of rubber built up.
To clean it, heat it up and scrape it out with a scraper on a broom handle. Then start fresh with a brand new box of crackfill.