Deery Super Stretch Crack Sealant / Filler - 36 Boxes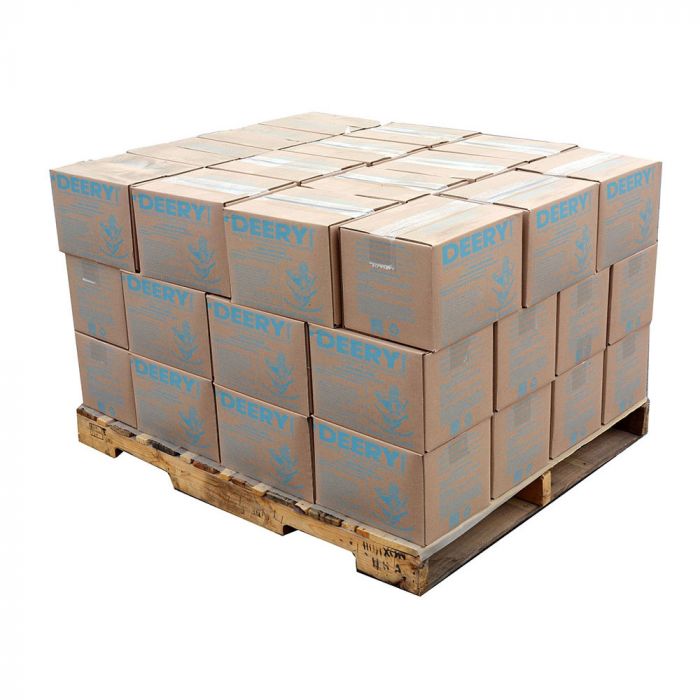 Add AK Make it a Biz Success Pack - Free With Purchase
Unlock your asphalt maintenance business's full potential with the AK Make it a Biz Success Pack, equipping you with expert-crafted tools and exclusive access to the AK Roundtable for accelerated growth and profitable opportunities.
Learn More

Make it a Biz Success Pack
You save 60% buying Deery Super Stretch Asphalt Crack Sealant / Filler by the 1/2 pallet!
Read more
36 boxes of high-quality and long-lasting Deery Super Stretch Crack Filler. 7,200 linear feet of crack coverage.
Make $7,200 Per Pallet
3 to 4 Year Lifespan
30 Minute Fast Dry
Free Shipping to commercial address with a dock or forklift
Delivered in: 5-10 Business Days
Add These To Minimize Your Effort!
Never Run Out of Asphalt Crack Sealants All Season Long with the Deery Crack Filler (36 Boxes)
Filling cracks in asphalt is key to protecting the lifespan of the pavement. Our Deery Super Stretch Asphalt Crack Sealant is a fast-curing crack filler that dries in just 30 minutes. Everyone can drive on it virtually immediately.
Commercial-grade crack filler used by airports country-wide
Save money when buying a complete pallet of asphalt crack filler vs 1/2 pallet. Call to save: 1-866-399-5562
10-year shelf life. Store and use it as needed
Deery Super Stretch parking lot crack filler is easy to use. Just place the 30-lb bag directly in a direct-fire melter or oil-jacketed melter, heat to 380-400°F, and go!
Applying Deery Super Stretch Crack Filler
Deery Superstretch crack sealers are suitable for pavements 40°F (4°C) in temperature or warmer. Once the product has reached the right melting temperature, use a melter-applicator like our RY10 or RY10 Pro, RY10 Elite. A larger melting machine and putting some product in a crack pour pot to apply is also an option.
The crack filler can be used in high-heat situations like deserts. But it has also been proven to stay flexible down to -0°F. That's a great range, and it guarantees fixes will hold through all types of weather.
We do not recommend leaving the crack filler simmering at high heat for long periods of time. It can be cooled and reheated as needed, but prolonged heating can damage the sealer.
Unlock Superior Asphalt Maintenance with Deery Crack Sealant
When it comes to maintaining the integrity of commercial and residential parking lots, choosing the right product is crucial. With 36 boxes of Deery Crack Sealant at your disposal, you're not just investing in a temporary fix; you're securing the future of the pavement.
Advantages of Using Deery Crack Sealant
Exceptional Durability. A standout feature of this product is its robust formulation. Unlike ordinary crack fillers, Deery Crack Sealant offers a bond that can withstand varying weather conditions, heavy vehicular traffic, and the test of time. The result? Fewer reapplications and longer intervals between maintenance tasks.
Economical in the Long Term. While initial costs are a factor, consider the savings you'll reap in the future. By opting for a high-quality sealant, contractors minimize the frequency of costly repairs and overhauls. Over time, the savings accumulate, making Deery not just a product but a smart investment.
Versatility. Ideal for both commercial and residential parking lots, Deery's superior formulation caters to a variety of asphalt needs. From high-traffic commercial zones to the gentle wear and tear of residential spaces, this product has got you covered.
User-Friendly Application. Its easy-to-use properties ensure a smooth application process, allowing for a more efficient and quicker sealing experience.
Enhanced Aesthetics. A well-maintained parking lot speaks volumes about a property's value. With Deery Crack Sealant, property owners can restore the pristine appearance of asphalt, making it visually appealing while simultaneously extending its lifespan.
For contractors aiming to offer their clients the gold standard in asphalt maintenance, Deery Crack Sealant is a game-changer. It doesn't just promise results; it delivers them. Make the switch today and see the difference. Elevate your service, boost your reputation, and enjoy the savings that come with a job well done.
What Other Customers Say:

"Top Shelf! I started Wyoming Asphalt Repair with Asphalt Kingdom equipment and material. I am very impressed with the how great the equipment runs and how great the material works. Their customer service and sales team is top shelf!!"


Johnny Bublich




President, President of Wyoming Asphalt Repair, LLC
Use Deery Super Stretch Crack Filler the same places the pros use it:
Airports
City streets
Parking lots
Asphalt joints to new pavement
The asphalt crack filler is perfect for areas that receive a lot of ice and snow. Plus, it's highly waterproof and salt-resistant. Use it on any asphalt cracks or joints up to 1.5" wide. With wider cracks, take a look at our patching and pothole options.
This is a half pallet listing. If more crack filler is necessary, give Asphalt Kingdom a call and see how we can help. Our team of experts would love to help find the correct quantity and shipping solution.
We ship the best asphalt driveway crack fillers to your place of business. Send us an email or give us a call for more information.
Note: We are happy to offer FREE SHIPPING to the Continental United States (Alaska and Hawaii are not included; please call for a shipping quote.) Residential, limited access, lift-gate, and deliveries to remote areas will be subject to extra fees. An additional $150 per pallet is also required for West coast shipments - Arizona, California, Colorado, Idaho, Montana, Nevada, New Mexico, Oregon, Utah, Washington, and Wyoming.
Crack filler Calculator
Let us help you determine what you need.
Specification
| | |
| --- | --- |
| Ready To Ship | Yes |
| Shipping Weight | 1220 lbs |
| Shipping Length | 48 |
| Shipping Width | 40 |
| Shipping Height | 36 |
| | |
| --- | --- |
| Flow @ 140°F (60°C) | 1 mm maximum |
| Low Temperature Flexibility | Pass @ 0°F (-18°C) |
| Softening Point | 200°F (93°C) minimum |
| Resilience | 60% minimum |
| Curing Time | 30 minutes maximum |
| Recommended Application Temperature | 380 - 400°F (193 - 204°C) * |
| Maximum Heating Temperature | 400°F (204°C) |
| Warranty | Manufacturer warrants that these products meet applicable ASTM, AASHTO, Federal or State specifications at time of shipment. Techniques used for the preparation of the cracks and joints prior to sealing or filling are beyond our control as are the use and application of the products; therefore, manufacturer shall not be responsible for improperly applied or misused products. |
Customer Reviews
Top customer reviews
We could not be happier with our business relationship with Asphalt Kingdom. The products are top quality and the customer service is excellent. Thanks guys.

Crackfilling and Sealcoating are really simple

Everything is fine. It took me a little bit of a learning curve. The videos on the website are really helpful for a starter like me. I realize that Crackfilling and Sealcoating are really simple. You just need to get the right equipment for you. I'm happy with my purchase looking forward to doing more business with you in the future

We love the product. We use it around our facility just doing maintenance on concrete and asphalt. So far the repairs are holding up pretty well!

I'm satisfied with it. Great products. Everything that I've purchased works great! It's worth Sharing!

The RY10 PRO worked well and the crack sealers helped us have it sealed. We will just wait for the time that we need to seal again.

Fantastic product, and service. Pallets always arrive within days of ordering and the quality of the crack filler is superb. We order from Asphalt Kingdom exclusively.

I'm totally happy with it

I'm totally happy with it. In fact I just got you recommending this product to somebody else, another property owner here. I know he'll be placing an order this winter.

Glenn is the bomb!!!! Thank you for your wonderful service!

The Deery works perfect and arrived on time with no problem.

The experience has met our expectations.

It's better than what other people

I think it's good and the sealer itself I think it's better than what other people have used in the past.

I was about to order more

Sounds fine, as a matter of fact I was about to order more.

Great service and follow up

Thanks for the great service

Product is great to work with

We ordered on May 2nd and received our shipment on May 8th. Appreciate the fast shipment and we will be ordering from you again.
Start your Asphalt Maintenance Business with the most in-demand service!
Looking at doing crack repair as a business? Make your success inevitable with these valuable add-ons, yours free with purchase at Asphalt Kingdom!
You get:
Role-Playing Video

with Judd Burdon: find out exactly what to say when you pitch your business to customers, and how to answer their most common objections.

Crack Filling Proposal Template

: a professionally designed form that you can fill in and print off — convert more business when you look pro from the get-go.

Customizable Social Media Templates

: swipe these great graphics and post them on your Facebook or Google My Business pages — get valuable leads with these proven templates!

Phone Script

written by Judd Burdon for you or your sales team to use when prospecting new business.

Exclusive Access to AK Round Table Meetings

: join us on a weekly Zoom call and get answers to any questions you have about your business.
You don't need to spend valuable time learning in the school of hard knocks — take advantage of the experience we've gained helping 1000s of clients start their own business.
Just click 'Make it a Biz' when you add this product to the cart, and we'll send you all of the above absolutely free. Welcome to your asphalt kingdom.
Customer Questions
How many linear feet does the crack fill cover?
6.7 linear ft of coverage per pound of crackfiller. This means you get 200 linear ft per 30 LBS box of crackfiller.
7,200 linear feet per half pallet of thirty six 30 LBS boxes
15,000 linear feet with a pallet including seventy five 30 LBS boxes.
What should the pavement temperature be to crack fill?
You can fill cracks as long as the pavement is 40°F or warmer. If it is colder but you need to fill cracks, use a heat lance to heat the pavement up before you apply it.
What temperature does the crackfiller need to be to flow?
The best temperature for heating your material to is 380 - 400°F (193 - 204°C) ; any higher than 400°F may severely damage product. Prolonged heating can also damage the product - heat it only when you are ready to apply it.
How long can I keep unopened crack sealant?
Our crack filler has a shelf life of 10 years unopened. It's why so many of our customers choose to take advantage our half-pallet and pallet offerings: the savings are so high it is worth storing them until you need them. It can be stored outside; just cover it with weather-resistant pallet wrap and keep it out of the sun.
I have left over tar in my machine. Is it okay to leave it there and reheat it at a later time?
Absolutely! You just have to heat it up again when you are ready to use it.
How soon can you drive on newly filled cracks?
As soon as the crackfiller comes down to ambient temperature - sometimes as soon as 30-45 minutes when it is hot, and more quickly in cooler temperatures. Test with a stick: if you push down on the crackfiller and the crackfill doesn't tack to the stick, you're good to drive on it.
If the weather is really hot, should I still be crack filling?
The crack sealant can be used in high-heat situations like deserts, but it has also been proven to stay flexible down to -0°F.
What type of sand can I put on top of the cracks if traffic needs to drive on it and it is not completely hardened yet?
Silica Sand is best.
Once the temperature hits 380 on the RY10 pro, how do I stop it from getting hotter?
Turn the regulator down. We do not recommend leaving the material at high heat for long periods of time: it can be cooled and reheated as needed, but prolonged heating can damage the sealer.
After applying crackfill, how soon can you seal coat?
Whether you used liquid cold-pour crack filler or rubberized hot-pour crack filler, it is best to let the product dry completely before applying sealer. Depending on ambient and surface temperatures, the actual drying time of the crack fill can vary. We usually recommend allowing crack fill to dry for 24 to 48 hours before applying sealer.
How many gallons of material does each "block" of rubber melt down to?
Each box of rubberized crack filler contains a 30-lb. cube.
When melted, each cube yields about 3.6 gallons of liquefied rubber crackfill. This means that if you own a RY10 Pro, you will need about 3 cubes to fill the 10-gallon capacity of this melter applicator.
When melting the rubberized crack filler, does the whole block with plastic wrapper go into the melter kettle?
Yes, you can put the whole block into the melter kettle along with the plastic cling film. Don't worry because including and melting the plastic film is 100% safe. Plus, it will not affect the adhesion or the performance of the rubberized crack filler.
Can the hot pour rubberized crackfiller be used over latex paints?
The sealant might stick to the paint ok, but if the paint comes up then the sealant will come up. The sealant is only as good as what it bonds to.