RY10 Elite Crackfill Melter Applicator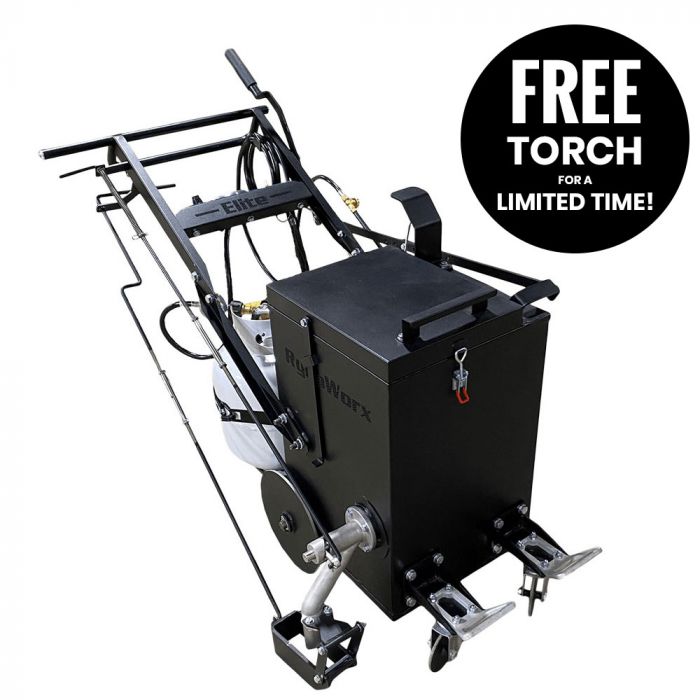 Add AK Make it a Biz Success Pack - Free With Purchase
Unlock your asphalt maintenance business's full potential with the AK Make it a Biz Success Pack, equipping you with expert-crafted tools and exclusive access to the AK Roundtable for accelerated growth and profitable opportunities.
Learn More

Make it a Biz Success Pack
We have clients making $2,000+ per day applying hot rubber asphalt crack filler. Make $1 per foot! As easy as pushing a lawnmower or a shopping cart.
Read more
Precisely monitor and control your crack filling with an upgraded 10 gallon melter applicator machine for sealing asphalt cracks.
Heat crackfill with less propane
Easier loading & unloading
1-year warranty
FREE SHIPPING*
Delivered in: 5-10 Business Days
Add These To Minimize Your Effort!
Have questions? We're here to help!

Speak to an Asphalt Expert!
Contact our Experts
Melt Rubberized Crack Filler Faster and Safer with the RY10 Elite Crackfill Melter Applicator
Tired of using equipment that was invented decades ago? Are ready for real change and seal cracks easily? Then check out this parking lot crack sealer machine applicator out.
We went out in the field and re-thought crack filling from the ground. That's because we can give you the best asphalt driveway crack filling machine there is.
The most ergonomic blacktop crack filler melter on the market
Virtually un-cloggable RynoValve
Heat crackfill faster, with less propane
Compared to other direct-fired melters in the asphalt maintenance market, the RY10 Elite provides the safest, user-friendliest crackfilling experience. The sealed halo burner means no flameouts or flashbacks. The RynoDash allows you to ignite the burner standing up — no need to bend over to start the machine! It also lets you monitor the kettle temperature accurately via a digital display.

What they say about the RY10 Elite Crackfill Melter Applicator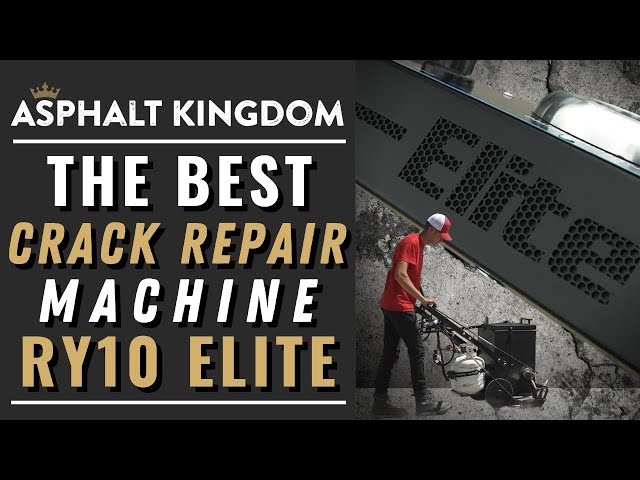 "DO BUSINESS WITH THIS COMPANY! I can't begin to tell you just how HONEST and FRIENDLY these people are. I spoke with Glenn Teano. A very down to earth type of guy. Easy to talk to and let me say that I had some concerns and he didn't hesitate to straighten them out quickly. I ordered the Ryno Worx 10 ELITE crack machine. I can tell you that there was no lying or stretching the truth when he described this machine to me. This machine is all that he said it would be and it was delivered fast and exactly as he said it would be. I described this machine as "The Cadillac" of all crack filler machines that I have ever had the opportunity to own. I don't write these things about companies that don't deserve them and I can't say enough about this company. THANK YOU ASPHALT KINGDOM For your HONESTY and your GREAT PRODUCTS! You are certainly a SCHOLAR in my eyes! America Needs More Honest Companies Like Yours!!!! I GIVE YOU 10 STARS ALL DAY LONG!!"

–Norm Hayward, Owner of Tough Seal LLC

RY10 Elite Crackfill Melter Applicator Features
Some of the incredible features and improvements of the RY10 ELITE asphalt crack filling equipment include:
RynoValve:
No more clogs! RynoValve keeps crack sealant inside the kettle, not in the valve. This means it is virtually drip free and can easily be removed and dipped in a solvent for easy future maintenance.
Stainless Steel: RynoValve is the industry's first valve that doesn't require any pre-heating. This saves users from having to torch their valve before or during jobs.
The spreader shoe is designed to spread crack sealer both forward and reverse. No more puddling during crack repair!
The redesigned shoe is narrower, so you leave a narrower strip of sealant on the pavement — less wasted material!
Enclosed Burner:
Relocated to the rear of the kettle for greater operator visibility and sensitive controls relocated for increased reliability
RynoDash:
RynoDash places burner ignition and control at your finger tips
Allows you to precisely monitor kettle temperature via a brand new digital display panel
Ergonomics:
This parking lot crack sealer machine's redesigned handle bars can be easily adjusted from 35"-42" for users of all heights
Adjustable valve control distance and resistance reduce operator fatigue
Redesigned 'on-the-fly' agitation pulls all the asphalt crack filling equipment's controls closer together to improve operator posture changes 
Kettle:
Redesigned and optimized blacktop crack filler kettle reduces heat loss. It also supports 3 sided loading, has a latchable lid, and will hold 2*30lb blocks of crack fill from empty
Tilted forward so in the case of overloading with crack sealer it spills away from the operator
RynoLifts added to the front of the kettle. These handles to make it easy for two people to load on truck or trailer
Redesigned propane shelf increases the air gap between the propane tank and kettle
2-ton ratchet straps to secure your propane tank
Safety Features:
The sealed burner is equipped with a CSA/UL approved flameout sensor. This detects flameouts commonly caused by wind and prevents fuel from flowing to the burner.
Fully equipped with CSA/UL approved regulator to provide precise control over fuel flow to the kettle.
And More:
Standard accessories torch + hose management and new holster added for convenience
Polished billet aluminum bar ends and thermometer bezel. The lifts are combined with a rugged black powder coat and stainless hardware to provide a professional appearance and durability

Choose Asphalt Kingdom for your RY10 Elite
Asphalt Kingdom is your premier source for the RY10 Elite Crackfill Melter Applicator and other crack filler machines. Chat with us if you wish to know more about this crack sealer melter and other asphalt maintenance products we offer.
What Other Customers Say:

"It's Elite Day. We are lucky enough to get serial numbers 0001, 0002 and 0003! Excited to try out the new RY10 Elites!"


Zachary Layman




Pavement Marking Supervisor, Smith & Sons Sealcoating & Striping Inc.

What's the difference between the RY10 PRO and the RY10 Elite?
| | | |
| --- | --- | --- |
| Feature | | RY10 Elite |
| Ignition | Ground level | At handle bars so control is at your fingertips |
| Valve | 1.25" RynoValve with Drip Stop | 1.25" RynoValve with Drip Stop |
| Handlebars | Adjustable from 35"-42" | Adjustable from 35"-42" |
| Kettle | 12.5 Gallons | 12.5 Gallons |
| Kettle Tilt | Forward tilt in case of overloading | Forward tilt in case of overloading |
| Lift Handle | None | RynoLifts for easy loading and unloading |
| Propane Security | Heavy-duty ratchet straps | Heavy-duty ratchet straps |
| Propane Safety | Air gap + heat shield | Air gap + heat shield |
| Temperature Gauge | Glycerin-filled dial | Digital readout |
Crack filler Calculator
Let us help you determine what you need.
Have questions? We're here to help!

Speak to an Asphalt Expert!
Contact our Experts
Specification
Shipping Dimensions
Box 1: 39" x 26" x 8"
Box 2: 29" x 21" x 20"

Shipping Weight
Box 1: 60 lbs
Box 2: 125 lbs
Total: 185 lbs

Fluid Capacity
12.5 US Gallons
Kettle Steel Thickness
14 gauge
Assembled Dimensions
49.9" x 29.3" x 48.8"
Empty Weight
167.8 lbs / 76.3 kg
Max Capacity Weight
290.3 lbs / 132.0 kg
Fuel Type
Propane
Max Fuel Pressure
5 psi
Burner Type
50,000 BTU/hr
Sealed Cast Iron Burner
Valve Type
1.25" RynoValve™
Agitation Type
On-the-fly
Customer Reviews
Top customer reviews
Machine is easy to use and well built

Our company was in need of a crack fill machine and reached out to Asphalt Kingdom for advice. Rory took the time to help me understand all of their products, how they work, and what would work best for our needs. We ended up purchasing the RY10 Elite Crackfill Melter Applicator Machine and it has worked perfectly. The design of the machine makes it easy to use and it is well built. I am looking forward to using it for many years to come. Thank you Rory!

Great experience right from the second the sales rep answered the phone.
Very professional, answered all my questions very knowledgeable and we had a few laughs as well
The delivery was gonna take atleast 7 days but I'm the type of person that when I purchase something I want it NOW LOL. I paid a little for an expedite shipping. Ordered the pro elite o Wednesday around 4pm was told I would receive this item Monday and received it a day and a half later.
Very easy to put together as I Read morewatched the video from Judd on YouTube
Takes about 25 to 30 min
I love the pro elite meter and highly recommend this product
Made my money all back from doing 2 jobs
No more bending over trying to fill cracks in anymore
I would like to thank my sales rep again for giving me such a great experience from the second he answered
And most of all thank you Judd for all you do for us..


We used it for the first time on a property that we just finished closing up . And the time that was saved? Awesome. That machine is awesome.

Fit perfect for our needs

We have used Asphalt Kingdom multiple time for equipment. Judd is truly a person who cares about his customers and this industry. The Equipment we ordered was shipped fast and the product fit perfect for our needs. Judd also followed up a few weeks later to see how the equipment was working out. In this industry you truly appreciate that kind of customer service support. Will definitely use them again in the future.

Great Equipment! Works Great!

I'm very happy and satisfied with the equipment. It works great! Very easy to use.

Speechless (In a good way)

I never leave a review, but this product deserves it! Besides being great overall product, I was most impressed by the packaging. Everything came so organized and detailed, bolts packaged by step to where it would put any IKEA furniture to shame. My 4 year old could of assembled it with ease and i might just let him on the next one. Good job guys.

RY10 Elite's working good

RY10 Elite's working good

Works flawlessly, Beats my old machine.

Love the machine best ever I owned. Easy to use especially on windy days. Better than the machine was the excellent customer service.Highly recommend it.

Excellent quality and customer service. Had a small problem with the shipping of the machine. AK was on it and we are in business. Thanks again

The best rubber I have every used! I bought the RY30 Gallon melter and the RY10 Elite. Walk-behinds are famous for being a pain – these are a great combination. They really work nice. I'm almost through my first pallet of rubber and I'm real happy with everything.

We have 3 of these and absolutely love them.

Amazing the amount of propane saved using this tar pod

Saves me a lot of time and money, absolutely love it. Bought two of them and wish we could have gotten delivery earlier in the season
Start your Asphalt Maintenance Business with the most in-demand service!
Looking at doing crack repair as a business? Make your success inevitable with these valuable add-ons, yours free with purchase at Asphalt Kingdom!
You get:
Role-Playing Video

with Judd Burdon: find out exactly what to say when you pitch your business to customers, and how to answer their most common objections.

Crack Filling Proposal Template

: a professionally designed form that you can fill in and print off — convert more business when you look pro from the get-go.

Customizable Social Media Templates

: swipe these great graphics and post them on your Facebook or Google My Business pages — get valuable leads with these proven templates!

Phone Script

written by Judd Burdon for you or your sales team to use when prospecting new business.

Exclusive Access to AK Round Table Meetings

: join us on a weekly Zoom call and get answers to any questions you have about your business.
You don't need to spend valuable time learning in the school of hard knocks — take advantage of the experience we've gained helping 1000s of clients start their own business.
Just click 'Make it a Biz' when you add this product to the cart, and we'll send you all of the above absolutely free. Welcome to your asphalt kingdom.
Starting an asphalt maintenance business can be scary if you don't have the resources you need to succeed. Let us do the heavy lifting for you. Make It A Biz!
Customer Questions
How to re-seat the thermocouple?
This video
shows you step by step how to re-seat the thermocouple when experiencing unexpected flame-outs from the melter applicators or melter kettles.
I have left over tar in my machine. Is it okay to leave it there and reheat it at a later time?
Absolutely! You just have to heat it up again when you are ready to use it.
How soon can you drive on newly filled cracks?
As soon as the crackfiller comes down to ambient temperature - sometimes as soon as 30-45 minutes when it is hot, and more quickly in cooler temperatures. Test with a stick: if you push down on the crackfiller and the crackfill doesn't tack to the stick, you're good to drive on it.
How does it ship? Do I need to assemble it?
The RY10 Elite ships partially assembled in two boxes. This allows us to ship by courier instead of LTL shipment, which is easier for most people to receive. And no pallet to dispose of, either!
How do I remove the valve from the RY10 Elite?
How do I ignite the RY10 Elite burner?
How do I adjust the handles and tension on the RY10 Elite?
To adjust the handlebar height on the RY10 Elite, loosen the bolts that attach the handlebars to the kettle. Find your ideal height and tighten the bolts. This will potentially change the positioning of the control rods for the valve. For detailed instructions on adjusting the handlebars, control rods, and valve tension, please
watch our video user manual
.
How do I remove the burner from the RY10 Elite?
How do you assemble the RY10 Pro or RY10 Elite?
This video
shows you step by step how to assemble the RY10 Pro or RY10 Elite Crackfill Melter Applicator.
What is a thermocouple? How do I replace it?
Thermocouple is responsible for shutting off the propane to a burner in the unlikely event of a flame out. This prevents unburned gas from flooding into the combustion chamber or a small spark might cause an explosion. It is an essential part of keeping you safe while working. Watch the
instructional video
on how to re-seat the thermocouple.
When melting the rubberized crack filler, does the whole block with plastic wrapper go into the melter kettle?
Yes, you can put the whole block into the melter kettle along with the plastic cling film. Don't worry because including and melting the plastic film is 100% safe. Plus, it will not affect the adhesion or the performance of the rubberized crack filler.
How do I clean the rubber off the RY10's shoe and wheels?
Use the RY10's torch to soften the crack fill on the shoe and wheels. You can then use a scraper (you can use a flathead screwdriver for this) to remove the softened rubber.
The asphalt comes out too quickly even by barely touching the release valve, is there something I can do to get the flow slower, or the release less touchy?
To make it a little easier to control the flow of the crackfill:
Lower the temperature of the kettle and it will cause the rubber to flow more slowly.
Lengthen the control arm for the valve by adjusting the turnbuckle. That way, you will be able to have the handle closer to the handlebars, and your hand will be more closed, which should provide more control for the valve operation.
How To Battery Swap for RY10 Elite?
How to change the battery for the RY10 Elite?
This video
will show you how to change the batteries in an RY10MA Elite Melter and reset the thermometer.
How often should I clean my crack repair machine?
It's good to clean it out completely after 5 uses; otherwise there is a possibility of charring rubber in areas where there may be multiple layers of rubber built up.
To clean it, heat it up and scrape it out with a scraper on a broom handle. Then start fresh with a brand new box of crackfill.