Pure Asphalt Direct Fire Crack Filler - 75 boxes / 2,250 lbs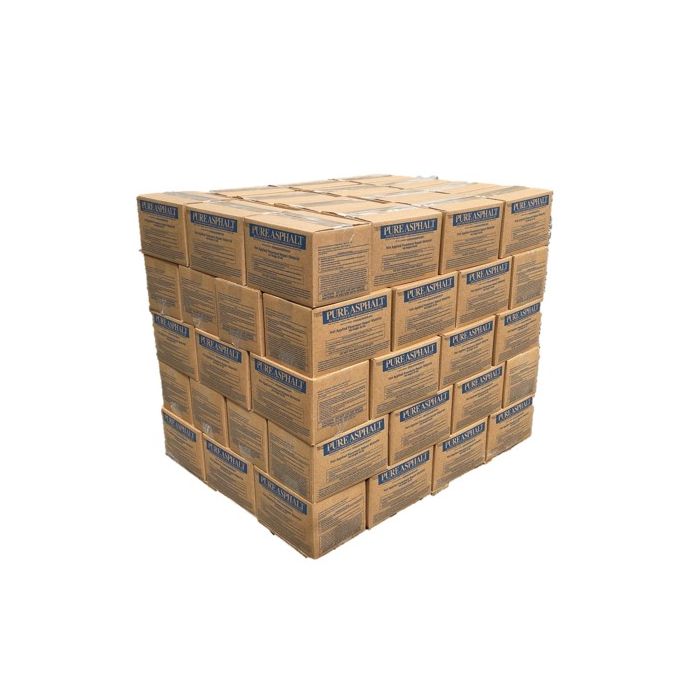 Add AK Make it a Biz Success Pack - Free With Purchase
Unlock your asphalt maintenance business's full potential with the AK Make it a Biz Success Pack, equipping you with expert-crafted tools and exclusive access to the AK Roundtable for accelerated growth and profitable opportunities.
Learn More

Make it a Biz Success Pack
If you use a direct fire melter, then this is the best direct fire hot crack filler for you. Fast-setting, waterproof, and long-lasting.
Read more
The popular commercial-grade Pure Asphalt Direct Fire Crack Filler pallet contains (75) 30lbs boxes. That's enough to fill 15,000 linear feet of cracks. Fix asphalt cracks and damaged joints with Pure Asphalt Direct Fire Crack Filler. Designed to be used with direct fire melters.
Fast-setting and salt-resistant commercial-grade crack filler
3 to 4 year crack seal that has 10 year shelf life
Used to seal asphalt cracks and asphalt joints
Free Shipping to commercial address with a dock or forklift
Delivered in: 5-10 Business Days
Add These To Minimize Your Effort!
Have questions? We're here to help!

Speak to an Asphalt Expert!
Contact our Experts
Pure Asphalt Direct Fire Crack Filler – The Best Crack Filler For Direct Fire Melters
Fixing cracks in parking lots and asphalt driveways and using your direct fire melter? Then make sure to have the best direct fire hot crack filler available right now. Choose Pure Asphalt Direct Fire Crack Filler, conduct crack repair, and transform a damaged parking lot in minutes!
Repair cracks so they're sealed watertight to help prevent the deterioration of asphalt and the pavement foundation! This Pure Asphalt direct fire crack filler provides a long-lasting seal of 3-4 years.
Pure Asphalt Direct Fire Crack Filler is an elastomeric product formulated to fill and seal cracks in asphalt pavements. You can use this to fix cracks in parking lots, driveways, municipal roads, and more!
Commercial-grade quality
10-year shelf life
Stores easily and can be frozen
Melts fast and resists tracking
Can be used in direct fire and oil-jacketed melters
Resilient Yet Flexible
Are you using direct fire melters exclusively for crack filling parking lots? Then this is the crack filling product for you. Once the crack is filled, the product binds to the sides of the crack to seal it. This protects the foundation underneath and prevents the formation of potholes.
This product is tough and creates a virtually waterproof seal in the asphalt. While the surface dries hard, it also remains pliant underneath even years after the crack is filled.
It hardens quickly (as short as 15 to 45 minutes), so customers can use the parking lot hours after repair. No need to worry that it will stick to car tires or shoes that leave dark marks all over the pavement.
It is flexible underneath, allowing it to flex and keep the crack sealed when the asphalt contracts and expands. It can withstand frequent wear and tear, making it the perfect product to fix damaged supermarket parking lots and municipal roads.
Fast-Melting Direct Fire Asphalt Crack Filler
This direct fire crack filler has a low softening point. Plus, it melts faster so you can work within minutes after setting up your melter. The optimum melting temperature is between 385°F to 400°F.
Product Content
Each box contains 30 lbs of Pure Asphalt Direct Fire Crack Filler. This can be loaded directly into a direct fire melter.
Applications:
You can use this asphalt crack filler to conduct asphalt repair.
Parking lots
Airport runways
Municipal roads and highways
Residential and commercial driveways
How to Use the Pure Asphalt Direct Fire Crack Filler
1. Remove the Pure Asphalt Direct Fire Crack Filler cube from the cardboard box. Next, load it directly into your direct fire melter. You don't have to remove the plastic wrapper to melt this crack filler.
2. Heat it until it melts into a viscous liquid. Monitor the gauge, and always make sure that the temperature stays between 385°F and 400°F. To prevent the driveway crack filler from becoming unusable, make sure that the temperature doesn't reach 415°F.
3. Apply the product using a push melter. If you're using a direct fire melter, then apply it using a pour pot or a pour pot bander. Use a V reversible squeegee to make sure the product fills the cracks and the area around it is tidy.
4. Block the area with traffic cones and attention ribbon to allow it to dry and set. The parking lot can be used again after a few hours.
This product dries and sets rapidly. Using a crack pour pot or a pour pot bander? Make sure to dispense the product immediately to prevent it from hardening inside.
Contractor-Grade Asphalt Direct Fire Crack Filler
Buy in bulk and save!
Buying purchasing multiple pallets, half truckloads or full truckloads? We offer custom bulk crack filler quotes to save you hundreds of dollars vs buying single pallets at a time. Hurry — these prices won't last long! Get your quote today.
Note: We are happy to offer FREE SHIPPING to the Continental United States (Alaska and Hawaii are not included; please call for a shipping quote.) Residential, limited access, lift-gate, and deliveries to remote areas will be subject to extra fees. An additional $150 per pallet is also required for West coast shipments - Arizona, California, Colorado, Idaho, Montana, Nevada, New Mexico, Oregon, Utah, Washington, and Wyoming.
Crack filler Calculator
Let us help you determine what you need.
Have questions? We're here to help!

Speak to an Asphalt Expert!
Contact our Experts
Specification
| | |
| --- | --- |
| Ready To Ship | Yes |
| Shipping Weight | 2390 lbs. |
| Shipping Length | 48 in |
| Shipping Width | 48 in |
| Shipping Height | 48 in |
Customer Reviews
Top customer reviews
Everything worked pretty great and I will be buying more do business with you in Spring

It worked great, everything's good!

The product is really good and I will order another pallet

First time ordering the product and been very helpful, everything worked fine.

it worked fine, no issues experienced
Start your Asphalt Maintenance Business with the most in-demand service!
Looking at doing crack repair as a business? Make your success inevitable with these valuable add-ons, yours free with purchase at Asphalt Kingdom!
You get:
Role-Playing Video

with Judd Burdon: find out exactly what to say when you pitch your business to customers, and how to answer their most common objections.

Crack Filling Proposal Template

: a professionally designed form that you can fill in and print off — convert more business when you look pro from the get-go.

Customizable Social Media Templates

: swipe these great graphics and post them on your Facebook or Google My Business pages — get valuable leads with these proven templates!

Phone Script

written by Judd Burdon for you or your sales team to use when prospecting new business.

Exclusive Access to AK Round Table Meetings

: join us on a weekly Zoom call and get answers to any questions you have about your business.
You don't need to spend valuable time learning in the school of hard knocks — take advantage of the experience we've gained helping 1000s of clients start their own business.
Just click 'Make it a Biz' when you add this product to the cart, and we'll send you all of the above absolutely free. Welcome to your asphalt kingdom.
Customer Questions
What should the pavement temperature be to crack fill?
You can fill cracks as long as the pavement is 40°F or warmer. If it is colder but you need to fill cracks, use a heat lance to heat the pavement up before you apply it.
What temperature does the crackfiller need to be to flow?
The best temperature for heating your material to is 380 - 400°F (193 - 204°C) ; any higher than 400°F may severely damage product. Prolonged heating can also damage the product - heat it only when you are ready to apply it.
When melting the rubberized crack filler, does the whole block with plastic wrapper go into the melter kettle?
Yes, you can put the whole block into the melter kettle along with the plastic cling film. Don't worry because including and melting the plastic film is 100% safe. Plus, it will not affect the adhesion or the performance of the rubberized crack filler.