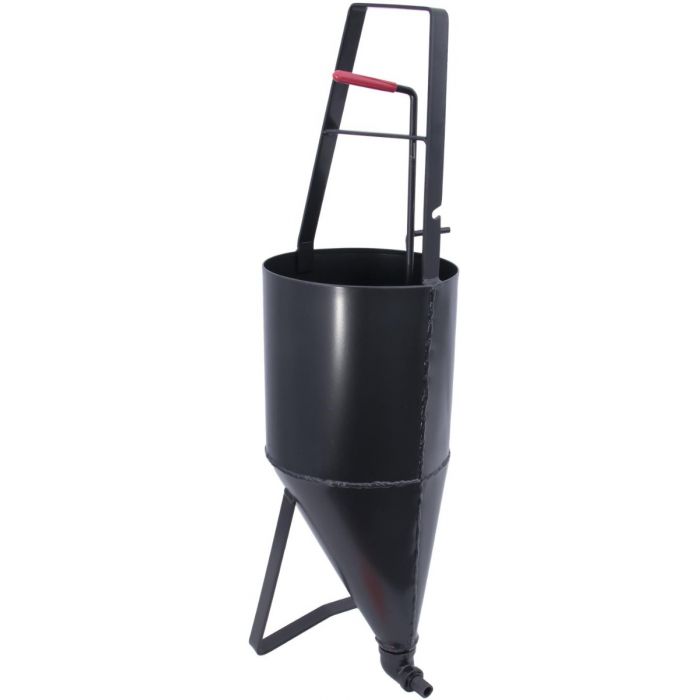 Save time and reduce waste with this anti-leak, anti-drip 2.6-gallon crackfill pour pot.
Read more
Filling cracks is an essential first step in asphalt sealcoating. Make life easier with a crack fill pour pot. These solid, durable pour pots can hold 2.6 gallons of melted crack filler. Made of 14-gauge steel, these pots feature an anti-leak, anti-drip design.
Fill cracks at walking speed with this essential piece of sealcoating equipment.
Apply crack sealer in hard-to-get areas
One-person operation
Steel construction means low maintenance
Fill Cracks Fast!
The Asphalt Kingdom Crack Pour Pot features a 2.6-gallon capacity and added ease of use when filling cracks in asphalt. The anti-leak and anti-drip protect crew members during the process as well as deliver a precise application. It comes with fingertip nozzle control, and the nozzle adjusts from 3/8" to 1/2".
Use this crack filler pour pot to fill asphalt cracks using cold pour asphalt crack filler or using our hot pour rubberized crack fill. The versatility and ease of use are unmatched.
Save time and reduce waste with the AK crack pour pot, both of which help asphalt maintenance businesses grow. No one wants to figure out they wasted hundreds of linear feet at the end of the year.
Pour your crack filler into the pot and walk along the crack, keeping the pot slightly elevated so it fills the crack. Then, let the pour set and bond. After only a little while, that crack filler is bonded for years.
Trying to pour crack filler directly from the bottle can lead to excess product oozing over the crack: with the AK crack pour pot, you'll use the right amount every time. Using the crack pour pot saves money on the product.
The crack pour pot also saves time. Corners and other small spaces are challenging to get with a melter applicator sometimes. The crack pour pot does not have that problem, and one man can walk the pot all the way into a corner. That's more available hours and faster job completion.
Crack filling is one step in the sealcoating process, so getting it done means all the cracks done quickly means more cure time before you start sealcoating—no unevenness, no issues, only the best client results possible.
Crack filler Calculator
Let us help you determine what you need.
Specification
| | |
| --- | --- |
| Ready To Ship | Yes |
| Shipping Weight | 8.20 lbs |
| Shipping Length | 28.90 |
| Shipping Width | 10.00 |
| Shipping Height | 9.80 |
Customer Reviews
Top customer reviews
The customer experience with Action Seal is like no other. The staff is extremely knowledgeable with everything from product specifics to business advice. Overall incredible experience and incredible products.

We have been thoroughly impressed with this product. Would highly recommend.

We have been thoroughly impressed with this product. Would highly recommend.
Customer Questions
How often should I clean my crack repair machine?
It's good to clean it out completely after 5 uses; otherwise there is a possibility of charring rubber in areas where there may be multiple layers of rubber built up.
To clean it, heat it up and scrape it out with a scraper on a broom handle. Then start fresh with a brand new box of crackfill.