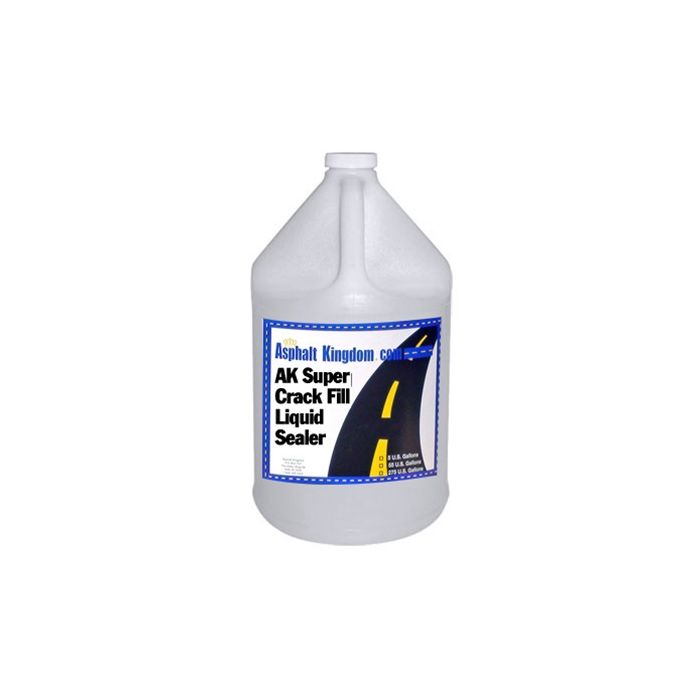 AK Liquid Crackfiller is used for filling cracks on any asphalt surface. Available per case of four 1-gallon bottles.

Read more
Ideal for use on residential driveways or commercial properties with small parking lots
Easy to use and doesn't need special crack filling equipment — just apply and go!
Tightly seals cracks without making a mess
FREE SHIPPING
Delivered in: 5-10 Business Days
Liquid Crackfiller for Smaller Asphalt Cracks
Use this AK Liquid Crackfiller for home or small driveways.
Ideal for use on residential driveways or commercial properties with small parking lots
Easy to use and doesn't need special crack filling equipment — just apply and go!
Tightly seals cracks without making a mess
Have you got cracks in your asphalt pavement? You need to fill them as soon as they form: otherwise, water can seep into the cracks and begin to damage the foundation. This causes the damaged area to sink and begin to decay. If the water is allowed to stay until frost sets in, the freezing effect expands the trapped water, pushing against the asphalt, increasing the size of the crack and ruining your pavement even faster.
Asphalt Kingdom's Liquid Crackfiller makes short work of damaged surfaces, filling cracks and sealing your asphalt against the elements. You'll prevent expensive decay with this easy and essential treatment!
This cold pour asphalt crack fill is used in cracks that are a half inch or less. The easy-pour spout means you can fill cracks fast, without making a mess.
To use, simply clear the cracks of any vegetation or debris (pull weeds, brush out loose stones and sand) and then apply. Dries supple and you can drive on it within hours.
A case of AK Liquid Crackfiller includes four (4) 1-gallon bottles with a coverage of 100-150 linear feet per gallon.
People who have very large driveways or commercial parking lots should really use hot pour crack filler with the RY10 crack repair machine.
Specification
| | |
| --- | --- |
| Ready To Ship | Yes |
| Shipping Weight | 42 lbs. (Four 1-Gallon Jugs) |
| Shipping Length | 18 in |
| Shipping Width | 15 in |
| Shipping Height | 13 in |
Coverage Rate
100-150 linear feet per gallon
Quality
100% Commercial-grade asphalt crack filler (cold pour)
Shelf-life
3 years
Flammability
Non-flammable
Easy Application

Just pour into asphalt crack and smooth off.
Dries in 1 hour
Customer Reviews
Top customer reviews
Bottles of the cold pour liquid material arrived as promised. 4 gallons arrived. I used 3/4 of one gallon for about 40 feet of cracks in (November 2020). I'm in Michigan. It was easy to use. I layered it on, giving it a chance to fill in the crevices and dry before another coat. I did this over two days. I did not trowel. It cured smooth and brown. After the winter snows and many freezing days, 4 months later the pavement moved and the sealer cracked. But this is what I expected. When it wa

Read more

rms up I'll clean with a powerwasher, let dry, and layer in more material. I have plenty left. The deep black and grey visible on the edges are previous attempts with other materials to fill the crack. The Asphalt Kingdom material dried dark brown, and eventually cured to black. See before and after pictures. The cracks are due to pavement movement. There are parts of the repaired area that did not crack at all. I recommend. Just plan to layer on, and clean and refill cracks in spring. Expect pavement to move, that's how the cracks appeared in the first place. The original cracks were 6X wider than what appears this spring (April 2021).

I received helpful advice from their customer service by email and phone. They followed up several times, very impressed with this. I partially filled deep cracks with sand, and used sand to dam up either side of crack to prevent the filler from completely flowing out of the crack. The liquid from the bottle is thick and brown when first applied. Its viscosity is just right in 50-60F temperatures I worked in. It was thin enough to flow into smallest cracks but thick enough to quickly solidify in

Read more

air to now flow out of slopes. That is, in 50F plus temperatures it thickens quickly but stays fluid enough to fall into small holes over the next hour or two. I layered on a second coat after 20 minutes to fill in the seep holes and deeper cracks. Fluid thickened and provided base for third touch-up of seep holes and deeper cracks the next day. It dries very dark brown (see photos). The black outside edges in the photos are from a blacktop caulking I tried to use previous years but didn't ever fill the cracks like Asphalt Kingdom's crack fill liquid sealer. This stuff filled in all cracks easily with 3rd and 4th filling of seep holes. I used less than 1 gallon for about 30 feet of cracks of varying width. I DID NOT trowel smooth, in part because the surface of our asphalt drive is rough with large stones. And it smoothed out enough for my taste. Our drive is a commercial grade drive about 35 years old. The cracks are at stress points and where tree roots are growing under it. Time will tell if in the spring (after winter freezes) I need to refill cracks. It seems to me that such later appearing cracks will be the result of the pavement moving, not the crack filler shrinking. This stuff dried very hard and a week after using 1 of the 4 gallons delivered, I'm very satisfied. BTW: I'm not particular how this looks. I'm not looking for a smooth finish. I just want the drive to be functional and not crack from freezing water getting in the crack and under the pavement.
Customer Questions
Can this be used on concrete cracks?
Yes, crack filler is used to seal cracks or joints in asphalt or concrete surfaces, which are up to 1" in width and up to 1/2" in depth. 1-2 hr drying time.