AK Pro Duramax Sealcoat Trailer System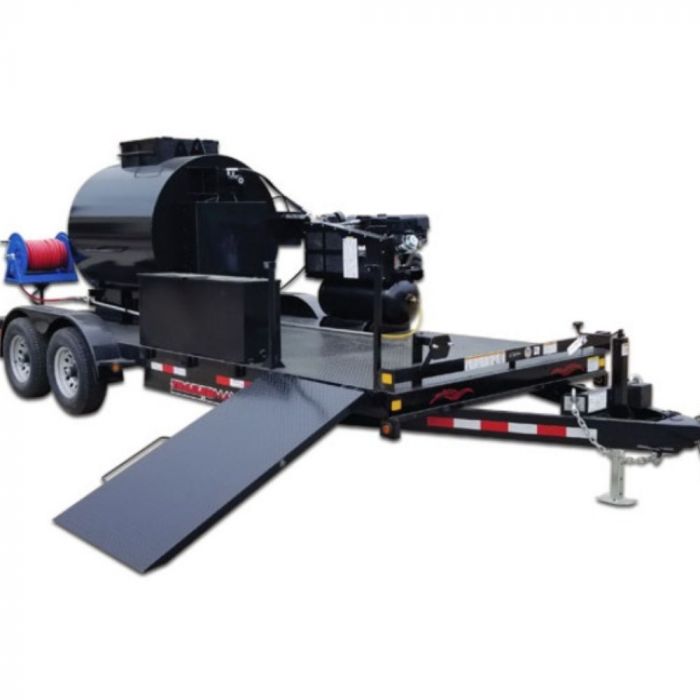 From its high-capacity sealer tank to its rugged trailer, this sealcoating equipment system has everything a professional sealcoating contractor needs.
Please call for shipping quote or pickup (FOB at Reedsburg, WI).
Read more
Safer and hassle-free transport to and from your job site is possible. Thanks to the AK Pro Sealcoat Trailer System.
Complete sealcoating equipment trailer system
Easy and secure hook-up with pick-up truck
Reliable engine
Delivered in: Available by June 12
Add These To Minimize Your Effort!
Have questions? We're here to help!

Speak to an Asphalt Expert!
Contact our Experts
Faster and Easier Equipment Transport with the AK Pro Sealcoat Trailer System
Transporting sealcoating equipment from one job site to another can be a challenge especially if you own a truck that doesn't have enough space or if your full-size truck is already full of crack filling or line striping equipment. With the AK Pro Sealcoat Trailer System, you can now haul your equipment, supplies, and more to the jobsite and back with ease. Just hook the trailer up to your vehicle, and get ready to roll.
Built with an extended side ramp
Includes water tank and sealcoat brush box
Tanks available in different sizes
Keeping Your Asphalt Sealcoating Equipment Safe and Secure
As a sealcoater, you're no stranger to equipment and equipment parts coming loose while you're working or even during transport. Plus, there's the added worry of asphalt sealcoating equipment theft every time you stop by unsecured locations. With the AK Pros Sealcoat Trailer System, you can goodbye to all of that.
The sealcoating tank, engine, pump, and hose reel are all built into the trailer. You don't have to worry about any equipment coming loose while driving down the highway or finding an equipment part missing after stopping by somewhere.
Durable and Spacious Sealcoat Trailer
The trailer is crafted from durable and high-quality ASM SA-56 carbon steel. You can stay confident that it will stay rust-free even as the trailer is exposed everyday to the elements.
And it's spacious too. The high-capacity sealer tank sits at the back of the trailer, giving you more space to transport additional equipment, including your crack filling machine, line striper, and asphalt infrared heater.
Everything You Need for Your Sealcoating Business
The AK Pro Sealcoat Trailer System contains everything you need for your sealcoating business, including a rugged steel tank, reliable engine and pump, and hose reel.
Choose the sealcoating equipment tank size that perfectly suits your projects. We have 300-gallon and 500-gallon tanks for contractors who specialize in mid-size and large asphalt maintenance projects. Working on multiple large projects? Then choose the asphalt sealcoating system with 700-gallon or 1000-gallon tanks.
Order the AK Pro Sealcoat Trailer System now so you can get ready for a profitable season.
Inclusions:
100' hose reel with hand crank
Spray wand
2" ARO pump with surge bottle
3-gallon filter basket
40-gallon water tank
4-gallon hydraulic tank
42" brush box
13HP air compressor
Prince valves
Parker hoses
Custom loading ramp
18' extended trailer 14,000 GVW
Have questions? We're here to help!

Speak to an Asphalt Expert!
Contact our Experts
Specification
300-gallon
Dimension: 48" diameter x 44" long
Weight (Empty): 1,040 lbs
Weight (Full): 4,100 lbs

500-gallon
Dimension: 52" diameter x 76" long
Weight (Empty): 1,200 lbs
Weight (Full): 6,060 lbs

700-gallon
Dimension: 56" diameter x 84" long
Weight (Empty): 1,297 lbs
Weight (Full): 7,957 lbs

1,000-gallon
Dimension: 56" diameter x 118" long
Weight (Empty): 1,400 lbs
Weight (Full): 10,760 lbs

Extended Trailer Bed Dimensions
18' L x 7'6" W - 14,000 GVW max weight capacity
Extended Trailer Ball Size
2 5/16" ball hitch, tandem axles 7,000 lbs load capacity each
Extended Trailer Tire Size
325/80 R16
Customer Reviews
Top customer reviews