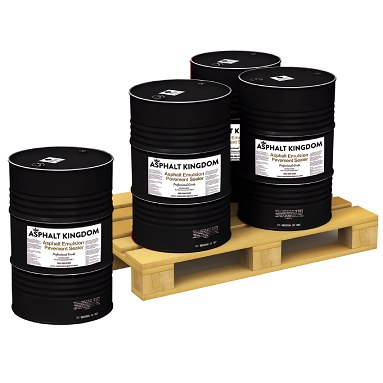 Browse the Asphalt Kingdom store for all your asphalt sealing needs. We offer asphalt emulsion sealer, additives, tools and accessories to help you with sealcoating and more!
Page
You're currently reading page

1

Page

2

Page
Shop Asphalt Kingdom Asphalt Sealer and Additives
Asphalt needs to be sealed with a professional contractor grade asphalt sealer. This helps protect the asphalt surface from the elements.
All of our asphalt sealer dries extremely fast. This product has a black matte finish. Additionally, it can fill in small fissures. This helps to prevent water and ice from causing costly damage or replacement.
Our asphalt sealer can be applied in three ways: with a squeegee, a sealer brush, or an AK Sealcoat Sprayer.
We can assure you that you'll get the best price, quality and service that will ultimately maximize your business!
We deliver right to your door or job site. This saves you costly travel time that could have been spent generating more business.
Give us a call toll free 1-866-399-5562 for expert advice or to place your order.
What is Asphalt Sealer?
Also known as blacktop sealer, this product provides a protective layer to your asphalt pavement's surface. Think of it as sunscreen for your asphalt. A coat or two of asphalt driveway sealer protects the pavement from UV rays and prevents it from cracking. And because the pavement doesn't crack easily, rainwater and snowmelt do not get a chance to drip into the cracks.
Asphalt sealant, however, is more than just a protective coating. It also restores the beauty of the asphalt long after it has faded. It gives the pavement a sleek black color that contrasts nicely with green lawns.
Asphalt is one of the strongest materials there is. But just like other materials, it degrades over time because of constant exposure to the elements, oils, and heavy traffic. As the years pass, the parking lot or driveway becomes susceptible to cracking.
Well-made asphalt pavements have an average lifespan of about 25 years. But you can delay damage and avoid costly replacement simply by applying asphalt sealant every 2 to 3 years. You can also have it sealed by a contractor if you cannot do it yourself.
Pros & Cons of Different Blacktop Sealcoating Materials
The table below shows the different types of sealcoating, their pros and cons, and the average time it takes for each type to dry.
| Type of Sealcoating | Pros | Cons | Curing time |
| --- | --- | --- | --- |
| Coal Tar Emulsion | Water and UV-resistant. Popular due to its superior ability to resist moisture, oil, and most chemical penetration. | Suspected of contributing to water pollution and emitting a carcinogenic compound. Permanently banned in some states. | Between 3 to 4 hours. |
| Asphalt Emulsion | No toxic, carcinogenic emissions. Has a darker, more appealing color. Water resistant and provides good anti-slip friction when mixed with slate or sand. | Not as resistant to petroleum-based contaminants. Not UV resistant, and more likely to fade faster. | Approximately 8 hours. |
| Oil Based | Water-resistant and penetrates the surface of asphalt, forming a more pliable bond that helps prevent cracking during winter. | Longest curing period and emits a strong odor. Also contains toxic compounds, so distribution is restricted. | Up to several days. |
| Fast Dry | Cures in less than an hour of application, making them ideal for busy, public roadways and large, active parking lots. | Generally sold in bulk and come with a higher price tag, making them impractical for most smaller property owners. | Can dry in less than an hour. |
| Acrylic | Comes in different colors. Environmentally friendly. Very durable. Can withstand UV and weather exposure. | The most expensive type of sealer on the market. | Approximately between 4 to 12 hours. |
* Prices vary by country and shifts in the industry
Convenient Asphalt Sealer Packaging Options
Fifty-Five Gallon Drum: Neatly packaged in a ring lit removable lid drum. The sealer can be mixed directly in the drum and transferred to a spray system. You can also transfer it into buckets if you're applying by hand.
5,500 square feet of coverage per drum*. Weighs 600 lbs and can be moved with a sturdy dolly or cart.
Skid of Sealer (Four 55 gallon drums): Four drums of sealer placed neatly on a skid. That's 220 gallons of sealer and gives you a coverage rate of 22,000 square feet*.
This is by far our most popular packaging option that people select. The price is better and you'll have more asphalt sealcoat on hand for jobs that you have lined up.
Total weight of a full skid is 2,400 lbs. You will need a pallet jack, forklift, or dolly to move this shipment. Remove one drum at a time with the dolly.
Four Skids (Sixteen 55 gallon drums): A bulk option for contractors or property managers looking to save. When you buy four skids, you save over $900. We pass along the shipping savings on large orders like this. 88,000+ square feet of coverage*.
Have sealer on hand and ready to use so that you close more deals. If you're looking to move these pallets around, we recommend a forklift or pallet jack.
275 Poly Tote: A large poly tote tank with an aluminum cage around it for protection and support. 27,500 square feet of coverage per tote* and weighs approximately 2,805 pounds. You'll definitely need a forklift to move this around when full.
Four 275-gallon Totes: Another bulk option for contractors or property managers. Money saved is money earned! Save hundreds when you buy four totes.
Get 1,100 gallons of sealer with 100,000+ square feet of coverage*. To move this shipment, you will need a pallet jack or forklift.
*When using a sealcoat sprayer, our product provides a coverage of 100 square feet per gallon for a single coat or 100 square feet per 2 gallons for a double spray. Please note that when applying the sealcoat manually, the coverage will be lower, ranging from 50 to 60 square feet per gallon for hand application.
How Much Asphalt Sealer Do You Need?
Blacktop Calculator
Let us help you determine what you need.
Asphalt Sealant: Choose a Product That Helps Build Your Reputation and Business!
Commercial and Airport Grade: Airports demand the very best asphalt sealcoat for both safety and durability.
Fast Drying: Too many low-quality driveway sealants take a day or two to dry. That isn't very convenient for most people. Ours dries in 3 to 4 hours under ideal conditions, getting your pavement back in use quickly and easily.
Lasts 2 To 3 Years: Asphalt maintenance is hard, and those shiny black driveway coatings will wear away in 6 months, making it even more work. Our sealant dries to a flat black matte and will endure for 2 to 3 years, not months.
Used By High-Demand Clients: It's not just airports that demand a long-lasting and durable product. Our clients include: churches, mall parking lots, golf courses, fast food drive-thrus, hotels, and motels. They all depend on our product that stands the test of time and traffic.
Asphalt emulsion sealers in drums, totes, or bulk supply.