AK Quick-Cure Sealcoat Superdryer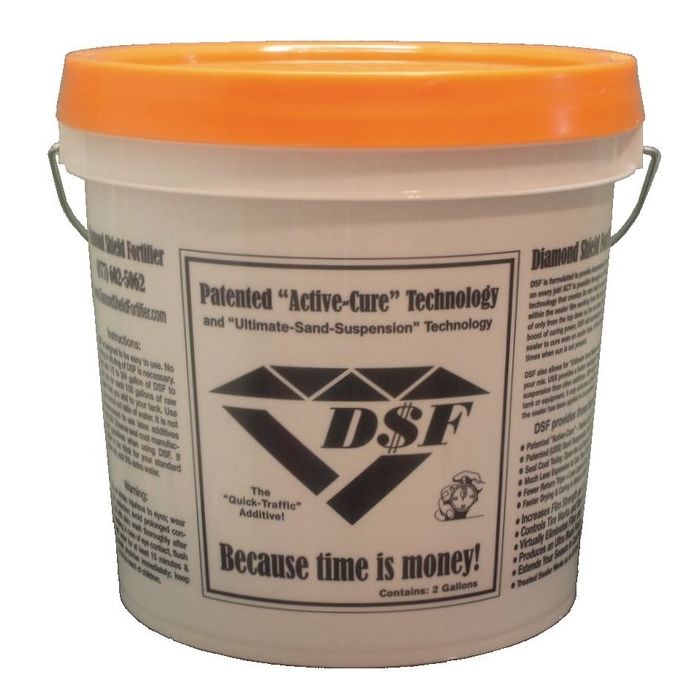 Help your sealer dry faster - even if there's no sun. Blacker, better sealcoat with the AK Superdryer.

Read more
FREE SHIPPING
Delivered in: 5-10 Business Days
Have questions? We're here to help!

Speak to an Asphalt Expert!
Contact our Experts
No more waiting around for hours on a cloudy day waiting for asphalt sealcoat to dry so you can drive on it. Our new quick-cure sealer accelerator will get traffic moving again fast!
AK's Sealcoat Superdryer slashes wait time for driving on freshly sealcoated surfaces. No sun? No problem! With AK's Sealcoat Superdryer, you can help sealer dry and cure in the shade much more quickly than without this sealcoat additive. Even high humidity states benefit from this additive.
Because it works so quickly, sealcoat contractors add weeks to the beginning and end of their season, allowing them to work before most others would even consider getting started! You'll be more profitable and have a longer season!
Power steering marks are a thing of the past - and Quick Cure reduces sand roll out too!
What's more, the fast-curing action means you can do night sealcoating in busy malls, stores, and fast-food restaurants because you don't need the sun to help dry the product.
Other products are latex-based and as a result they can clog your strainer. What's more, they can cause a fake hard surface to appear on top of the sealcoat, trapping moisture underneath and actually extending the drying time of your asphalt surface!
AK's Sealcoat Superdryer is a resin-free product that helps dry without making your sealer too thick.
You'll get less clogging of your filter and spray tips, easier clean up and deeper, darker sealcoat finishes with AK's Sealcoat Superdryer. Forget sealcoat cracking and flaking - they're a thing of the past with this product.
Shelf Life 1 to 2 years.
Do not freeze.
1/2 gallon to 3/4 gallon per 100 gallons of raw sealer.
Have questions? We're here to help!

Speak to an Asphalt Expert!
Contact our Experts
Customer Reviews
Top customer reviews
Customer Questions
Is DSF a quick dry additive?
No. DSF is the "Quick Drive" all in one additive. DSF accelerates cure time chemically. All other additives still require the suns passive curing process to dry and eventually cure sealcoating.
Does DSF contain any hardeners?
No. DSF does not contain any acrylic or brittle polyvinyl resins like some products. DSF rubberizes the seal coat as it cures where hardening additives cause the seal coat to become brittle which causes premature cracking or flaking.
We do not recommend using any other additives when using DSF. DSF is an all in one additive offering all the features and more of other additives combined. Your money would be wasted to use two products for the same result.
Is the DSF compatible with cationic emulsion sealers?
Yes, DSF is compatible with cationic emulsions. Cationic emulsions tend to be more acidic (pH ~ 1). With the addition of DSF (pH ~3.2) at the recommended dosage, there will be some changes to that pH range, but it should not create separation or emulsion breakage.