Driveway Sealcoating Package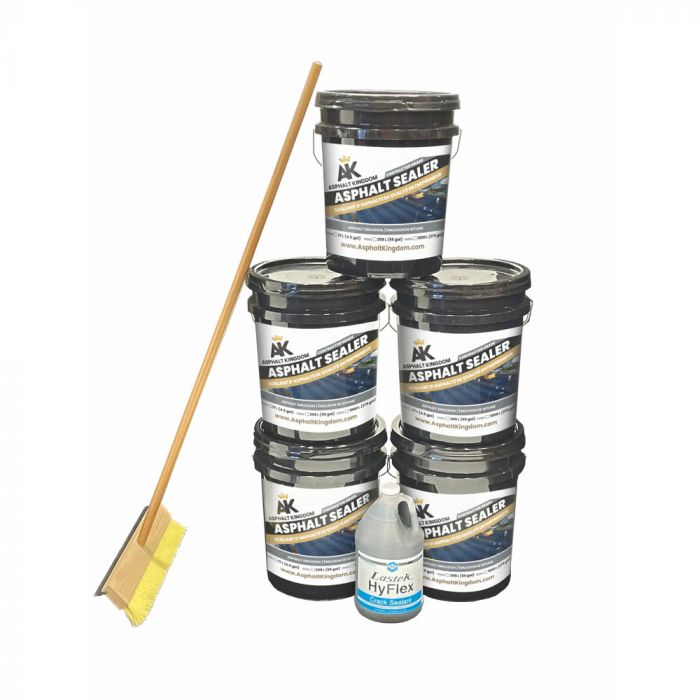 Protect and preserve your pavement! The Driveway Sealcoating Package is perfect for minor repairs of driveway deterioration.
Read more
Professional Grade Products for Lasting Coverage
Seal cracks & refresh asphalt
Protects against gas & oil leaks
Perfect for driveways
FREE SHIPPING
Delivered in: 5-10 Business Days
Add These To Minimize Your Effort!
Start Small but Get Ready to Scale with the Driveway Sealcoating Package
Maintaining driveways is an easy decision to make to safeguard your investment.
Enhances the property's curb appeal
Prolongs the life of asphalt
Protects your driveway against elements
The Driveway Sealcoating Package comes in a complete package depending on your driveway surface. Get exactly what you need!
Each package includes:
Five 5-gallon pails of the Advanced Formula J-16 Driveway Sealer
1-gallon jug Lastek Hyflex Cold Pour Crack Filler
2-in-1 Blacktop Squeegee/Brush coater
The Advanced Formula J-16 driveway sealer has gone through meticulous research and development to come up with the premium quality formulation. Each gallon will cover 60 to 90 square feet. It prevents natural elements, de-icing salts, and car deposits from eating through your asphalt. It will not dry out in the sun. It protects your driveway sealcoat by preventing water from getting into tiny cracks, freezing, and expanding, which causes damage to its foundation. The foundation will not be eroded by summer rain either.
The Lastek Hyflex is a fast-setting, cold pourable crack sealant that dries quickly and is ready to use. Use on cracks up to 1/2" wide. 1-gallon jug can cover up to 100-150 linear feet. The easy-pour spout allows you to fill cracks quickly and cleanly. Crackfilling prevents damage to the foundation as water can seep into the cracks and avoids costly degradation in the long run.
Use the 2-in-1 Blacktop Squeegee/Brush coater for a smooth, clean edge sealcoat applications. The 9" Sealcoat Brush is used to apply sealer on residential driveways while the Blacktop Squeegee on the other side smooths out applied liquid evenly on a surface. It comes with 48" handle.
Note: Surface preparation is recommended prior to crackfilling and sealcoating.
Specification
| | |
| --- | --- |
| Shipping Dimensions (L x W x H) | 48" x 36" x 36" |
| Shipping Weight | 350 lbs |
Customer Reviews
Top customer reviews