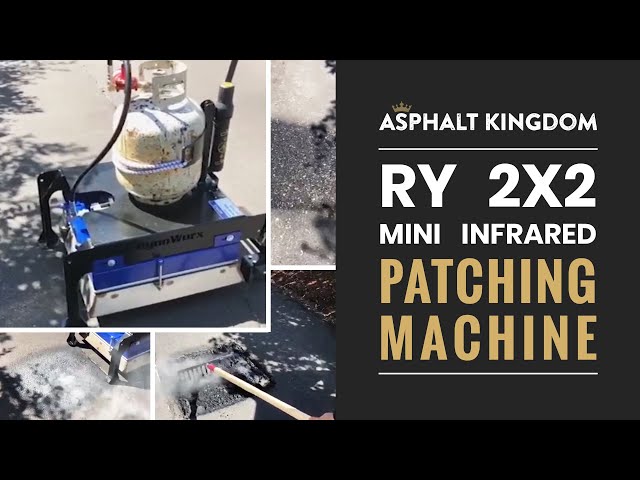 Asphalt Infrared Patching
Asphalt Infrared Patching
Sealcoating and crack repair are extremely lucrative business ventures. But let's face it, you can only conduct crack filling and asphalt sealing during spring, summer, and certain days during fall. Once the temperature begins to drop, it's time to put your tools and equipment in storage.
But with the asphalt infrared patching, you can conduct pothole repairs all year long.
What is asphalt infrared patching?
Is your parking lot or driveway riddled with potholes and depressions, and do you want to repair it yourself? Or maybe you're a sealcoating contractor, and you want to provide asphalt repair services even in the middle of winter.
If the answer is yes to either of these questions, then you'll definitely find asphalt infrared patching supplies and equipment a must-have in your arsenal.
Infrared patching is the process of fixing asphalt depressions and potholes using special infrared equipment.
Thanks to infrared patching, you don't have to spend thousands of dollars repaving damaged sections of your parking lot. The whole process is fast, convenient, and best of all, it could save you thousands of dollars.
Infrared Asphalt Repair Equipment and Supplies
What are the supplies and equipment used in this process? Find out below.
RY2X2 2' Infrared Asphalt Heater
The RY2X2 2' Infrared Asphalt Heater lets you fix potholes and other asphalt damage whenever you like. There's no need to wait for spring and summer to repair asphalt depressions — you can do it right now!
It is safe, easy to use, and takes only five to ten minutes to heat the asphalt underneath and make it workable. Remove the machine and start reworking the asphalt to bring it back to life.
Contractors can charge up to $95 a press with this machine. Imagine a machine that pays for itself in just 2.5 hours' worth of presses!
Asphalt Millings Rejuvenator
An asphalt millings rejuvenator acts as a bonding agent for grounded recycled asphalt used in driveways. But it doesn't just serve as a binder. As the name suggests, it also brings back the asphalt's rich, dark color to make it look new again.
Our infrared asphalt repair rejuvenator is available in five-gallon pails that are safe to use and emit a minimal odor. Just mix it with water, spritz it into the work area, rework the asphalt, and let the area cure for a few minutes before using the area again.
36" Asphalt Light Lute
Your asphalt infrared patching kit is incomplete without our 36" Asphalt Light Lute. Also known as asphalt rake, this tool is used to rework the softened pavement surface.
The 36" wide head is made of heavy-duty magnesium and features a durable 84" aluminum handle. This is a double-edged lute with sharp tines, so you can easily rework the heated area.
Asphalt Tamper Tool
Asphalt Kingdom's asphalt tamper tool is made of durable and solid welded steel and features a rubber handle for improved grip while working.
But it's not just for asphalt infrared patching! It can also be used to tamp down cold asphalt pothole patch and Aquaphalt 6.0 concrete and asphalt patch.
Order this asphalt tamper tool and see it in action!
How to Fix Asphalt Depressions Using the Asphalt Infrared Patching
Fixing depressions in asphalt is easy with these Asphalt Kingdom equipment and tools.
1. Place the RY2X2 2' Infrared Asphalt Heater over the distressed asphalt for 5 to 7 minutes. Once the asphalt is heated and softened, turn the machine off and remove it.
2. Rework the edges using a 36" asphalt light lute. After reworking the edges, start working on the entire distressed area.
3. Add some recycled asphalt in the section and spritz it with asphalt millings rejuvenator mixed with water.
4. Finally, it's time to compact the repaired area with an asphalt tamper tool. You can also use a vibrating plate compactor or an asphalt roller to make sure that the area is completely compact.
See how easy asphalt repair is? Order your infrared asphalt repair equipment and tools from Asphalt Kingdom to get started.
Have additional questions about our asphalt repair products or need some expert advice on which product to buy? Then give us a call at 1-866-399-5562 and we'll be more than happy to answer all your questions.
Asphalt Hot Boxes for Sale
Having an asphalt hot box allows you to patch asphalt all day long and all year long. There is no better was to keep your supply hot and ready to use than with one of our durable and reliable asphalt hot boxes. With heat resistant paint they'll look great on the job, winter, spring, summer, or fall. Don't let the cold weather stop you from getting out and doing maintenance, fill potholes in the off-season and keep working. Make sure you've got all the other equipment you need, such as a compactor to tamp the repair, for professional results.