AK4000 2-Ton Asphalt Hot Box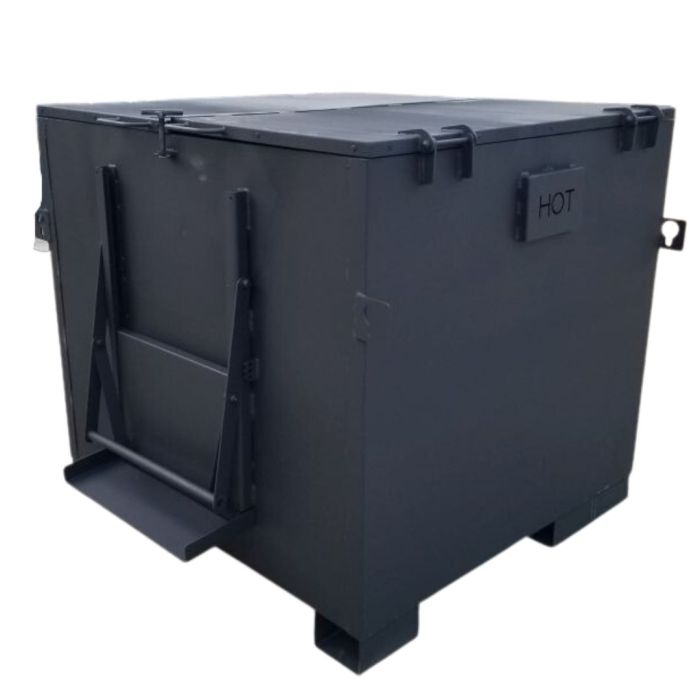 Experience the power and convenience of the AK4000 2-Ton Asphalt Hot Box, the best option to 4 ton trailer, the go-to choice for contractors seeking fast, dependable, and easy-to-use equipment.
5 Hot Boxes in stock! Available for pickup at a local shipping terminal or for delivery. Please call for a shipping quote.*
Read more
Transporting hot mix asphalt just got easier and safer with the AK4000 2-Ton Asphalt Hot Box trailer mounted for sale. Safe and efficient solution.
2-ton capacity for continuous asphalt supply
Trailer mounted for easier transport
Keeps asphalt consistently hot
Delivered in: 5-10 Business Days
AK4000 2-Ton Asphalt Hot Box For Sale - The Best Option to 4 ton Trailer - Fast, Dependable, Easy to Use and Huge Money Maker!
The AK4000 2-Ton Asphalt Hot Box is the ultimate solution and the best option to a 4 ton trailer mount for contractors who require hot asphalt on hand for infrared patching, asphalt patching, pothole repair, building asphalt speed bumps, ramps, aprons and more.
Designed with durability and productivity in mind, this heavy-duty hot box is built to withstand the demanding nature of asphalt work. Its impressive 2-ton capacity ensures you can carry an ample supply of hot asphalt from the asphalt plant to your job sites while keeping the asphalt hot in its insulated box.
Increased Efficiency: Boost productivity with the 2-ton capacity, allowing you to carry more asphalt, minimizing downtime for refills.
Superior Durability: Built heavy for the rigors of asphalt work, ensuring long-lasting performance in demanding conditions.
Seamless Operation: The engineered shovel tray, sliding access door, and exhaust ports with internal baffles provide effortless asphalt removal and complete warming area, streamlining your workflow.
When you arrive to your job site, fire up the torches and maintain the heat in the box so you always have hot asphalt ready.
When you're done your day, hopefully you've gone through all of the hot asphalt and made thousands. If not, sell patchwork and pothole repairs to business owners at significant discount but still huge margins to make end of the day profits or go back to the asphalt plant and dump it.
The AK4000 Asphalt Hot Box Includes:
2 Tiger torches
1 torch head with hose brackets
Shovel Tray
Heavy duty sliding insulated access door
Exhaust ports with internal baffles
Fork pockets
Tie down brackets for chains and binders
Insulated double doors for loading with custom heavy hinges
Loading doors with chains for max opening of 86 degrees
With its high 2-ton capacity, you can carry a significant amount of material, reducing the need for frequent refills and boosting overall efficiency.
Loading and unloading is a breeze thanks to the cleverly engineered shovel tray, making the process quick and hassle-free. The heavy-duty sliding access door adds convenience and efficiency to your workflow, allowing you to get the job done seamlessly.
The hot box is designed to optimize asphalt warming, featuring exhaust ports on both sides and internal baffles for uniform heat distribution. Note: This asphalt hot box is designed to keep hot asphalt hot throughout the day but is not designed to heat asphalt up from a cold hard state. Go to the asphalt plant and grab 2 tons of hot asphalt or less and then go to your job sites to do hot asphalt patching, pothole repair and asphalt aprons as well as asphalt speed bumps.
Forklift fork pockets located on front and rear side for easy loading and unloading, and laser-cut tie-down brackets ensuring a sturdy hold with chains and binders.
Plus, the insulated double doors with custom heavy hinges guarantee maximum insulation and a secure load. You'll have plenty of space to work with too, as the loading doors open wide, reaching a maximum angle of 86 degrees.
Pull your trailer or truck up to the work area and unload your hot asphalt for patching or pull your wheelbarrow up and load up.
We have clients making $4,000 per hot box load and the cost of the asphalt is under $250 for the 2 tons! That's some serious profit!
Call us to get your order in 1-866-399-5562 ext 1.
We are excited to work with you!
Asphalt repair, whether it involves fixing small potholes or major road resurfacing, often presents unique challenges. One of the most significant hurdles is maintaining the asphalt's temperature to ensure optimal bonding during the repair process. Enter the asphalt hot box, a pivotal piece of equipment designed to help overcome this challenge. In this article, we will delve into why an asphalt hot box is crucial to efficient and high-quality asphalt repair.
Understanding the Asphalt Hot Box
An asphalt hot box, in its simplest terms, is a device that helps maintain the temperature of hot mix asphalt during transportation from the plant to the job site. By keeping the asphalt hot, it ensures the material remains workable and achieves the best results upon application.
Whether you are using a 4 ton asphalt hot box for large-scale road repairs or a smaller unit for minor pothole fixes, the principles remain the same.
The Need for a Hot Box in Asphalt Repair
To understand why an asphalt hot box is essential, we must first understand how asphalt behaves. Asphalt starts losing its temperature as soon as it leaves the plant. If it cools too much before it reaches the job site, it becomes challenging to work with and does not bond correctly with the existing surface, which can lead to poor-quality repairs.
A hot box for asphalt ensures that the asphalt remains at the ideal temperature, regardless of travel time or weather conditions. This results in a more flexible, workable material that bonds properly and provides a durable repair.
Choosing the Right Asphalt Hot Box
With various models and sizes available, ranging from trailer-mounted units to 4-ton capacity hot boxes, choosing the right asphalt hot box depends on your specific needs. Factors such as the scale of your repair jobs, the distance from the asphalt plant to the job site, and your budget will influence your choice.
For large road maintenance tasks, a 4 ton asphalt hot box might be a suitable investment, offering substantial storage capacity and keeping a larger volume of asphalt at the optimal temperature for longer. Alternatively, if you're looking for mobility and versatility, an asphalt hot box trailer might be a more appropriate choice.
In conclusion, the importance of an asphalt hot box in the realm of asphalt repair cannot be overstated. It provides a solution to one of the most significant challenges in asphalt work - maintaining optimal temperature. By ensuring the asphalt stays hot and workable, an asphalt hot box facilitates better, more durable repairs, making it an essential tool for anyone involved in asphalt maintenance and repair.
Buying an Asphalt Hot Box Trailer
When you see an asphalt hot box trailer for sale, what should you consider? Key factors include the size of the hot box (in line with your typical job requirements), the insulation quality, temperature control system, and the overall build quality. It's also wise to consider the hot box's efficiency - how quickly it heats the asphalt and how well it maintains the temperature.
Finally, consider the maintenance requirements and the hot box's longevity. A well-constructed asphalt hot box trailer can significantly improve the quality of your road repairs, making it a valuable investment.
The trailer option can greatly benefit contractors in need of mobile asphalt solutions for various projects. Order the AK4000 2-Ton Asphalt Hot Box and upgrade with the trailer! This innovative addition transforms your asphalt hot box into a mobile powerhouse, providing convenience and efficiency for on-the-go projects.
*There is possibility that the hot box may get scratched or slightly dented during shipping but will have no impact on the operation and functionality of the product.
Specification
| | |
| --- | --- |
| Dimensions (Hot Box only) | 52" x 52" x 46" |
| Empty Weight (Hot Box only) | 934 lbs |
| Dimensions (Hot Box with Trailer) | 20' long x 102" wide |
| Empty Weight (Hot Box with Trailer) | 3,774 lbs |
Customer Reviews
Top customer reviews
Customer Questions
Can the AK4000 used for heating or just to save temperature in the box?
The AK4000 Hot Asphalt Box holds 2 tons of hot asphalt. Heated by two Tiger Torches.