6.5 HP Plate Compactor with 5-Gallon Water Tank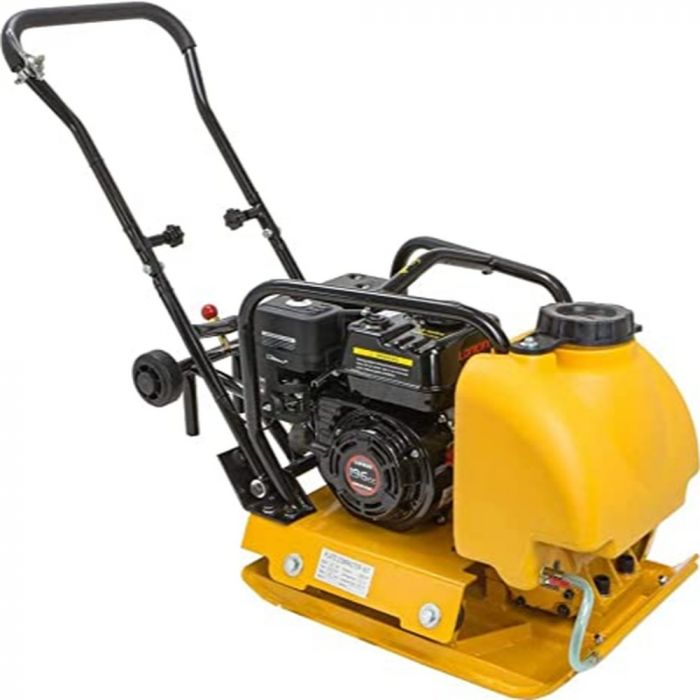 A durable gas-powered 6.5 HP vibratory plate compactor equipped with a 5-gallon water tank. Plate compactors are the unsung heroes in every contractor or DIYer's toolkit, tirelessly compacting soil, sand, gravel, and smoothing asphalt post-repair. Unveil the power of top-tier vibratory plate compactors, crucial for flawless asphalt care.
Read more
Powerful walk-behind plate compactor made for asphalt maintenance contractors and DIYers.
Fast and dependable compaction
Water tank included
Includes wheel kit for easy transport
FREE SHIPPING
Delivered in: 7 to 10 business days
Have questions? We're here to help!

Speak to an Asphalt Expert!
Contact our Experts
Discover the Versatility of Plate Compactors for Asphalt Care
Plate compactors are some of the most hardworking pieces of equipment in a contractor or DIYer's asphalt maintenance equipment arsenal. It's used to compact sand, soil, and gravel. It is also used to tamp down and level asphalt after pothole repair. That's why it's crucial to get only the best vibratory plate compactor you can afford.
Check out the 6.5 HP Plate Compactor from Asphalt Kingdom. Made for small to mid-size jobs, this compactor is your go-to when hunting and patching potholes.
This compactor machine is equipped with a heavy-duty 4-stroke air-cooled engine. It comes with a 1-gallon fuel tank, allowing you to fix multiple potholes in one day without worrying that you'll run out of juice in the middle of the job.
It produces 6500 vibrations per minute and can compact asphalt and soil up to 12"" in depth. This compactor machine has a maximum travel speed of 60-foot per minute and a forward speed of up to 30 meters per minute, making it one of the most efficient pieces of equipment out there.
Patching a pothole in a sloping driveway? You can accomplish that easily with this machine as it can climb up to 20 degrees.
It can compact up to 3229 square feet of asphalt or soil per hour and can produce a compaction depth of up to 7.9-inch.
Includes a water tank to prevent asphalt from sticking to the plate
All-steel construction and durable plate can take on the toughest asphalt
Foam grip around the handle helps reduce vibration
Choose the Asphalt Kingdom Plate Compactor
When it comes to pothole patching or undertaking any pavement construction or repair, the right tools make all the difference. The Asphalt Kingdom Plate Compactor stands out as a premier choice for professionals aiming for perfection. Here's why:
Efficient Ground Compaction. Whether you're dealing with sand or gravel, granular soils, or a mix, the vibratory plate compactor ensures consistent and thorough compaction.
Integrated Water Tank. The 5-gallon water tank not only aids in compacting but also prevents asphalt from sticking to the plate, ensuring smooth operation and increased tool lifespan.
Anti-Vibration Technology. User comfort and safety are paramount. The plate compactor is equipped with anti-vibration features, reducing hand-arm vibration and ensuring a comfortable grip.
Optimal for Various Projects. From small patch jobs to larger construction endeavors, this tool is versatile enough to handle diverse projects with the same efficiency.
Enhanced Durability. With a design focused on longevity, investing in the Asphalt Kingdom plate compactor means a product that lasts and delivers, time and time again.
Make the smart choice for your pavement projects. Equip yourself with a plate compactor that's engineered for excellence and durability. Choose Asphalt Kingdom.
Have questions? We're here to help!

Speak to an Asphalt Expert!
Contact our Experts
Specification
| | |
| --- | --- |
| Ready To Ship | Yes |
| Shipping Weight | 190 |
| Shipping Length | 25.60 |
| Shipping Width | 19.30 |
| Shipping Height | 27.60 |
| | |
| --- | --- |
| Product Dimensions | 32" x 24" x 30" |
| Product Weight | 198 lbs |
| Power | 6.5 HP / GX160 |
| Fuel | Gasoline |
| Fuel tank capacity | 1 gallon |
| Water tank capacity | 5 gallons |
| Displacement | 196 ml |
| Maximum shock force | 6300 lbs |
| Compaction force | 4000 lbs |
| Travel Speed | 60-ft per minute |
Customer Reviews
Top customer reviews