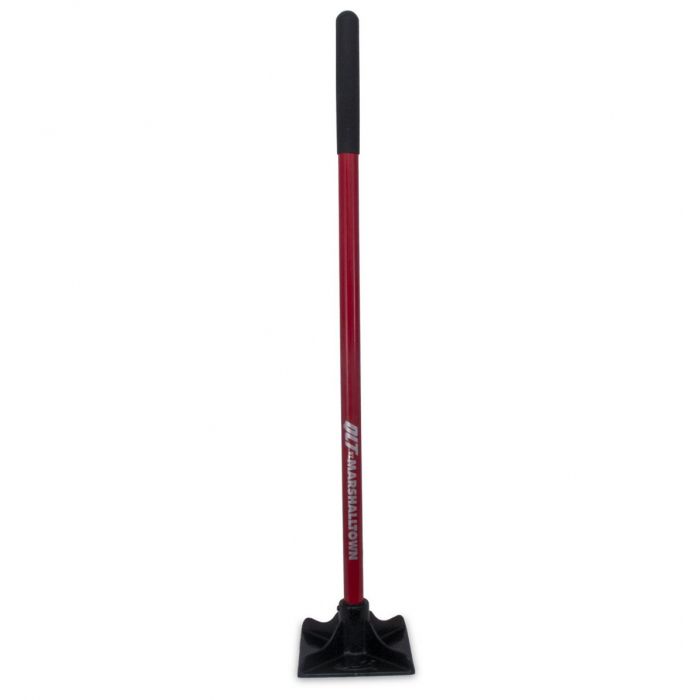 8" x 8" asphalt tamper tool for tamping down fresh asphalt patch.
Read more
Solid all-steel tamper
Rubber handle for better handling
Welded for improved longevity
FREE SHIPPING
Delivered in: 5-10 Business Days
Have questions? We're here to help!

Speak to an Asphalt Expert!
Contact our Experts
This high-quality asphalt tamper tool is designed for the hard-working contractor: solid all-welded steel construction means this product is built to last. The tamper base measures 8" x 8" while the 48" handle has a 10" rubber which allows a better grip and is more comfortable than other tampers on the market, so you can tamp down asphalt patches with less fatigue.
Made with all-welded steel that is built to last
Use to flatten and smoothen asphalt material
Essential tool for Patching

Asphalt patching takes place year-round, and having a good tool in your tool kit is essential. Use the Asphalt Tamper tool to flatten dirt, stone, asphalt and more.

If you're looking for the supplies to use with the asphalt tamper, check out our Cold Asphalt Patch page.

Questions or interested in a bulk order? Contact us.
Have questions? We're here to help!

Speak to an Asphalt Expert!
Contact our Experts
Customer Reviews
Top customer reviews
My experience doing business with asphalt kingdom was second to none Glenn Teano is my salesman. I was approved for $20,000 in financing and I put a whole list together of all types of things that I needed. But I wanted to take it slow put a little bit and now a week later a little bit more. He was great with that not pushy not trying to rack up my credit line just to make a sale. He took his time explain things to me when I had questions he had all the answers. I just can't say enough about thi

Read more

s company after two weeks I've received half of my order and it's all Bill very very well top quality equipment thank you Asphalt kingdom.