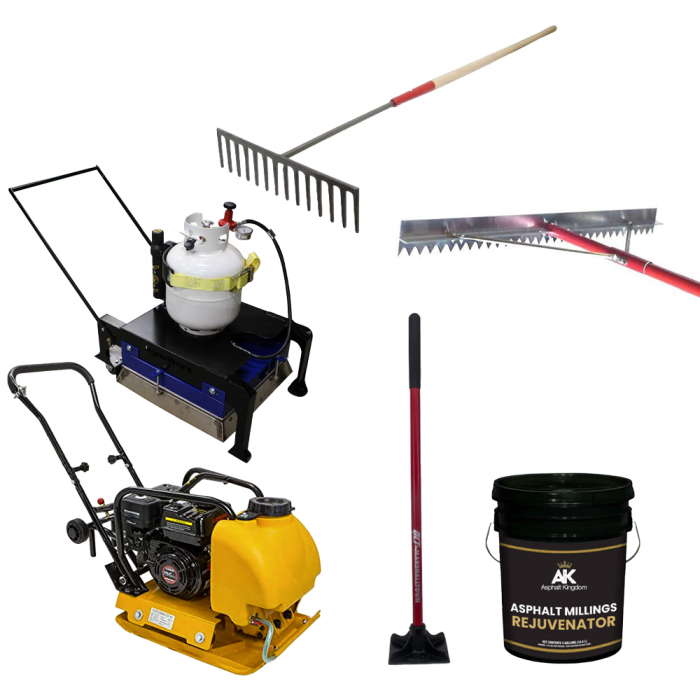 A pothole hunting package that will jumpstart your asphalt maintenance business and become your year-round moneymaker.
Read more
Complete asphalt pothole patching package handpicked for new asphalt maintenance contractors.
Handpicked all-in-one pro package
Keeps you profitable all year long
Best-in-class for pothole patching
FREE SHIPPING
Make It a Bundle
Become a Master Pothole Hunter with the Pothole Hunting Package
Start or expand your asphalt maintenance business with Asphalt Kingdom's Pothole Hunting Package. Potholes are safety liabilities that are easy to neglect. What happens to potholes when they're ignored? They get bigger and they become more dangerous! You can be the solution to this by offering asphalt pothole patching services.

Start a Pothole Patching Business
Contractors are charging $95-$100 per press of the RY2X2 Infrared Heating Machine. A "press" takes around 7 minutes and heats up the asphalt below the heater into a workable state. Repairing a pothole with the RY2X2 from start to finish takes about 15 minutes. You can make up to $400/hour. If you work 10 hours in a day, that's $4,000.
This asphalt pothole repair package includes:
RY2X2 2' Infrared Asphalt Heater
6.5 HP Plate Compactor with 5 gal water tank
Asphalt Millings Rejuvenator
Asphalt Light Lute
Asphalt Tamper Tool
Asphalt Rake

Easy to Use Pothole Patching Equipment
The RY2X2 2' Infrared Asphalt Heater is our best-selling pothole patching equipment. This compact heater is used to soften potholes and asphalt depressions up to 2' wide in preparation for patching. Heating damaged asphalt takes less than 10 minutes, while the whole pothole patching process takes less 15 minutes.
Fixing larger potholes or alligator cracking? Place multiple asphalt heaters side by side to cover extensive cracking, potholes, and other asphalt damage.
Striking out alone to hunt potholes is not a problem when you have the RY2X2 Infrared Asphalt Heater and the rest of this complete asphalt repair package. This asphalt heater can be operated by a single person as it is equipped with durable caster wheels and weighs only 90 lbs. The frame is made of 11-gauge steel so you know that it will last a long time.

All the Tools and Equipment You Need for Professional Pothole Patching
We've carefully curated this package for you so you don't have to go through the hassle of choosing the tools and equipment you need for this lucrative asphalt maintenance service.
You will want to stock up on asphalt millings from your local asphalt plant — or if you're in a pinch, you can use asphalt cold patch.
This pothole patching package includes a heat-proof asphalt rake and a lute for reworking and leveling softened asphalt.
The asphalt millings rejuvenator is a must-have for pothole patching, too. It helps restore the asphalt's binders and brings out its rich black color.
After heating the asphalt and reworking it with the lute or the rake, you can now compact it with your choice of tamper. Use the 8-inch tamper tool for small potholes and the Kushlan Plate Compactor, 2300 lb force for bigger jobs.

Additional value included with this package:
| | |
| --- | --- |
| Access to our Pothole Repair Course | $999 |
| Pothole Repair Flyer | $499 |
| NEW! Customizable Social Media Templates | $499 |
| Exclusive Weekly AK Round Table Meetings | priceless |
| Total value | $1,997 |
Customer Reviews
Top customer reviews
I purchased this machine to add services to my sealcoating business on the Eastern Shore of Maryland. Overall the price point is great. The machine works well heats up quickly and does its job. Where I am not impressed is the quality of the machine upon taking it out of the box reading the manual putting together the few bolt-ons. I noticed the front legs were bent and the machine rocks. This is a liability for not only my crew but my business. For the money spent I would have expected this to n

Read more

ot been an issue clearly coming from the factory it should have never passed a quality test overall just not happy with the quality. Price, value, and overall working components are great!

We're working on a project at the Super Walmart in Charleston South Carolina, and I just wanted to take a minute and let you know how impressed I am with this little infrared machine. We are currently using it as part of a larger project we have underway here. There was some patching and Walmart Management had some concerns about possible trip hazards up near the building. Were using our little infrared machine to take down those trip hazards rework that asphalt and make it seamless where it jo

Read more

ins the existing asphalt right up by the building to eliminate the trip hazards. This is a great little machine and I look forward to getting a bigger machine for bigger projects. I'll send you some photos. All the best!

I freaking love this thing

First Impression of the Little Infrared Judd Burdon is selling!

I freaking love this thing for what it is. For smaller repairs, this thing kicks Ass I'm my opinion! Only thing I may do different would be to have wheels on all 4 corners. This thing is great!

Excellent equipment. For medium pothole repair tools

I cannot begin to express how handy the ry2x2's are! Definitely a time saver for us!

This baby is perfect for small hard to get areas

This is the cats meow, if you have gray millings, this makes them like new, stick like glue, easier to use. It's the easiest way to make the job easy and look like you are a pro.

My experience doing business with asphalt kingdom was second to none Glenn Teano is my salesman. I was approved for $20,000 in financing and I put a whole list together of all types of things that I needed. But I wanted to take it slow put a little bit and now a week later a little bit more. He was great with that not pushy not trying to rack up my credit line just to make a sale. He took his time explain things to me when I had questions he had all the answers. I just can't say enough about thi

Read more

s company after two weeks I've received half of my order and it's all Bill very very well top quality equipment thank you Asphalt kingdom.

The seamless repair sells itself

I was able to use it and did not have any issues. I think it was great and did its purpose. I'm happy I purchase them!

Fantastic customer service

Fantastic customer service with expert knowledge and advice. Highly recommend this company for anyone looking to get into the asphalt maintenance business.

This IR machine is fantastic.

This IR machine is fantastic. Great value for money all contractors must have this for sure.

This is a fantastic piece of patching equipment.

I pre-ordered one of these for my business and after it arrives it sat for a few days before I took it out for its first use. It comes about 95% assembled and its very well packaged.
It's really sturdy too. Operation is easy too. You simply open the gas, set the regulator to 12psi and stick a torch under it for a few seconds to ignite it. A=Once lit, crank the pressure to 30psi and let it cook the spot you want to patch for about 10 min. Scarify the surface, add HMA if needed, smootRead moreh and compact. That's pretty much it.

This really is a great patching tool and it works just like the sales demonstration video says and shows. This thing will earn its keep with us very fast. Everyone on my crew that has used it so far loves it. We're now shopping larger IR units. If you're in the business and you're on the fence about this, do yourself a favor and get one. You'll be glad you did. I know I'm glad I did.
The RY2X2 2' Infrared Asphalt Heater is your moneymaker all year long!
Most asphalt maintenance services can only be done in the spring and summer, and this makes your income a bit limited.
But pothole patching is different. You can do it all year long, and yes, even in the middle of winter. Operating the RY2X2 is so easy you don't need a whole day to learn how to operate it. Just wheel the infrared asphalt heater on top of a pothole or birdbath, turn it on, and watch it heat and soften the asphalt in minutes.
Invest in the Pothole Hunting Package now and see how you can make money all year long.

How to Break Even
| | |
| --- | --- |
| Make $400/hr fixing 4 potholes at $100 each | $400/hr |
| Make back your investment in 10 hours (40 potholes) | $4,000 |
| Break even in | 10 hours* |
*Each press to heat up the asphalt takes approximately 7 minutes. If you have a 2nd person helping, you can increase your efficiency and break even in half the time.

Additional value included with this package:
| | |
| --- | --- |
| Access to our Pothole Repair Course | $999 |
| Pothole Repair Flyer | $499 |
| NEW! Customizable Social Media Templates | $499 |
| Exclusive Weekly AK Round Table Meetings | priceless |
| Total value | $1,997 |
Make this a Biz Videos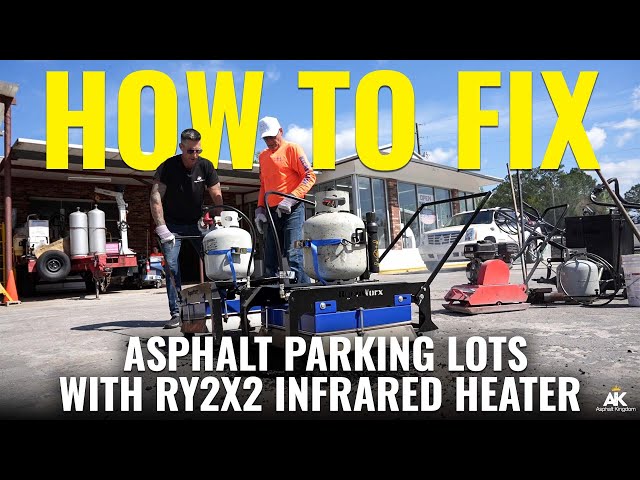 How to Repair Asphalt Parking Lots with the RY2X2 Infrared Asphalt Heater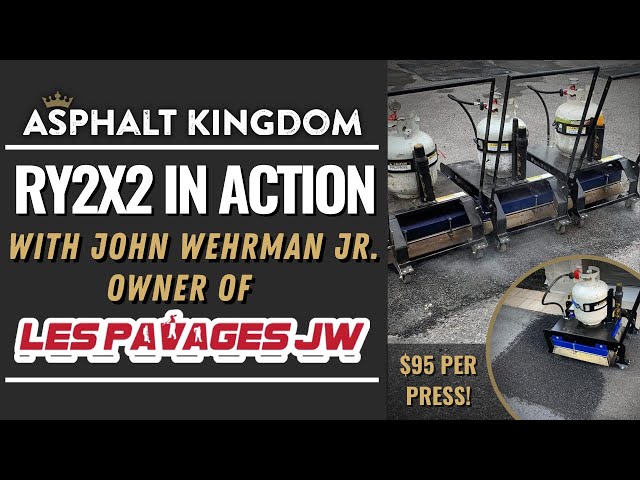 How to Operate the RY2X2 Infrared Asphalt Repair Machine