Portable Seal Coating Machine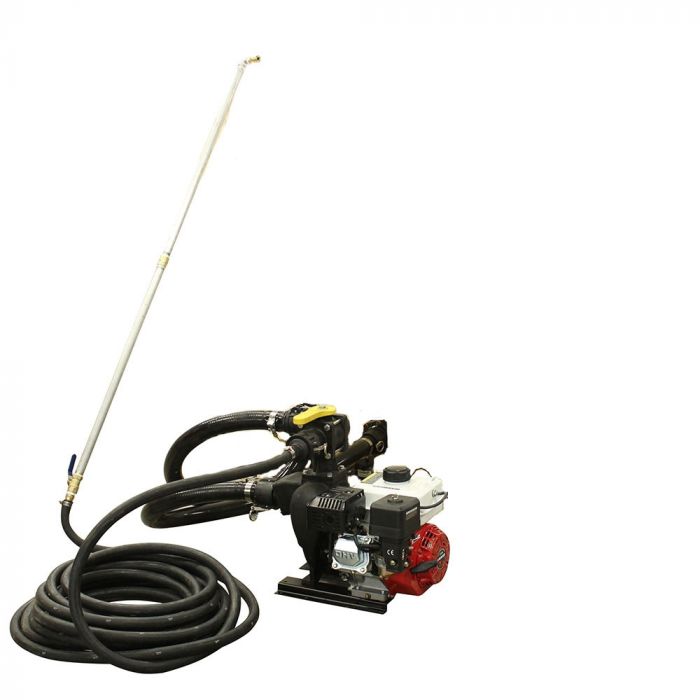 Add AK Make it a Biz Success Pack - Free With Purchase
Unlock your asphalt maintenance business's full potential with the AK Make it a Biz Success Pack, equipping you with expert-crafted tools and exclusive access to the AK Roundtable for accelerated growth and profitable opportunities.
Learn More

Make it a Biz Success Pack
Portable Seal Coating Machine is a cost effective to spray sealer on driveways and parking lots. It connects to tote adapter kit or barrel adapter kit.
Read more
Assembling Your Own Sealcoating Unit? Check Out This Versatile Portable Seal Coating Machine
use this with acrylic or water-based sealer
connects to tote adapter kit or barrel adapter kit
use for for occasional sealcoating when you don't want to store a spray system with a tank
The Portable Spray System is great for new contractors, property managers, as well as do-it-yourself parking lot owners. As a property owner this unit will cut your asphalt maintenance costs down substantially by allowing you to seal your own lot.
Use this system to connect to either a Tote of asphalt sealer, or a Drum of asphalt sealer. You can even buy both connection kits for maximum flexibility.
Coverage: If you purchase this unit with the Drum Connection Kit and a drum of asphalt sealer, you'll get approximately 6,500 square feet of coverage. If you purchase it with the Tote Connection Kit and a tote of sealer, you'll get 32,000 square feet of coverage.
Sealer Types: uses acrylic or water-based sealer only. Do not attempt to spray oil-based or petroleum seal coat as it will ruin the machine and void your warranty.
Thinking of starting a business? If you complete 32,500 sq ft at 21 cents per square foot you can generate $6,825 in gross revenue from just one full tote of sealer.
Note: Do not use sand with this spray system.
Specification
Engine Options
Launtop LT210 7.0HP Four-Stroke Engine with Low Oil Shutdown, Recoil Start or
Honda GX160 5.5HP Four-Stroke Engine with Low Oil Shutdown, Recoil Start
Pump Specs
Standard:
2" Aluminum Centrifugal Pump
Standard Duty, EPDM Mechanical Seal
Cast Iron Impeller

Or optional upgrade
2" Cast Iron Centrifugal Pump
Severe Duty, Viton/Tungsten Mechanical Seal
Cast Iron Impeller
Stainless Steel Wear Plate
Tank
50' x ¾" – 275psi Rated Sealcoating Hose
6' Ball Valve Gun w Hose Swivel
2GPM, 3GPM, 4GPM Quick-Connect Spray Tips (1/Each)
Quick-Connect 3-Way Valve
Included Accessories
50' x ¾" – 275psi Rated Sealcoating Hose
6' Ball Valve Gun w Hose Swivel
2GPM, 3GPM, 4GPM Quick-Connect Spray Tips (1/Each)
Quick-Connect 3-Way Valve
Performance
Agitation through pump recirculation @ 165 GPM
Sprayer Pressure: 45 psi at tip

Weight
155 lbs
Dimensions
30" x 25" x 30"
Sealer Compatibility
Refined coal tar emulsion without additives
Asphalt emulsion sealer without additives
Manuals

Download the Portable Sprayer Manual
Customer Reviews
Top customer reviews
Simple and easy to connect

We purchased the sprayer to connect to our 200 gallon tank we bought used. We had to add some plumbing to our tank so the hoses connected. It sprays great.

Barrel system needs improvement

The barrel system is ineffective when you get down 1/3 of material left in the barrel. Everything else works fine.

I was putting sealer on my 24,000 square foot farm driveway. I decided to do it with a sprayer instead of with a broom. Sprayed very well and very easy to operate. Will buy sealer in coming years and do it again on my own.
Start your Asphalt Maintenance Business just like Judd did!
Our founder, Judd Burdon, started in the asphalt business by sealcoating driveways and parking lots. It's a great niche service that helps prolong the lifespan of the pavement, and makes it look great. Click to add the Make it A Business resources to your spray system order, absolutely free:
Role-Practice Video:

Judd Burdon walks you through how to pitch sealcoating to prospects, including the questions you should ask them and the most likely questions they will have for you. Learn from the master!

Phone Script:

Swipe this powerful phone script and convert customers faster when you're prospecting. Use it yourself or hire someone to generate jobs while you're out working.

Social Media Templates:

Just add your logos to these great-looking graphics, post on your social media, and spread the word about your sealcoating business. You'll love the action you see from these lead generating images!

Sealcoating Proposal Template:

Use this proven template to fill in, print off and present to prospects. When your business looks professional, you can charge more for your services.

Access to the AK Round Table:

Want to join a group of like-minded people on a journey to build their own asphalt maintenance empire? Get access to our weekly Zoom meeting and get answers to your most pressing questions.
Starting an asphalt maintenance business can be scary if you don't have the resources you need to succeed. Let us do the heavy lifting for you. Make It A Biz!
Customer Questions
Does the Portable Spray System come with the suction and discharge hoses?
Yes it does.
This system includes a 50 foot 3/4" diameter hose, rated to 275psi.
Will the portable spray system work with a tote?
Yes, but not out of the box - you need to purchase the optional Tote Connection Kit.
Can I flush the unit without touching the sealer?
Yes, simply close the main valve on the bottom of the tote. Disconnect the suction hose from the bottom of the tote and then put that end of the hose in a 5 gallon pail and turn the valve above the pump to spray mode and then start the engine. The pump will suck the water up out of the 5 gallon pail into the pump and down the spray hose out the gun and then spray the water out of the gun back into the 5 gallon pail you just sucked up and you can recirculate it in the pail like this while having the engine on low idle.
Can this system spray sealer with sand in it?
We cannot warranty a system if sand has been used in it as it will wear and ruin the seals. We do however, suggest applying the sand by hand with a grass seeding machine after applying a thin wet coat of sealer and then applying a second coat of sealer over top of the sand layer as a final coat.
Does the system re-circulate as well as agitation systems?
300 gallon metal tanks with sweep agitation blades mostly move the product contents near the outside walls of the storage tank. The heavy paddles usually rotate very slowly and are driven by cumbersome gears, chains, and pulleys. The product near the center of the tank may never even get mixed at all!
To observe this, try this revealing experiment:
First take a can of paint, secondly take a paint stir stick. Now stir the contents using the stir stick only along the inside edge of the paint can slowly. Try to emulate the speed of a paddle moving around the inside of a storage tank. What happens to the contents in the center of the paint can? Hardly moves or mixes at all doesn't it?
The re-circulation system that comes with the AK Tote, Drum, Portable, 130 and 230 Sprayers is absolutely amazing. Your sealer mixes up in 3 to 4 minutes and ready to apply.
What sort of sealer can I spray?
These systems can be used with specific brands of Asphalt Emulsion sealer. The systems cannot spray sealer with sand.
Approved Sealers:
Asphalt Emulsion (AE): GemSeal, Sealmaster and Neyra sealers only without the addition of any latex additives
We can't guarantee the performance of the systems with other people's sealer because they may add additives that we don't know about that could affect the performance of the pump, hoses, circulation, etc. We use the industry's best-quality sealer and we can assure you that you will not have any issues with it; if you wish to use another brand of sealer please contact the manufacturer to guarantee performance with your spray system.
What type of engine oil should I use? How much oil is needed?
Any standard 4-stroke motor can be used. Like the ones used for lawn mowers, snow blowers, etc.
For Launtop engines, 5W-40 is recommended and you can fill up to the level of oil gauge which is about 0.5 Liter. For Honda engines, you can use 10W-30 or the 5W-30 during the cold season - around 0.55-0.6 Liter depending on the model.
Please refer to the manual included with your purchase.
Hello i bought a ak spray sytem and the filter kit.can you please tell me where i attach the filter kit thanks.
We recommend that you have the filter "pointing" down, that way gravity will help move particulates out of the way of the main flow.
The filter connects to the output port of the pump, and then your spray hose connects to the filter kit. Steps on how to assemble the Filter Kit:
Insert filter into main valve, close camlocks, insert cotter pins
Insert spray hose into other end of filter, close camlocks, insert cotter pins.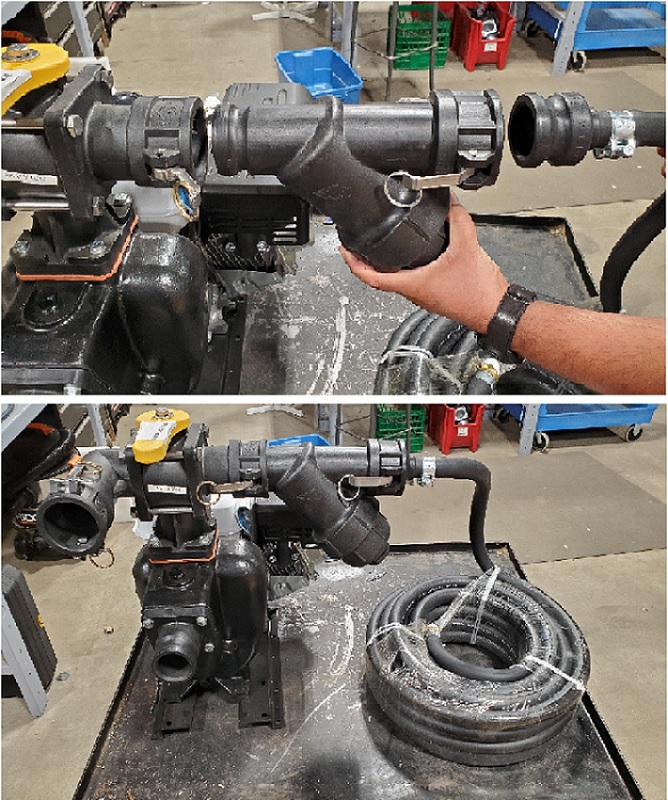 No. You will need to prime the system first before using it, then mix your sealer with a drill mixer prior to turning on your machine.
How do I remove or clean off the sealer stain when it dried out?
It's best to always have a bucket of soap and water handy. If there are stains, try an orange based hand cleaner available at any auto parts store. Apply to the overspray and let it work in for several minutes before removing with soapy water. You may have to repeat this application several times.
How to install replacement seal kit on my pump?
Depending on the pump that you have, installation of the replacement seal kit is easy. Please watch the instructional video on how to replace the seal kit for your
Aluminum pump
and
Cast Iron Pump
.
Which additive can I use with my spray system?
The only additive that should be used is the FSA Fast Sealing Additive, not the Fass-Dri Pavement Sealer Additive. FSA will not plug up any pumps, does not thicken sealer, and is a hardener and helps to set the sealer film. It also reduces tracking.