AK275 Tote Sealcoating Spray System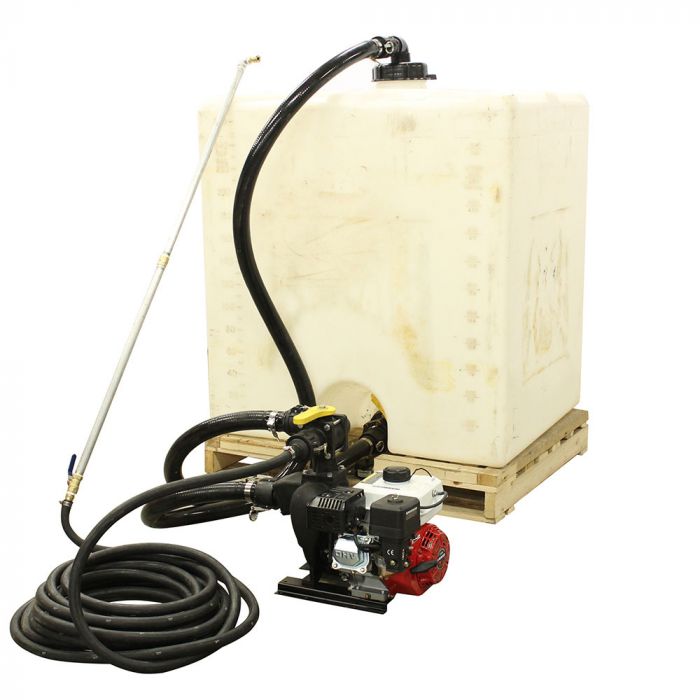 Add AK Make it a Biz Success Pack - Free With Purchase
Unlock your asphalt maintenance business's full potential with the AK Make it a Biz Success Pack, equipping you with expert-crafted tools and exclusive access to the AK Roundtable for accelerated growth and profitable opportunities.
Learn More

Make it a Biz Success Pack
Make up to $9,625 per tote of sealer — just add a tote of sealer and you can spray up to 27,500 square feet!
Read more
Complete sealcoating spray system for DIYers and new sealcoating contractors. High-capacity tote can accommodate as much as 275 gallons of sealer. Empty tote not included.
Make $0.35 per square foot
Sprays acrylic & water-based sealer
Sealcoating equipment with 1-year warranty
FREE SHIPPING
Delivered in: 7 to 10 Business Days
Add These To Minimize Your Effort!
Unleash Your Sealcoating Business's Full Potential With The AK275 Tote Sealcoating Spray System
Acrylic or water-based sealer spray system
Connects to a 275 gallon tote (not included)
Use for large jobs where a drum of sealer is not enough.
If you need to sealcoat larger areas and the AK55 Sealer Sprayer For Drums just won't give you enough square footage, the AK275 Tote Sealcoating Spray System is the next step up. It allows you to hook directly up to a 275 Gallon tote. The system is great for new contractors, property managers, as well as do-it-yourself parking lot owners. Though similar to the Drum Kit unit, this unit appeals to contractors or property owners that have larger jobs where a single drum may not be enough sealer.
What Other Customers Say:

"We could not be happier with our business relationship with Asphalt Kingdom. The products are top quality and the customer service is excellent. Thanks guys"


Randy Morris




Equipment Manager, Barnes Farming Corporation
Coverage: A 275 gallon tank of sealer will cover up to 27,500 sq ft. Tank sold separately.
Sealer Types: Please note, this system uses acrylic or water-based sealer only. Do not attempt to spray oil-based or petroleum seal coat as it will ruin the machine and void your warranty.
As a property owner this unit will cut your asphalt maintenance costs down substantially by allowing you to seal your own lot. As a contractor this unit will more than triple your investment in a single tote. If you complete 27,500 sq ft at 35 cents per square foot you can generate $9,625 in gross revenue from just one full tote of sealer. It takes less than 10 minutes for the built in re-circulation system to mix the sealer and you're ready to start sealing.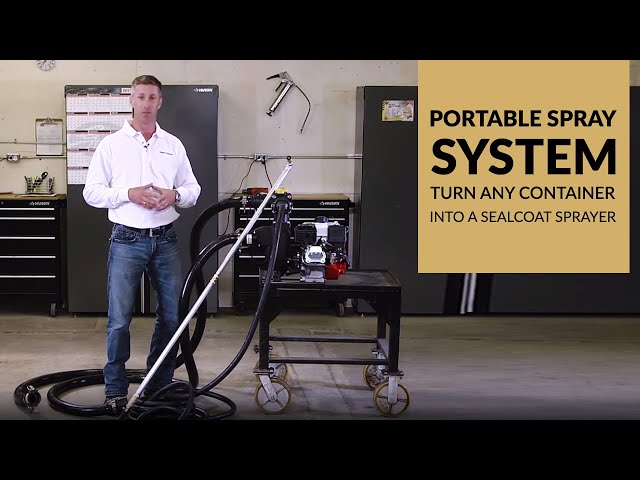 Please note: The AK275 Tote Sealcoating Spray Systems are designed to work with our sealer totes and proprietary camlock connectors. If you want to use your own tote, the tote will need to have a 2" male camlock (ideally with a 90 degree bend) and a threaded adapter to be compatible with the tote sprayer. Threaded adapters vary, so we recommend checking your local plumbing supply stores to find the best fit.
Note: Do not use sand with this spray system.
Specification
Weight
155 lbs
Dimensions
30" x 25" x 30"
Engine Options
Launtop LT210 7.0HP Four-Stroke Engine with Low Oil Shutdown, Recoil Start or
Honda GX160 5.5HP Four-Stroke Engine with Low Oil Shutdown, Recoil Start
Pump
2" Cast Iron Centrifugal Pump
Severe Duty, Viton/Tungsten Mechanical Seal
Cast Iron Impeller
Stainless Steel Wear Plate

Tank Fitting
Plug & Play with all 275 Gallon IBC Totes (sold separately) which Contain a 2" Male CamLock Drain Valve and 2" NPT Threaded Opening on the Cap

Included Accessories
6' Ball Valve Gun w Hose Swivel
2GPM, 3GPM, 4GPM Quick-Connect Spray Tips (1/Each)
50' x ¾" – 275psi Rated Sealcoating Hose
Quick-Connect 3-Way Valve
Quick-Connect Cam-Lever Fittings

Performance
Agitation occurs through pump recirculation @ 165GPM
Spraying Pressure 45psi at Tip

Sealer Compatibility
Refined coal tar emulsion without additives
Asphalt emulsion without additives
Customer Reviews
Top customer reviews
Keep sharing and showing us the ropes cause it's helped me tremendously!

Hey Judd obviously I don't know you personally but wanted to share with you! Back early July I was working for a Asphalt paving company making 20$ a hour I was pretty miserable in life because I knew I wanted more … I been working on and off with this company since 2015 so I have sealcoating experience. I was searching for a sealcoat tank and set ups online and found Asphalt kingdom ???? I ended buying a new pick up truck sealcoat tank and motor/cast iron pump from you guys … Macky Lorca one of

Read more your specialists has sat on the phone with me for at least a couple hours now altogether teaching me all about my new system she is amazing and lately work has been booming and kicking ass! My company J&L Sealcoating LLC has had a great season and I started super late practically August! I got my LLC and EIN # …Next year is gonna be a great year! Keep sharing and showing us the ropes cause it's helped me tremendously! Check out my website when you get the chance! Jandlsealcoating.com and J&L Sealcoating LLC on Facebook and tell me what you think!???????? Appreciate you guys!

-Josh Laprade

I am very impressed with this product. I started Atlas Sealcoating a few months ago and it's going great! I needed a sprayer system as we moved into larger commercial lots. The AK275 is great for smaller businesses on a budget. I've done some great lots with this sprayer! I would definitely recommend getting the filter kit. It's easy to install and makes your life so much better by avoiding clogs.

My experience doing business with asphalt kingdom was second to none Glenn Teano is my salesman. I was approved for $20,000 in financing and I put a whole list together of all types of things that I needed. But I wanted to take it slow put a little bit and now a week later a little bit more. He was great with that not pushy not trying to rack up my credit line just to make a sale. He took his time explain things to me when I had questions he had all the answers. I just can't say enough about thi

Read more

s company after two weeks I've received half of my order and it's all Bill very very well top quality equipment thank you Asphalt kingdom.

We could not be happier with our business relationship with Asphalt Kingdom. The products are top quality and the customer service is excellent. Thanks guys.

Je parle français et mon contact a cette endroit est Jennifer elle donne un super service merci beaucoup
Start your Asphalt Maintenance Business just like Judd did!
Our founder, Judd Burdon, started in the asphalt business by sealcoating driveways and parking lots. It's a great niche service that helps prolong the lifespan of the pavement, and makes it look great. Click to add the Make it A Business resources to your spray system order, absolutely free:
Role-Practice Video:

Judd Burdon walks you through how to pitch sealcoating to prospects, including the questions you should ask them and the most likely questions they will have for you. Learn from the master!

Phone Script:

Swipe this powerful phone script and convert customers faster when you're prospecting. Use it yourself or hire someone to generate jobs while you're out working.

Social Media Templates:

Just add your logos to these great-looking graphics, post on your social media, and spread the word about your sealcoating business. You'll love the action you see from these lead generating images!

Sealcoating Proposal Template:

Use this proven template to fill in, print off and present to prospects. When your business looks professional, you can charge more for your services.

Access to the AK Round Table:

Want to join a group of like-minded people on a journey to build their own asphalt maintenance empire? Get access to our weekly Zoom meeting and get answers to your most pressing questions.
Starting an asphalt maintenance business can be scary if you don't have the resources you need to succeed. Let us do the heavy lifting for you. Make It A Biz!
Customer Questions
How do you agitate the sealer inside a tote?
There are 4 ways to mix sealer inside a tote prior to application or transfer to your sealcoat tank:
1. Use one of our portable spray systems to connect to the tote's suction port and the tote's return feed. Recirculate the sealer for 4 to 5 minutes.
2. Use a compressor with a long 6' lance to stick down in the top port of the tote. Push the air from the compressor throughout the bottom of the tote to bubble and agitate the material for about 15 minutes.
3. Do both of the above together for optimal sealer agitation results.
4. Use an IBC electrical tote mixer that is mounted on top of the tote. The mixer has a long shaft with a mixer head on it that spins inside the tote to agitate. These electric mixers are quite costly so option 3 above is generally the most commonly used.
How to replace the seal of the pump?
This video
shows you step by step how replace the seal of the aluminum pump.
This video shows you step by step how replace the seal of the cast iron pump.
The sealer is suddenly just trickling out of my spray tip. What caused this?
If a chunk of sealer, a stone, or a rock is blocking the output of the tip, it would create a blockage in the tip that would create a trickle or a pressurized multi-stream spray. Sealer sitting in the tank for a long period of the tank can dry on the side walls and form flakes. These flakes can fall into the rest of the sealer and get suctioned through to your spray tip, causing a blockage.

We heavily advise investing in a filter kit, as it filters out unwanted chunks. See more troubleshooting tips for if you lose pressure at the spray tip.
I'm getting an uneven spray pattern.
This usually happens due to the tip clogging or if the tip is worn out past a usable point. Make sure to clean your spray tips after every sealcoat job. Buy new spray tips and invest in a filter kit to prevent clogged spray tips.
What type of engine oil should I use? How much oil is needed?
Any standard 4-stroke motor can be used. Like the ones used for lawn mowers, snow blowers, etc.
For Launtop engines, 5W-40 is recommended and you can fill up to the level of oil gauge which is about 0.5 Liter. For Honda engines, you can use 10W-30 or the 5W-30 during the cold season - around 0.55-0.6 Liter depending on the model.
Please refer to the manual included with your purchase.
How do I prime the pump? How often should I do it?
Pump priming is simple. As long as there is constant liquid reaching the pump, it will prime and pump. The less air in the suction hoses the better the pump will prime and work.
When transferring sealer from drums to the main spray system tank make sure the transfer kit hose is completely full of water. Connect the barrel pipe to the transfer kit and then the other end of the transfer kit to the suction port of the pump and make sure the transfer kit hose remains full of water. Put the barrel pipe into the sealer drum. Make sure the ball valve handles are in transfer mode. Start your motor and begin your transfer.
The pump only needs to be primed the first time you use it or if you haven't used your pump for longer than 24 hours. Use 1 gallon of water in the pump through the pump orifice allows the machine to immediately push that liquid through, creating enough force to start pulling sealer from the tank.
If air is hitting your pump at anytime it will lose prime and the chances of burning up your seals are high. Make sure water or sealer is always reaching your pump.
If the pump is leaking between the engine and the motor, it's usually caused when the pump overheats, due to running the pump dry. The main master seal heats up and shrivels up, creating small cracks. Always make sure you run some kind of liquid in your pump, whether it be sealer or water during priming.
Do have to prime my AK55 spray system again once I've primed it to remove sealer from my drums to my own personal tote?
You can prime it as many times as you want but doing it once would be enough.