Asphalt Emulsion Sealer (275 Gallon Tote)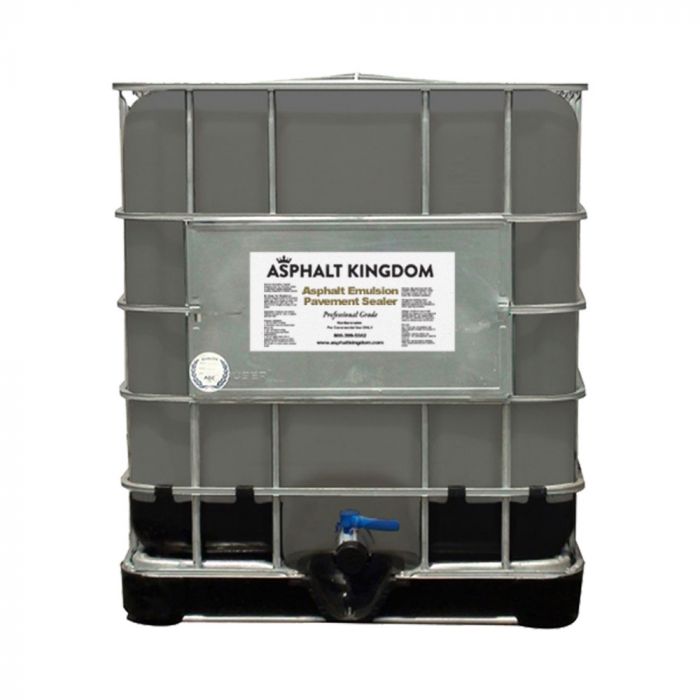 Add AK Make it a Biz Success Pack - Free With Purchase
Unlock your asphalt maintenance business's full potential with the AK Make it a Biz Success Pack, equipping you with expert-crafted tools and exclusive access to the AK Roundtable for accelerated growth and profitable opportunities.
Learn More

Make it a Biz Success Pack
Top quality asphalt emulsion sealer designed to protect asphalt driveways and parking lots from traffic and weather. This saves money over repaving so often. It also keeps it looking great!
Read more
Commercial-grade tote of asphalt emulsion sealcoat. 27,500 square feet of coverage* - dries in a few hours.
Make $9,600+ per tote
27,500 sq ft per tote*
Door to door shipping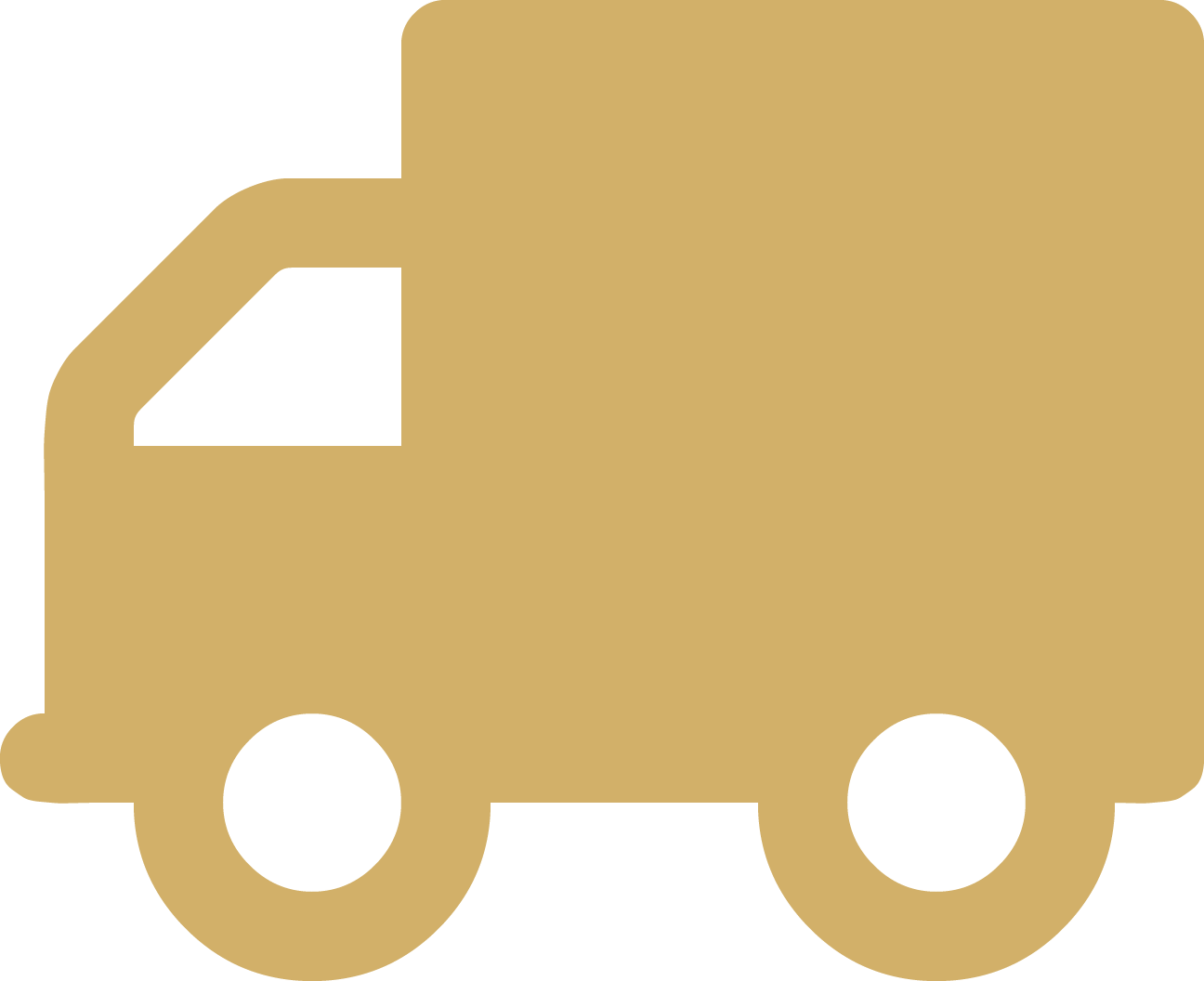 Free Shipping to commercial address with a dock or forklift
Delivered in: 5-10 Business Days
Add These To Minimize Your Effort!
Have questions? We're here to help!

Speak to an Asphalt Expert!
Contact our Experts
Have Enough Sealer All Day Long with the Asphalt Emulsion Sealer (275 Gallon Tote)
Save money when purchasing a tote of asphalt emulsion sealer vs drums of sealer. You'll also get larger coverage rates with this 275-gallon tote to sealcoat driveways or parking lots which saves you even more.
Whether you want 1 tote of sealer or a truckload, we have stock ready to ship country-wide. Call for a quote for bulk loads 1-866-399-5562
Approved for use in every state in the USA
Cover as much as 25,000-27,500 sq ft*
Save huge when buying a tote vs individual drums
Asphalt emulsion sealer can be used to sealcoat asphalt surfaces in all 50 of the United States.
How to Apply Asphalt Emulsion Sealer
This product can be applied with an AK Spray System, with a sealcoating squeegee, or a brush. The options provide asphalt maintenance companies with options on how they utilize their labor.
Spray systems are the most common choice with this asphalt emulsion sealer. Each spray system delivers an even coating of sealcoat to the asphalt. Plus, emulsion sealers can dry quickly in sunlight or with the proper additives, so clients can have their lots back faster. Use it as quickly as possible. It is eco-friendly and therefore has bacteria that can build and then expand.
Totes of asphalt emulsion sealer are economical to ship. They're self-contained units, so shipping and loading are simple. Asphalt companies may decide to simply put a tote straight on a trailer to go to work too.
Please Note: We are happy to offer FREE SHIPPING to the Continental United States (Alaska and Hawaii are not included; please call for a shipping quote.) Residential, limited access, lift-gate, and deliveries to remote areas will be subject to extra fees. An additional $150 per pallet is also required for West coast shipments - Arizona, California, Colorado, Idaho, Montana, Nevada, New Mexico, Oregon, Utah, Washington, and Wyoming.
Reminder for the Season: As we enter the winter, please be advised that our sealer is a no-freeze product. Any exposure to below-freezing temperatures will render this product unusable. If the product has been exposed to freezing temperatures, returns will not be accepted for credits.
*When using a sealcoat sprayer, our product provides a coverage of 100 square feet per gallon for a single coat or 100 square feet per 2 gallons for a double spray. Please note that when applying the sealcoat manually, the coverage will be lower, ranging from 50 to 60 square feet per gallon for hand application.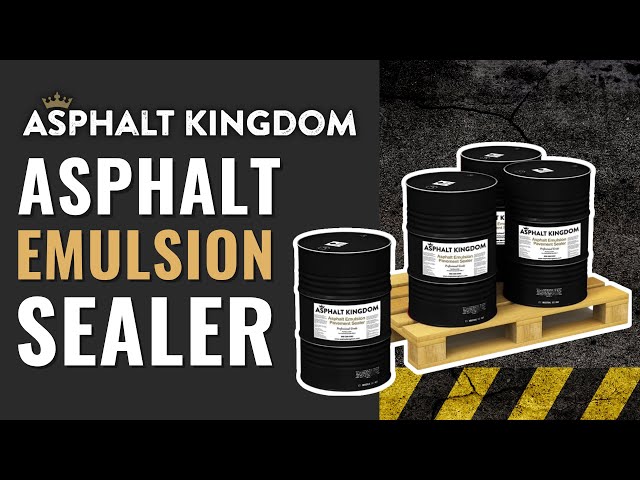 Blacktop Calculator
Let us help you determine what you need.
Have questions? We're here to help!

Speak to an Asphalt Expert!
Contact our Experts
Specification
| | |
| --- | --- |
| Ready To Ship | Yes |
| Shipping Weight | 2900 lbs |
| Shipping Length | 48" |
| Shipping Width | 40" |
| Shipping Height | 46" |
| | |
| --- | --- |
| Water % | 53 Max, 48 Min |
| Non-Volatile % | 52 Max, 47 Min |
| Ash % | 39 Max, 35 Min |
| Sp. Gr. @ 77° | 1.29 Max, 1.19 Min |
Customer Reviews
Top customer reviews
The emulsion works perfect and I give 5 star to AK staff, they answer all my question in no time.

Very happy we found the company.

Very good product, will likely order the five gallon buckets next time vs. the tote as we do not have a spray wand. The convenience of the buckets would be worth a few extra bucks. Speedy delivery.

Very good product volume pricing

I was very happy with this product and pricing
I have been buying a lot of products lately and asphalt kingdom makes it easy


Start your Asphalt Maintenance Business just like Judd did!
Our founder, Judd Burdon, started in the asphalt business by sealcoating driveways and parking lots. It's a great niche service that helps prolong the lifespan of the pavement, and makes it look great. Click to add the Make it A Business resources to your spray system order, absolutely free:
Role-Practice Video:

Judd Burdon walks you through how to pitch sealcoating to prospects, including the questions you should ask them and the most likely questions they will have for you. Learn from the master!

Phone Script:

Swipe this powerful phone script and convert customers faster when you're prospecting. Use it yourself or hire someone to generate jobs while you're out working.

Social Media Templates:

Just add your logos to these great-looking graphics, post on your social media, and spread the word about your sealcoating business. You'll love the action you see from these lead generating images!

Sealcoating Proposal Template:

Use this proven template to fill in, print off and present to prospects. When your business looks professional, you can charge more for your services.

Access to the AK Round Table:

Want to join a group of like-minded people on a journey to build their own asphalt maintenance empire? Get access to our weekly Zoom meeting and get answers to your most pressing questions.
Starting an asphalt maintenance business can be scary if you don't have the resources you need to succeed. Let us do the heavy lifting for you. Make It A Biz!
Customer Questions
How many square feet does the sealer cover?
We carry commercial-grade DOT spec sealer with a coverage rate of 100 square feet per gallon.
5,500 square feet per 55 gallon drum. 
22,000 square ft per pallet of sealer and 
27,500 square feet of coverage per 275 gallon tote
When is it too warm or too cold to apply sealer?
Temperatures must be 55 degrees or warmer for 3 hours after application for it to dry properly. Cure times will be longer in cooler conditions. The hotter it is, the faster the water evaporates from the sealer and the dry time can be as fast as 30 minutes. Try not to apply if hotter than 105°F.
How long does sealer need to dry before it rains?
Ideally sealer should dry for a couple of hours before it rains. It may need more time if it's very cloudy and humid.
How long does it need to dry before I do a second coat?
There is no need for two coats, but if you're doing two coats, do them a week apart so the sealer has time to cure completely.
Should I dilute my sealer?
Your sealer comes Ready to Use so you do not really need to dilute unless needed to. If needed - like during the hot days of summer, you can dilute up to 5-10%.
How to mix the sealer in the 275-gallon tote?
The best way to do this is with a drum mixer that you attach to a drill. It's faster and more thorough than using a broomstick or other long-handled implement. We have one available here:
Drum Mixer
.
I'm getting foam on top of my sealer.
The cause of this is over-agitating the sealer. Only recirculate your sealer for 2-3 minutes max at the beginning of the day and maybe for a minute at the beginning of each job.
My system is not agitating.
You get this when the sealer is too thick and the pump cannot create a prime to circulate the sealer. Dilute it properly to achieve 20 to 30% water dilution.
Use a dipstick to check the level of your sealer at the end of the day and the next time you use your system, just in case of water evaporation (if the levels are different, add enough water to regain the previous sealer level).
Another possible reason could involve the system's ball valve. On the output part of the pump, there's a ball valve that allows you to redirect the sealer to the top of the tank or to the spray gun. If that ball valve is constantly or permanently broken to the spray gun, you wouldn't get recirculation.
What is the storage temperature of the Asphalt Emulsion Sealer?
No matter what time of year it is, you must protect against freezing temperatures. This is true of storing asphalt sealer for the day or the season. Otherwise, you will end up with a ruined product that is useless to you. Make sure your sealant storage is 45º to 50º F whether it's the end of the day or the end of the season.
How do I remove or clean off the sealer stain when it dried out?
It's best to always have a bucket of soap and water handy. If there are stains, try an orange based hand cleaner available at any auto parts store. Apply to the overspray and let it work in for several minutes before removing with soapy water. You may have to repeat this application several times.
How do you agitate the sealer inside a tote?
There are 4 ways to mix sealer inside a tote prior to application or transfer to your sealcoat tank:
1. Use one of our portable spray systems to connect to the tote's suction port and the tote's return feed. Recirculate the sealer for 4 to 5 minutes.
2. Use a compressor with a long 6' lance to stick down in the top port of the tote. Push the air from the compressor throughout the bottom of the tote to bubble and agitate the material for about 15 minutes.
3. Do both of the above together for optimal sealer agitation results.
4. Use an IBC electrical tote mixer that is mounted on top of the tote. The mixer has a long shaft with a mixer head on it that spins inside the tote to agitate. These electric mixers are quite costly so option 3 above is generally the most commonly used.
Can asphalt sealant be used on a concrete driveway? I've only seen it on asphalt driveway
We heard that some people use it on concrete. Please keep in mind that this material is intended for use with asphalt. As a result, it will have a different effect on concrete than it does on asphalt.
How should I store asphalt emulsion sealant? What should I do if the container is swollen or there's pressure build-up?
Asphalt emulsion sealant should not be stored in direct sun or heat. Store at room temperature and out of direct sunlight. Learn more about
asphalt emulsion storage
and what to do if you experience swelling or pressure build-up.
Should I Get a Tote of Sealer or a Drum?
It comes down to your weight and convenience. Totes weigh a grand total of about 3,000 lbs. As it sits for periods of a week or longer, the sediment and the clay in the sealer will settle to the bottom leaving a thick sludge at the bottom of the tote. This means that when you go to suck from the bottom of the tote with a spray system, it will suck the sludge through the pump and put a lot of strain on the pump. But it will suck it up and then recirculate it back to the top of the tote if used with one of AK's Spray Systems. In recirculation mode, when the sealer reenters the top, it - of course - settles down to the bottom again and sucks from the bottom. The thing is the suction point at the bottom of the tote has a one-way output valve and so when it sucks from that area, it will suck the sludge from that given area with a circumference of, approximately, or a diameter of, approximately, one foot. And what happens is the sediment will remain at the back corners of the tote and unless you can get down there with a long broomstick or a long drum mixer for totes, it can get very challenging to get the sediment solids moved to the suction feed of that tote, which means that you would end up with sealer that doesn't have the right amount of solids in it because, of course, when a tote's originally filled, it had a right amount of solids. A Tote is heavy to move around so you need a forklift or you need a very strong power jack to be able to move it around like a skid steer. Drums weigh about 650 lbs. You can use a dolly to move it around. It has a ring lid at the top, and the lid pops right off. You can use one of our drum mixers to mix up the sealer. It's easy access and is a simpler to operate from and also to mix. Make sure it's mixed to its proper water to sealer ratio where the solids are mixed back in the water. It makes it a lot easier for you to pump the sealer without strain and allows you to spray a consistent, final product that is ready for application. Any time you leave sealers sitting in totes or drums, it does require full agitation of the material before it is sprayed on any surface or applied via buckets with brooms and/or squeegees.