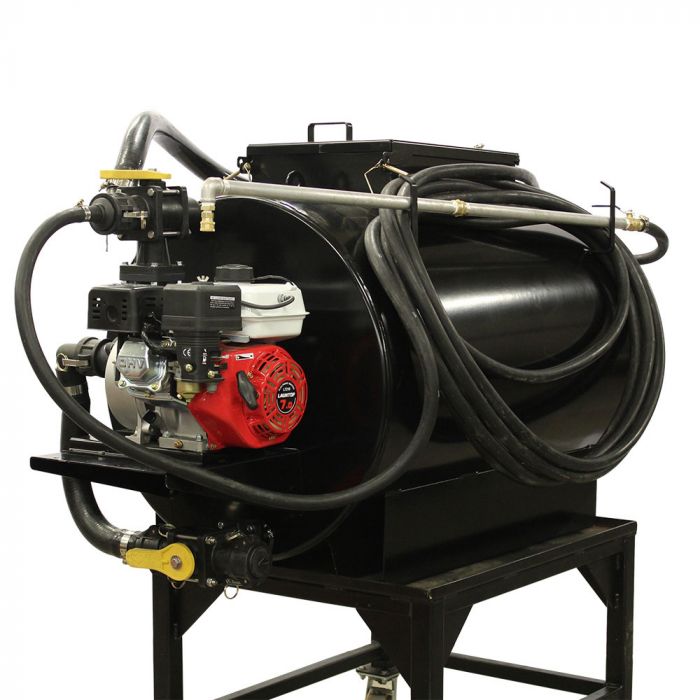 Add AK Make it a Biz Success Pack - Free With Purchase
Unlock your asphalt maintenance business's full potential with the AK Make it a Biz Success Pack, equipping you with expert-crafted tools and exclusive access to the AK Roundtable for accelerated growth and profitable opportunities.
Learn More

Make it a Biz Success Pack
Mounts on 1 ton truck or larger. 130 gal tank covers 13,000 sq ft of surface.
Read more
Jumpstart or scale your sealcoating business with the AK130 Residential Sealcoat Sprayer. Equipped with a high-capacity tank and offers reliable performance every time.
High-capacity solid steel tank
Rugged and dependable engine
Sprays water-based or acrylic sealer
Free Shipping to commercial address with a dock or forklift
Delivered in: 7-12 Business Days
Specialize in Residential Sealcoating? Then Choose the AK130 Residential Sealcoat Sprayer!
The AK130 Gallon Spray System is the ideal setup for someone looking to start a driveway sealing company, or an existing contractor looking to add another stream of income to their existing business. This sealcoating machine will easily fit in the back of a light pickup truck or small trailer.
ideal for small driveway sealing contractor
130 gallon professional steel tank
carries up to 130 gallons to cover 13,000 square feet
will fit comfortably in a half ton pickup truck or trailer
spray gun and 3 tips included
At .25¢ per square foot you can generate $3,250 in revenue. In as little as 1.5 tanks you can pay for this unit and still have money in your pocket.
What Other Customers Say:

"The people at Asphalt Kingdom are amazing definitely a 10 out of 10 experience getting to know & do business with them."


John Vanzyl




Owner, Xtreme Sealcoating
Tank: We've designed this unit with you in mind from top to bottom. This unit features a puncture-proof 11 gauge steel tank that won't warp with pressure buildup or weather fluctuation like lower value poly tanks. We've manufactured this sealcoating machine with a large double splash manhole opening; this allows for easy cleaning and maintenance of your tank as well as spill prevention during transport. You may also use the manhole for transferring sealer or adding water to meet proper dilution. 
Engine & Pump: This unit comes standard with an engine and pump, with professional-grade Viton seals. The included spray gun makes cutting in the edges of the driveway simple and gives you precise control over the amount of sealer that is applied with a streak-free finish.    
Coverage: The 492 Litre (130 Gallon) steel tank, when full, can cover close to 13,000 square feet.
Sealer Types: Our systems spray water-based or acrylic sealer only. This sealcoat spray system does not work with petroleum or oil-based sealer, gilsonite, or any asphalt sealcoat with sand in it. If you are purchasing sealer from anywhere other than Asphalt Kingdom, please check with your sealer manufacturer to ensure compatibility. We are unable to guarantee compatibility between this sealcoating equipment and any sealer other than our own since we have no way of verifying the manufacturing process, abrasiveness or viscosity of the material .
A popular upgrade for our asphalt sealcoating spray systems is the FAST SEALER TRANSFER KIT. This kit plugs directly into all Asphalt Kingdom Spray Systems and is required to load sealer from any drum or tote. Spray wand included.
Note: Do not use sand with this spray system.
Specification
| | |
| --- | --- |
| Ready To Ship | No |
| Shipping Weight | 437 |
| Shipping Length | 51.50 |
| Shipping Width | 33.75 |
| Shipping Height | 40 |
Pump Type
Cast Iron Centrifugal Pump

Circulates 225 gallons per minute
45 psi at the tip
Cast Iron Impeller
Viton Seals
1 year limited warranty

Engine
Briggs & Stratton 12S 6.5HP Gas Engine

Oil Sensor Alert
2 year limited warranty

Tank

Welded solid steel tank, 11 gauge steel
Solid black powder-coated with anti-rust base
Welded hose brackets with locking arms for securing hose during transport

Hose

75 feet - 3/4" length standard spray hose, 150 PSI rated

Wand

42" Trigger Gun & Wand includes backup ball valve
3 Quick-Connect Spray Tips included (2 GPM, 3 GPM, 4 GPM)

Capacity
492 litres / 130 Gallons
Weight (Empty/Full)
397 / 1497 lbs
Manuals
Download the AK130 Manual
Why do Mechanical Seals Fail?
1 Year Limited Warranty
Customer Reviews
Top customer reviews
The people at Asphalt Kingdom are amazing definitely a 10 out of 10 experience getting to know & do business with them.

When they first got the machine, it was leaking really bad, but after tightening the screws on the pump, the machine worked really great and had not had any issues since then. - Leona
Start your Asphalt Maintenance Business just like Judd did!
Our founder, Judd Burdon, started in the asphalt business by sealcoating driveways and parking lots. It's a great niche service that helps prolong the lifespan of the pavement, and makes it look great. Click to add the Make it A Business resources to your spray system order, absolutely free:
Role-Practice Video:

Judd Burdon walks you through how to pitch sealcoating to prospects, including the questions you should ask them and the most likely questions they will have for you. Learn from the master!

Phone Script:

Swipe this powerful phone script and convert customers faster when you're prospecting. Use it yourself or hire someone to generate jobs while you're out working.

Social Media Templates:

Just add your logos to these great-looking graphics, post on your social media, and spread the word about your sealcoating business. You'll love the action you see from these lead generating images!

Sealcoating Proposal Template:

Use this proven template to fill in, print off and present to prospects. When your business looks professional, you can charge more for your services.

Access to the AK Round Table:

Want to join a group of like-minded people on a journey to build their own asphalt maintenance empire? Get access to our weekly Zoom meeting and get answers to your most pressing questions.
Starting an asphalt maintenance business can be scary if you don't have the resources you need to succeed. Let us do the heavy lifting for you. Make It A Biz!
Customer Questions
How to replace the seal of the pump?
This video
shows you step by step how replace the seal of the aluminum pump.
This video shows you step by step how replace the seal of the cast iron pump.
How do you prime the 130 or 230 Gallon Spray Systems?
The pumps are self-priming pumps so as long as your sealer is diluted properly and you have ample sealer in your tank your sprayer will self-prime. Always make sure that air isn't sucking into the pump or you will lose prime and your pump will get quite hot potentially compromising the main seal which leads to a leaking pump.
If the sealer is too thick the pump will struggle with a prime as it's like sucking a thick milkshake through a small straw.
Make sure your sealer is diluted at 20% to 30% at all times.
Check out this related article: priming your spray system.
How do I clean out my spray system between uses?
If you're using the sealer within the week it can remain in the tank. Just periodically agitate the material in the tank to prevent it from settling and starting to cure.
If you want to remove the sealer from your main tank and store the sealer, we recommend taking off your spray tip and starting your unit up and then pumping the sealer into a drum or separate storage tank. Once this is done, flush your main tank out with water.
You can flush out your spray system by connecting the transfer kit or suction hose to a bucket or drum of water.
Simply turn your unit to Spray mode and spray the sealer back out into the drum or bucket that you got it from originally.
For more details, see this blog post: https://blog.asphaltkingdom.com/priming-spray-system
Can I spray sand with the 130 or 230 Gallon Spray Systems?
Our spray systems work only with Asphalt Emulsion Sealer.
If you use:
a sealer with sand, 
or oil based sealer,
the spray system will not work: the pump will need repair and you may even blow the engine.
If you use the wrong sealer your warranty is voided in the same way as if you were using diesel fuel in a gasoline engine for your truck. 
Can I flush the unit without touching the sealer?
Yes, simply close the main valve on the bottom of the tote. Disconnect the suction hose from the bottom of the tote and then put that end of the hose in a 5 gallon pail and turn the valve above the pump to spray mode and then start the engine. The pump will suck the water up out of the 5 gallon pail into the pump and down the spray hose out the gun and then spray the water out of the gun back into the 5 gallon pail you just sucked up and you can recirculate it in the pail like this while having the engine on low idle.
Can this system spray sealer with sand in it?
We cannot warranty a system if sand has been used in it as it will wear and ruin the seals. We do however, suggest applying the sand by hand with a grass seeding machine after applying a thin wet coat of sealer and then applying a second coat of sealer over top of the sand layer as a final coat.
Does the system re-circulate as well as agitation systems?
300 gallon metal tanks with sweep agitation blades mostly move the product contents near the outside walls of the storage tank. The heavy paddles usually rotate very slowly and are driven by cumbersome gears, chains, and pulleys. The product near the center of the tank may never even get mixed at all!
To observe this, try this revealing experiment:
First take a can of paint, secondly take a paint stir stick. Now stir the contents using the stir stick only along the inside edge of the paint can slowly. Try to emulate the speed of a paddle moving around the inside of a storage tank. What happens to the contents in the center of the paint can? Hardly moves or mixes at all doesn't it?
The re-circulation system that comes with the AK Tote, Drum, Portable, 130 and 230 Sprayers is absolutely amazing. Your sealer mixes up in 3 to 4 minutes and ready to apply.
What sort of sealer can I spray?
These systems can be used with specific brands of Asphalt Emulsion sealer. The systems cannot spray sealer with sand.
Approved Sealers:
Asphalt Emulsion (AE): GemSeal, Sealmaster and Neyra sealers only without the addition of any latex additives
We can't guarantee the performance of the systems with other people's sealer because they may add additives that we don't know about that could affect the performance of the pump, hoses, circulation, etc. We use the industry's best-quality sealer and we can assure you that you will not have any issues with it; if you wish to use another brand of sealer please contact the manufacturer to guarantee performance with your spray system.
The sealer is suddenly just trickling out of my spray tip. What caused this?
If a chunk of sealer, a stone, or a rock is blocking the output of the tip, it would create a blockage in the tip that would create a trickle or a pressurized multi-stream spray. Sealer sitting in the tank for a long period of the tank can dry on the side walls and form flakes. These flakes can fall into the rest of the sealer and get suctioned through to your spray tip, causing a blockage.

We heavily advise investing in a filter kit, as it filters out unwanted chunks. See more troubleshooting tips for if you lose pressure at the spray tip.
I'm getting an uneven spray pattern.
This usually happens due to the tip clogging or if the tip is worn out past a usable point. Make sure to clean your spray tips after every sealcoat job. Buy new spray tips and invest in a filter kit to prevent clogged spray tips.
What type of engine oil should I use? How much oil is needed?
Any standard 4-stroke motor can be used. Like the ones used for lawn mowers, snow blowers, etc.
For Launtop engines, 5W-40 is recommended and you can fill up to the level of oil gauge which is about 0.5 Liter. For Honda engines, you can use 10W-30 or the 5W-30 during the cold season - around 0.55-0.6 Liter depending on the model.
Please refer to the manual included with your purchase.
How do I prime the pump? How often should I do it?
Pump priming is simple. As long as there is constant liquid reaching the pump, it will prime and pump. The less air in the suction hoses the better the pump will prime and work.
When transferring sealer from drums to the main spray system tank make sure the transfer kit hose is completely full of water. Connect the barrel pipe to the transfer kit and then the other end of the transfer kit to the suction port of the pump and make sure the transfer kit hose remains full of water. Put the barrel pipe into the sealer drum. Make sure the ball valve handles are in transfer mode. Start your motor and begin your transfer.
The pump only needs to be primed the first time you use it or if you haven't used your pump for longer than 24 hours. Use 1 gallon of water in the pump through the pump orifice allows the machine to immediately push that liquid through, creating enough force to start pulling sealer from the tank.
If air is hitting your pump at anytime it will lose prime and the chances of burning up your seals are high. Make sure water or sealer is always reaching your pump.
If the pump is leaking between the engine and the motor, it's usually caused when the pump overheats, due to running the pump dry. The main master seal heats up and shrivels up, creating small cracks. Always make sure you run some kind of liquid in your pump, whether it be sealer or water during priming.
My system is not agitating.
You get this when the sealer is too thick and the pump cannot create a prime to circulate the sealer. Dilute it properly to achieve 20 to 30% water dilution.
Use a dipstick to check the level of your sealer at the end of the day and the next time you use your system, just in case of water evaporation (if the levels are different, add enough water to regain the previous sealer level).
Another possible reason could involve the system's ball valve. On the output part of the pump, there's a ball valve that allows you to redirect the sealer to the top of the tank or to the spray gun. If that ball valve is constantly or permanently broken to the spray gun, you wouldn't get recirculation.
Do the 130 Gallon / 230 Gallon systems fit in a pickup truck?
The 130 gallon system fits in trucks as small as Ford Rangers, Chevy S10's, or any full sized pickup truck.
The 230 gallon system fits in full sized pickup trucks like Ford F150's or larger.
Both systems fit in most trailers.
How many sq. feet of asphalt coverage do I get?
The 130 (130 Gallon Capacity) = 13,000 square feet (1,207.74 square meters) of coverage.
The 230 (230 Gallon Capacity) = 23,000 square feet (2,136.77 square meters) of coverage.
Hello i bought a ak spray sytem and the filter kit.can you please tell me where i attach the filter kit thanks.
We recommend that you have the filter "pointing" down, that way gravity will help move particulates out of the way of the main flow.
The filter connects to the output port of the pump, and then your spray hose connects to the filter kit. Steps on how to assemble the Filter Kit:
Insert filter into main valve, close camlocks, insert cotter pins
Insert spray hose into other end of filter, close camlocks, insert cotter pins.