AK230 Pro Sealcoat Sprayer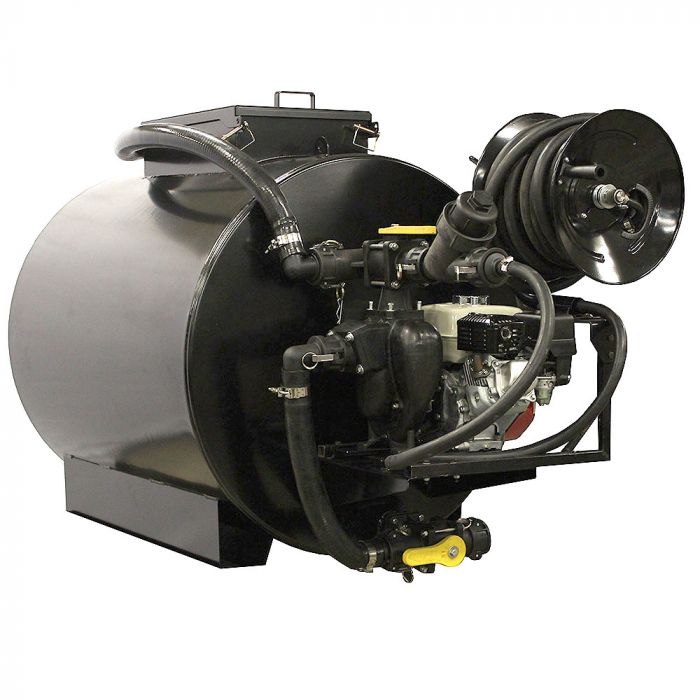 Make up to $10,350 per tank! This pro-grade system is packed with features that save you time. Get beautiful sealcoating results to help you build lifelong customers.
Read more
Spray more sealer in less time and earn money faster with this high-capacity AK230 Pro Sealcoat Sprayer.
Rugged 12-gauge steel tank
Can hold up to 230 gallons of sealer
Beginner-friendly machine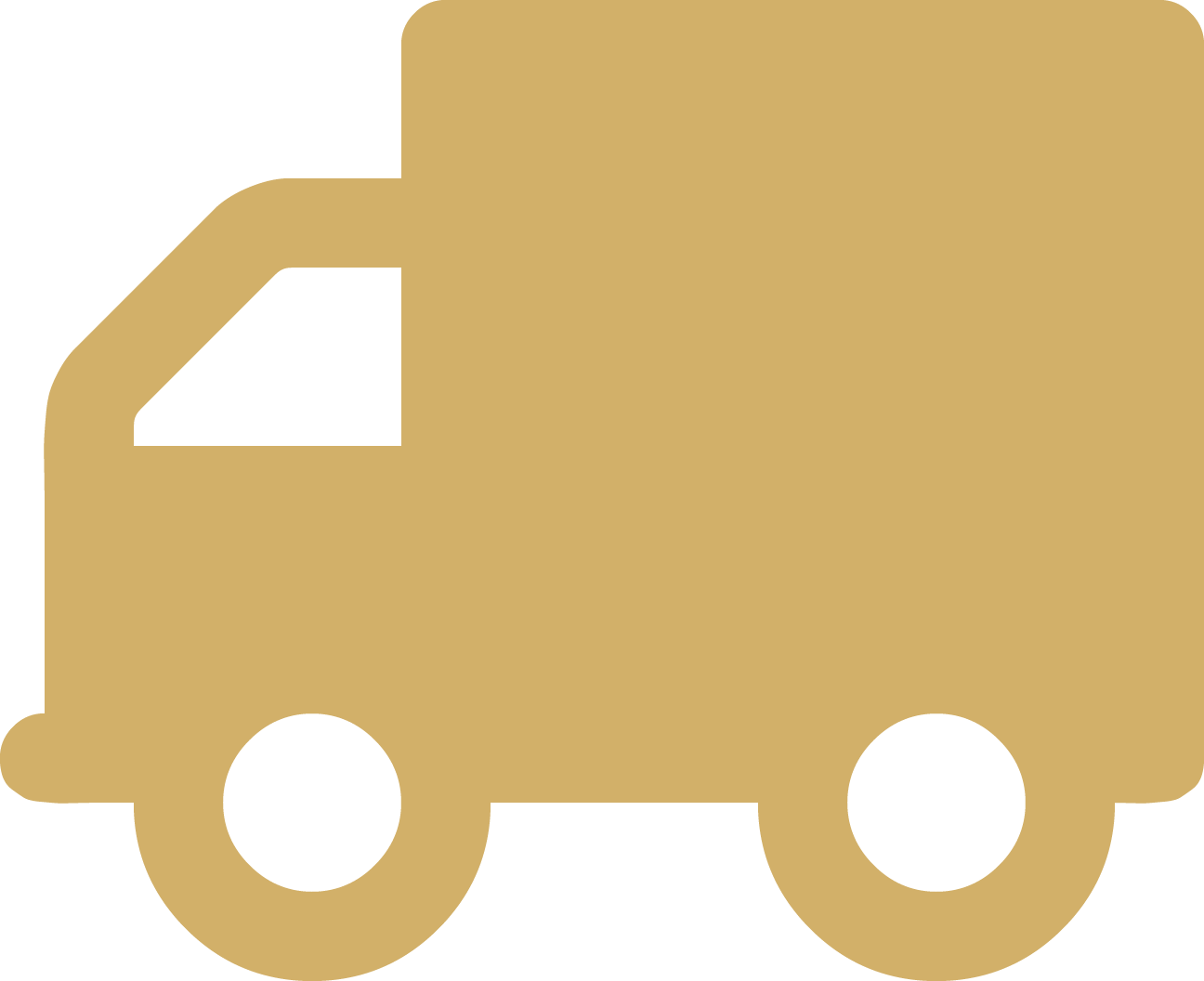 FREE SHIPPING
Delivered in: 5-10 Business Days
Add These To Minimize Your Effort!
Have questions? We're here to help!

Speak to an Asphalt Expert!
Contact our Experts
Contractors know the more efficient their machine, the less time they spend on the job and the more money they make. The AK230 Pro includes all the features you need to work at peak efficiency with less effort and better results. The bulletproof cast-iron pump creates a silky-smooth sealcoated surface that you will spray with pride.
Imagine the convenience of having all these add-ons on one machine:
AK230 Pro Sealcoat Sprayer for Professional Sealcoaters
This 230 gallon system comes with all of the add-ons, so you start with the best. The 230 gallon, 12 gauge steel tank is covered with anti-corrosion and anti-rust powder coating. The Honda engine and centrifugal cast iron pump (with severe-duty Viton seals) is mounted on a welded support frame with the tank, making this a durable system. A full tank provides up to 23,000 square feet of sealcoat.
The included sealer transfer kit allows you to easily transfer sealer from your sealer containers to your 230 gallon tank. This accessory also lets you transfer sealer to a drum or tote at the end of your sealcoating season.
The heavy-duty hose reel that's included can be mounted on a truck or trailer, and can hold up to 50' of ¾" hose.
The included filter kit will capture debris and particles too large for spraying.
The maintenance kit includes:
Spare pump seal
Pack of 3 spare tips
3 replacement mesh filters
One ¾" ball valve
Note: Do not use sand with this spray system.
AK230 Pro for Beginners
New to sealcoating and don't know how to spray asphalt sealer properly? Or are you looking for ways to refresh your knowledge on how a sealcoat sprayer works? Then chat with us online or give us a call at 1-866-399-5562. We're always happy to answer your questions.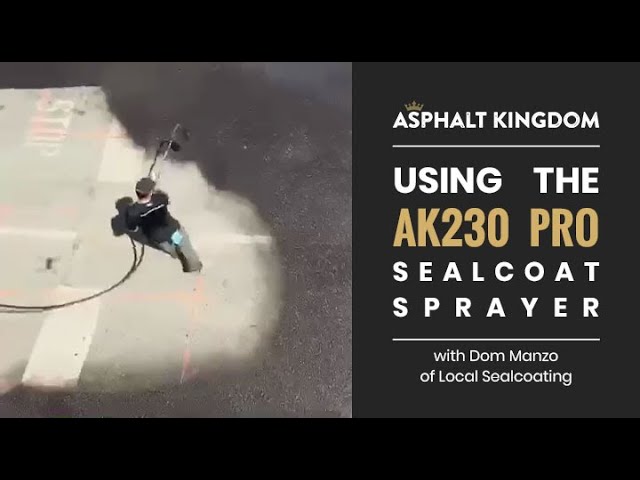 Have questions? We're here to help!

Speak to an Asphalt Expert!
Contact our Experts
Specification
| | |
| --- | --- |
| Ready To Ship | Yes |
| Shipping Weight | 535 |
| Shipping Length | 48 |
| Shipping Width | 48 |
| Shipping Height | 60 |
Engine
Honda GX160 5.5HP Four-Stroke Engine with Low Oil Shutdown, Recoil Start
Pump

2" Cast Iron Centrifugal Pump
Severe Duty, Viton/Tungsten Mechanical Seal
Cast Iron Impeller
Stainless Steel Wear Plate

Tank

Total Usable Tank Volume: 230 US Gallons
Solid 11 Gauge Steel Construction
Welded Engine Mounting Plate
Curbside Welded Hose Hangers
20" Manway with Anti-Splash inner and outer lids
2" Flanged Suction Port, 2" FPT Recirculation Port
Rigid Black Powder-Coated Finish

Features

50' x 3/4" Hose, 275 psi
6' Ball Valve Gun w/ hose swivel
1 each 2GPM, 3GPM, 4GPM Quick-Connect Spray Tips
Upper & Lower 3-Way Valves
Quick-Connect Cam-Lever Fittings
Hose Reel
Filter Kit
Sealcoating Maintenance Kit

Performance

Agitation occurs through pump recirculation @ 165GPM
Spraying pressure 45psi at tip

Weight* (empty)
425 lbs
*Weights do not include the weight of hose reel, filter kit, and maintenance kit
Customer Reviews
Top customer reviews
Topnotch company, Quality materials and equipment

Asphalt Kingdom is a topnotch company that helps and trains aspiring entrepreneurs to successfully establish a pavement asset management business. The company sells quality materials and equipment required for such services backed by excellent customer support and warranty. The staff are very professional and are technically advanced. Judson Burdon is a great resource and one-stop solution for all our needs. We are a happy and proud customers of Asphalt Kingdom.

Never had any problems with my orders...

The purchase was great. We never had any problems with it. The equipment works as promised. Overall we're very happy with all aspects of it. My wife and I are doing financing every year and we are planning to make another purchase this year.

I am satisfied with my purchase

It's working okay. The performance is good. All in all satisfied with the purchase.

I highly recommend Action Seal for all your asphalt needs.

After a season with my new 230 Spray System I have increase my efficiency dramatically, saved on cost with a larger tank, completed more bigger projects and double my revenue from last year! Thank you Action Seal for pointing me in the proper direction and knowing exactly what was needed to help grow my business! I highly recommend Action Seal for all your asphalt needs.

Greatest of service, very satisfied with my purchase. Would recommend any day

My name is Jake young I'm from Kamloops British Columbia, I co own a parking lot Maintenance company called syndicate lines and contracting - we have been using action seal for a few years now! They make sure to go above and beyond with their customer service and try to provide you with what you need in a timely matter, great company to deal with whether you're a small start up or a bigger more established company. They treat you just like you're one of their bigger customers! Coming from a Reta

Read more

il and service background this is very much appreciated as you don't feel like your time is wasted Thanks to Jennifer and Rory from action seal for helping us throughout the years Cheers Jake

There are so many quality people at Action Seal and it starts from the top down. I've been so encouraged and expertly guided. High quality products is just the beginning. The time taken with their customers is second to non. Action Seal has been a key players in my journey to running a successful asphalt services business. Can't thank you enough!

The AK 230 Pro sealcoating system has been a great fit for our growing company. The AK 230 Pro has brought us from a small driveway sealcoating company to a full service residential and commercial seal coating company. The AK 230 Pro is extremely user-friendly from delivery to set up. You will be out there making your investment back on your first job! Our team at Local Sealcoating highly recommends this unit. If you're looking to take your company to the next level the AK 230 Pro is the way to

Read more

go. Especially because it is backed by the amazing customer support and knowledge the Asphalt Kingdom team provides you. You can't fail! Let's Go!!

We bought the sprayer in 2019 and it's held up great. Pressure is great and we transfer sealer from drums with the transfer loading accessory.

Overall happy with our purchase

We purchased the 230 pro about 2 years ago. We are happy with the purchase and it's helped us grow our company to now needing a second rig. We will be back to order another setup this season.

AK230 is what helped me build my sealcoat business

I bought this sealcoat spray system when I started my sealing business. It works fantastic and is the perfect size for residential and small commercial parking lots.
Customer Questions
How do you prime the 130 or 230 Gallon Spray Systems?
The pumps are self-priming pumps so as long as your sealer is diluted properly and you have ample sealer in your tank your sprayer will self-prime. Always make sure that air isn't sucking into the pump or you will lose prime and your pump will get quite hot potentially compromising the main seal which leads to a leaking pump.
If the sealer is too thick the pump will struggle with a prime as it's like sucking a thick milkshake through a small straw.
Make sure your sealer is diluted at 20% to 30% at all times.
Check out this related article: priming your spray system.
How do I clean out my spray system between uses?
If you're using the sealer within the week it can remain in the tank. Just periodically agitate the material in the tank to prevent it from settling and starting to cure.
If you want to remove the sealer from your main tank and store the sealer, we recommend taking off your spray tip and starting your unit up and then pumping the sealer into a drum or separate storage tank. Once this is done, flush your main tank out with water.
You can flush out your spray system by connecting the transfer kit or suction hose to a bucket or drum of water.
Simply turn your unit to Spray mode and spray the sealer back out into the drum or bucket that you got it from originally.
For more details, see this blog post: https://blog.asphaltkingdom.com/priming-spray-system
Can I spray sand with the 130 or 230 Gallon Spray Systems?
Our spray systems work only with Asphalt Emulsion Sealer.
If you use:
a sealer with sand, 
or oil based sealer,
the spray system will not work: the pump will need repair and you may even blow the engine.
If you use the wrong sealer your warranty is voided in the same way as if you were using diesel fuel in a gasoline engine for your truck. 
Can I flush the unit without touching the sealer?
Yes, simply close the main valve on the bottom of the tote. Disconnect the suction hose from the bottom of the tote and then put that end of the hose in a 5 gallon pail and turn the valve above the pump to spray mode and then start the engine. The pump will suck the water up out of the 5 gallon pail into the pump and down the spray hose out the gun and then spray the water out of the gun back into the 5 gallon pail you just sucked up and you can recirculate it in the pail like this while having the engine on low idle.
Can this system spray sealer with sand in it?
We cannot warranty a system if sand has been used in it as it will wear and ruin the seals. We do however, suggest applying the sand by hand with a grass seeding machine after applying a thin wet coat of sealer and then applying a second coat of sealer over top of the sand layer as a final coat.
Does the system re-circulate as well as agitation systems?
300 gallon metal tanks with sweep agitation blades mostly move the product contents near the outside walls of the storage tank. The heavy paddles usually rotate very slowly and are driven by cumbersome gears, chains, and pulleys. The product near the center of the tank may never even get mixed at all!
To observe this, try this revealing experiment:
First take a can of paint, secondly take a paint stir stick. Now stir the contents using the stir stick only along the inside edge of the paint can slowly. Try to emulate the speed of a paddle moving around the inside of a storage tank. What happens to the contents in the center of the paint can? Hardly moves or mixes at all doesn't it?
The re-circulation system that comes with the AK Tote, Drum, Portable, 130 and 230 Sprayers is absolutely amazing. Your sealer mixes up in 3 to 4 minutes and ready to apply.
What sort of sealer can I spray?
These systems can be used with specific brands of Asphalt Emulsion sealer. The systems cannot spray sealer with sand.
Approved Sealers:
Asphalt Emulsion (AE): GemSeal, Sealmaster and Neyra sealers only without the addition of any latex additives
We can't guarantee the performance of the systems with other people's sealer because they may add additives that we don't know about that could affect the performance of the pump, hoses, circulation, etc. We use the industry's best-quality sealer and we can assure you that you will not have any issues with it; if you wish to use another brand of sealer please contact the manufacturer to guarantee performance with your spray system.
The sealer is suddenly just trickling out of my spray tip. What caused this?
If a chunk of sealer, a stone, or a rock is blocking the output of the tip, it would create a blockage in the tip that would create a trickle or a pressurized multi-stream spray. Sealer sitting in the tank for a long period of the tank can dry on the side walls and form flakes. These flakes can fall into the rest of the sealer and get suctioned through to your spray tip, causing a blockage.

We heavily advise investing in a filter kit, as it filters out unwanted chunks. See more troubleshooting tips for if you lose pressure at the spray tip.
My system is not agitating.
You get this when the sealer is too thick and the pump cannot create a prime to circulate the sealer. Dilute it properly to achieve 20 to 30% water dilution.
Use a dipstick to check the level of your sealer at the end of the day and the next time you use your system, just in case of water evaporation (if the levels are different, add enough water to regain the previous sealer level).
Another possible reason could involve the system's ball valve. On the output part of the pump, there's a ball valve that allows you to redirect the sealer to the top of the tank or to the spray gun. If that ball valve is constantly or permanently broken to the spray gun, you wouldn't get recirculation.
Do the 130 Gallon / 230 Gallon systems fit in a pickup truck?
The 130 gallon system fits in trucks as small as Ford Rangers, Chevy S10's, or any full sized pickup truck.
The 230 gallon system fits in full sized pickup trucks like Ford F150's or larger.
Both systems fit in most trailers.
How many sq. feet of asphalt coverage do I get?
The 130 (130 Gallon Capacity) = 13,000 square feet (1,207.74 square meters) of coverage.
The 230 (230 Gallon Capacity) = 23,000 square feet (2,136.77 square meters) of coverage.
Hello i bought a ak spray sytem and the filter kit.can you please tell me where i attach the filter kit thanks.
We recommend that you have the filter "pointing" down, that way gravity will help move particulates out of the way of the main flow.
The filter connects to the output port of the pump, and then your spray hose connects to the filter kit. Steps on how to assemble the Filter Kit:
Insert filter into main valve, close camlocks, insert cotter pins
Insert spray hose into other end of filter, close camlocks, insert cotter pins.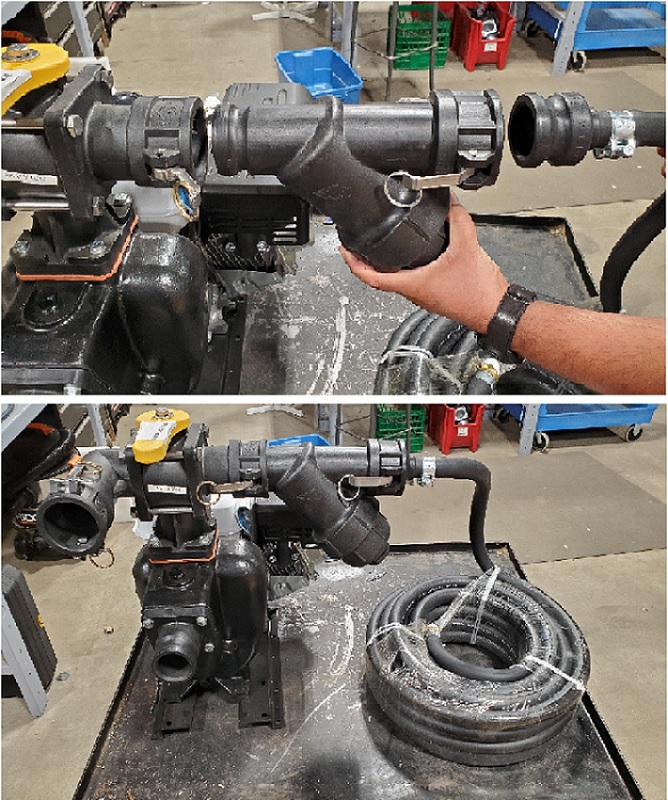 How much pressure will lose if a 75ft hose is used instead of 50ft hose?
The standard configuration of 50ft is recommended. If a 75ft hose is used, there will be a 30% pressure loss.
How do I remove or clean off the sealer stain when it dried out?
It's best to always have a bucket of soap and water handy. If there are stains, try an orange based hand cleaner available at any auto parts store. Apply to the overspray and let it work in for several minutes before removing with soapy water. You may have to repeat this application several times.
How do I install the seal replacement kit on my spray system?
How to install the seal kit on my Cast Iron Pump?
Please watch the
instructional video
on how to install the replacement seal kit on your Cast Iron pump.
Which additive can I use with my spray system?
The only additive that should be used is the FSA Fast Sealing Additive, not the Fass-Dri Pavement Sealer Additive. FSA will not plug up any pumps, does not thicken sealer, and is a hardener and helps to set the sealer film. It also reduces tracking.
What type of engine oil should I use and how much oil is needed?
Any standard 4-stroke motor can be used. Like the ones used for lawn mowers, snow blowers, etc.
We recommend the 10W-30 or during the cold season, you can use the 5W-30. You can fill up to the level of oil gauge at about 0.58 Liter.