Asphalt Emulsion Sealer Bulk Buy (4) 275 Gallon Totes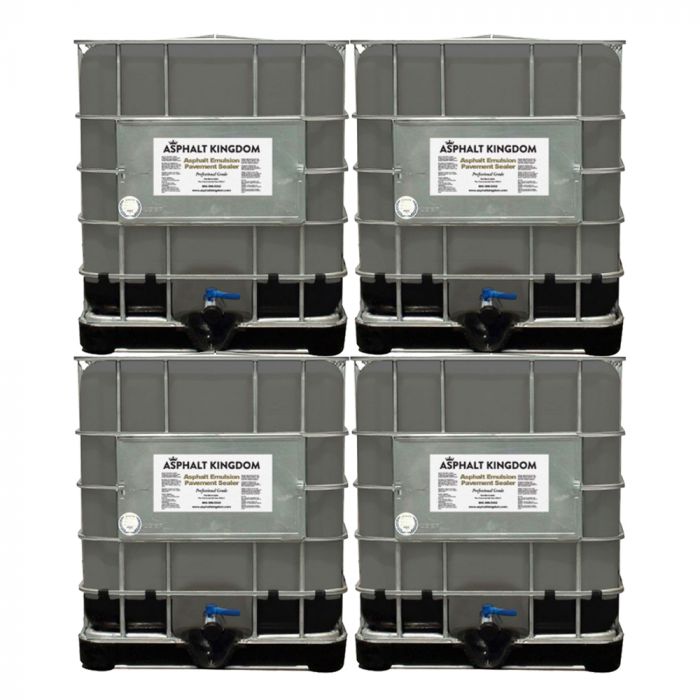 Add AK Make it a Biz Success Pack - Free With Purchase
Unlock your asphalt maintenance business's full potential with the AK Make it a Biz Success Pack, equipping you with expert-crafted tools and exclusive access to the AK Roundtable for accelerated growth and profitable opportunities.
Learn More

Make it a Biz Success Pack
Save hundreds when investing into this 4 tote bulk buy. You'll get 1,100 gallons of the best asphalt emulsion sealer designed to protect and prolong the life of asphalt driveways and parking lots which results in saving money.
Read more
Asphalt Emulsion Sealer Bulk Buy For Driveways and Parking Lots
Make $38,000+ with this
100,000 sq ft of coverage*
Door to door shipping
Free Shipping to commercial address with a dock or forklift
Delivered in: 5-10 Business Days
Have questions? We're here to help!

Speak to an Asphalt Expert!
Contact our Experts
Order Your Asphalt Emulsion Sealer in Bulk (Four 275 Gallon Totes) to Get Ready for the Season
We hand-pick the best asphalt emulsion sealer so that you can be confident that when you're sealing an asphalt driveway or parking lot you will get the best results.
Our goal was to get you a sealcoat bulk buy option that will save you money vs buying 1 tote at a time. Money saved is money earned after all!
Want more than 4 totes? No problem! We can save you even more on a super bulk buy. We ship truckloads weekly and would love to get you a preferred quote - 1-866-399-5562 ext 1
Buying the best asphalt emulsion sealer will allow you to protect asphalt surfaces as well as make it look great. Protecting the asphalt will result in prolonging the pavement asset which saves the property owner money vs repaving more often. Paving new is extremely costly so the more life out of the pavement asset, the better!
Approved for use in every state in the USA
Cover as much as 100,000+ sq ft when sprayed (approx. 88,000 sq ft when manually applied)
Save huge over buying individual totes
Asphalt Emulsion Sealer can dry quickly in sunlight or with the proper additives, so clients can have their lots back faster. Use it as quickly as possible. It is eco-friendly and therefore has bacteria that can build and then expand.
Sealcoat Spray systems are the most common choice with this asphalt emulsion sealer. Each sealcoat sprayer delivers an even coating to the asphalt. Plus, emulsion sealers can dry quickly in sunlight or with the proper additives, so clients can have their lots back faster.
Totes of asphalt emulsion sealer are economical to ship. They're self-contained units, so shipping and loading are simple. Asphalt companies may decide to simply put a tote straight on a trailer to go to work too.
Please Note: We are happy to offer FREE SHIPPING to the Continental United States (Alaska and Hawaii are not included; please call for a shipping quote.) Residential, limited access, lift-gate, and deliveries to remote areas will be subject to extra fees. An additional $150 per pallet is also required for West coast shipments - Arizona, California, Colorado, Idaho, Montana, Nevada, New Mexico, Oregon, Utah, Washington, and Wyoming.
Reminder for the Season: As we enter the winter, please be advised that our sealer is a no-freeze product. Any exposure to below-freezing temperatures will render this product unusable. If the product has been exposed to freezing temperatures, returns will not be accepted for credits.
*When using a sealcoat sprayer, our product provides a coverage of 100 square feet per gallon for a single coat or 100 square feet per 2 gallons for a double spray. Please note that when applying the sealcoat manually, the coverage will be lower, ranging from 50 to 60 square feet per gallon for hand application.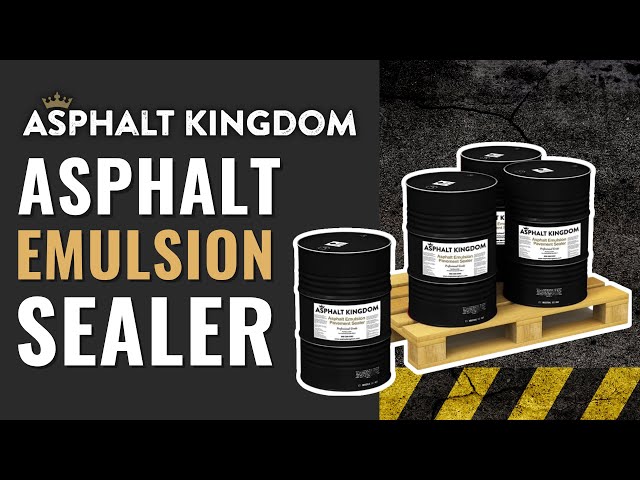 Blacktop Calculator
Let us help you determine what you need.
Have questions? We're here to help!

Speak to an Asphalt Expert!
Contact our Experts
Specification
| | |
| --- | --- |
| Ready To Ship | Yes |
| Shipping Weight | 11,600 lbs |
| Shipping Length | 48" |
| Shipping Width | 40" |
| Shipping Height | 46" |
| | |
| --- | --- |
| Water % | 53 Max, 48 Min |
| Non-Volatile % | 52 Max, 47 Min |
| Ash % | 39 Max, 35 Min |
| Sp. Gr. @ 77° | 1.29 Max, 1.19 Min |
Customer Reviews
Top customer reviews
Start your Asphalt Maintenance Business just like Judd did!
Our founder, Judd Burdon, started in the asphalt business by sealcoating driveways and parking lots. It's a great niche service that helps prolong the lifespan of the pavement, and makes it look great. Click to add the Make it A Business resources to your spray system order, absolutely free:
Role-Practice Video:

Judd Burdon walks you through how to pitch sealcoating to prospects, including the questions you should ask them and the most likely questions they will have for you. Learn from the master!

Phone Script:

Swipe this powerful phone script and convert customers faster when you're prospecting. Use it yourself or hire someone to generate jobs while you're out working.

Social Media Templates:

Just add your logos to these great-looking graphics, post on your social media, and spread the word about your sealcoating business. You'll love the action you see from these lead generating images!

Sealcoating Proposal Template:

Use this proven template to fill in, print off and present to prospects. When your business looks professional, you can charge more for your services.

Access to the AK Round Table:

Want to join a group of like-minded people on a journey to build their own asphalt maintenance empire? Get access to our weekly Zoom meeting and get answers to your most pressing questions.
Starting an asphalt maintenance business can be scary if you don't have the resources you need to succeed. Let us do the heavy lifting for you. Make It A Biz!
Customer Questions
How should I store asphalt emulsion sealant? What should I do if the container is swollen or there's pressure build-up?
Asphalt emulsion sealant should not be stored in direct sun or heat. Store at room temperature and out of direct sunlight. Learn more about
asphalt emulsion storage
and what to do if you experience swelling or pressure build-up.