FSA Fast Sealing Additive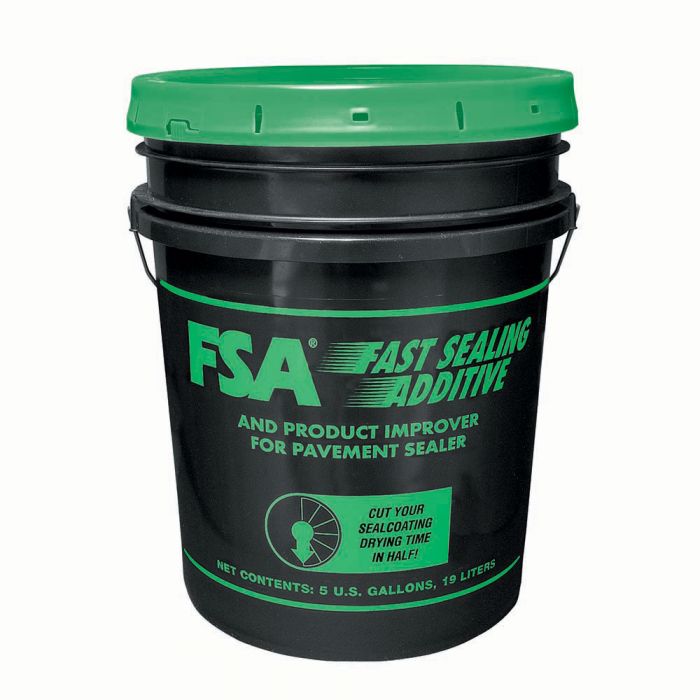 Cure faster, reduce tracking, and get back on your asphalt in no time!

Read more
Doesn't thicken your sealer
Mixes with all types of asphalt sealer
Helps your sealer resist power steering marks
FREE SHIPPING
Delivered in: 5-10 Business Days
If you are tired of waiting for your sealer to dry so the pavement is ready, consider using this FSA Fast Sealing Additive. When you use this product, it will help your sealer dry faster. It also offers some other wonderful benefits. The product helps to improve the dispersion of sand in the mix, and it can stop tracking. Using this additive will also help with improving the oil and gas resistance of the pavement. In addition, it will not build viscosity. All this for just pennies on the gallon!
Use only when the ambient temperature is above 50° for several hours during the day.
Reduces drying time by 50%+
Dries blacker
Reduces tracking and power steering marks
Compatible with all brands of sealer
Tested and proven coast-to-coast
Just how much faster will the sealer dry when you use this additive? It can reduce the curing time by about 50% or greater. The product should be used with asphalt emulsion sealers or blends. Using it will make the coating dry blacker.
For those who are short on time and who want to have their jobs completed and cured as quickly as possible, this is an ideal solution.
You will want to consider the weather and temperature when you are adding the FSA. Those who are in a colder weather environment will need to add additional FSA to the mix.
If you need great performance and the best drying times, this is the product that will answer those needs. It is easy to use, and it will not add thickness to the sealer, so keep in mind that it can't be used as an extender or for bulking.
Suggested Formula Range: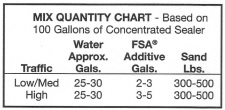 A minimum of 2% FSA Additive added pero 100 gallons of concentrated pavement sealer will significantly accelerate the drying time of the applied coating. For an even faster set 5% additive is recommended.
All sand used should be clean, dry, pure silica sand, free of clay, trash particles and other contaminants. Medium fine sand with an A.F.S. rating of 50 to 70 gives best results. There should be no more than 2% retained on 30 mesh or coarser, no more than 10% retained on 140 mesh and no more than 0.3% retained on 200 mesh.
Formulation Tips:
The formulation above is only a suggested starting point. The actual mix ratio will depend on the job requirements, as well as what works best for your crew and equipment. Generally:
More FSA will shorten the sealer drying time.
Up to a point, more FSA will result in a thicker, more viscous sealcoat. Past that point, any more FSA added will actually thin out the mixture. This point varies according to the sealer brand and type.
More sealer will thicken the mixture.
More water will thin out the mixture. Too much water will cause issues with handling and drying time.
Mixing the Sealcoating Material:
FSA does not require pre-dilution but should be mixed well before using it. Add prepared FSA and some water into the predetermined amount of sealer, and then begin agitation. It is better to start with only a small amount of water and continue adding as needed to avoid thinning the mixture too much from the start.
Application Tips:

Fog spray the pavement with water to dampen it, but not use too much. Too much water will leave puddles and thin out the pre-mixed sealer.
FSA sealer can be applied using a sprayer system, squeegee, or brush.
When applying sealer, ambient temperature should not fall below 50⁰F, and no rain must be forecasted with 24 hours after application.
If necessary, apply a second coat if the first coast has dried enough without scuffing. After allowing the second coat to dry, check to make sure no tracking or scuff marks are visible before opening the pavement for regular use and traffic.
Note: Use the FSA Fast Sealing Additive with the AK55, AK275, AK130, AK230, AK130 Pro, AK230 Pro and Portable Spray Systems without the sand.
Specification
| | |
| --- | --- |
| Shipping Dimension | (5 Gallon) 13" x 13" x 15" |
| | (1 Pallet) 48" x 36" x 48" |
| Shipping Weight | (5 Gallon) 48 lbs |
| | (1 Pallet) 1770 lbs |
Customer Reviews
Top customer reviews
Customer Questions
How much FSA should I use with my Asphalt Sealer?
Here is the recommended ratio:
Sealer Concentrate: 100 Gallons
FSA : 2- 5 Gallons
Water: 10 to 30 Gallons
If your spray system is designed to work with sand (AK's Drum, Tote, Portable, 130 and 230 gallon systems do NOT work with sand) then you can also add:
Sand: 300-500lbs
In cold weather increase the amount of FSA to 7-10 gallons.
Does FSA allow for night time seal coating, when temperatures are above 50 degrees?
Yes it does.
For night time applications we also recommend our FASS DRI PSA at a 3% ratio based upon the bulk sealer. So 100 gallons of sealer would get 3 gallons of FSA.
The reason recommend the PSA is that it is a chemical reaction for the curing and actually drys the sealer from the bottom up by creating heat itself to where standard curing agents do not.