AirBoss 300 Air-Operated Sealcoat Spray System - Pro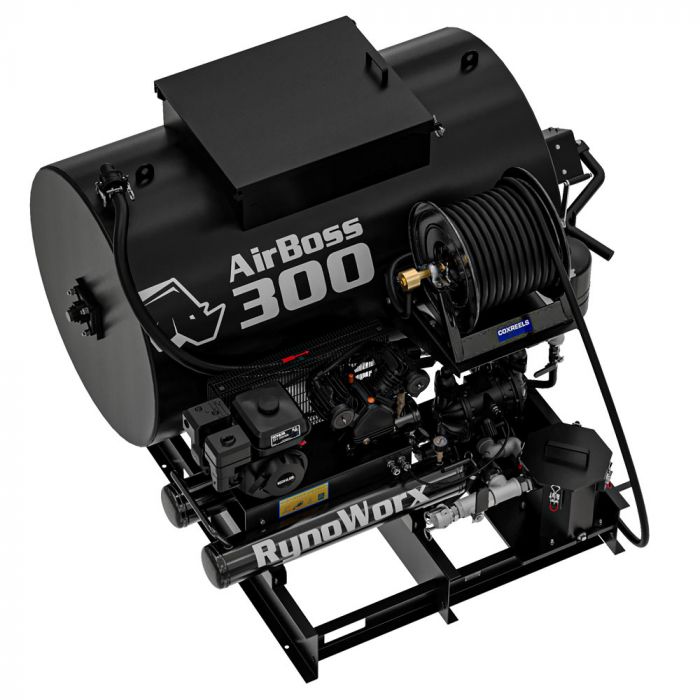 Add AK Make it a Biz Success Pack - Free With Purchase
Unlock your asphalt maintenance business's full potential with the AK Make it a Biz Success Pack, equipping you with expert-crafted tools and exclusive access to the AK Roundtable for accelerated growth and profitable opportunities.
Learn More

Make it a Biz Success Pack
Same great sealcoating equipment but comes with upgrades including: 100' of hose (from 75'), transfer kit, and maintenance kit – everything a pro needs to get the job done.
Read more
Seal as much as 30,000 sq ft per load with its high-capacity tank
Entire body is made from heavy-duty steel and equipped with durable industrial parts
Ideal for residential and commercial jobs up to 200,000 sq ft.
Free Shipping to commercial address with a dock or forklift
Delivered in: 20 Business Days
Add These To Minimize Your Effort!
Sealcoating Made Easier and More Efficient with the AirBoss 300 Air-Operated Sealcoat Spray System - Pro
Dependability and outstanding performance. You'll find them here in the RynoWorx AirBoss 300 Air-Operated Spray System. Here are its top features:
This sealcoating spray system can seal as much as 30,000 sq ft per load with its high-capacity tank
Entire body is made from heavy-duty steel and equipped with durable industrial parts
Ideal for residential and commercial jobs up to 200,000 sq ft.
The RynoWorx AirBoss 300 Air-Operated Spray System is our newest and most exciting sealer sprayer. This 300-gallon workhorse is designed to spray asphalt emulsion and coal tar sealers. We deliver it to your door completely assembled, so you can load it up your truck or trailer and start sealcoating right away.
The tank is equipped with a 3:1 gear reduction full-sweep paddle agitation making it easy to crank with one arm and ensures the sealer is mixed thoroughly in the tank before application. It is equipped with a powerful 9-gallon compressor and powered by a robust and reliable Kohler engine.
This asphalt sealcoat sprayer has a heavy-duty 1.5" dual diaphragm pump, and it comes with a 3-gallon basket strainer to prevent clogging. Applying sealer on a large parking lot is a breeze with the Pro version that has 100-feet of sealcoating hose, a Coxreels hand-crank hose reel, and a lightweight aluminum spray wand.
The fully loaded sealer sprayer system also comes with:
A transfer kit to transfer sealer from drums to your main tank

- Easily spray asphalt sealer with its 15' transfer hose

- Barrel adapter to transfer the sealer

A maintenance kit, which includes:

- Replacement strainer basket

- Pump rebuild kit

- 3 extra spray tips
Quality, simplicity and performance were all in mind while engineering this market disruptor. Sealcoat like a pro with this groundbreaking asphalt sealer spray system.
Specification
| | |
| --- | --- |
| Ready To Ship | No |
| Shipping Weight | 1220 |
| Shipping Length | 72 |
| Shipping Width | 72 |
| Shipping Height | 60 |
System
Empty Weight
1200 lbs
Loaded Weight
4240 lbs
Tank
Capacity
304 US Gallons
Sidewalls
1/8" Steel
Endcaps
3/16" Steel
Agitation
Manual Agitation, full sweep with 2 Rubber Paddles
Bearing/Shaft
1.5"
Gear Reduction
3:1

Pump
Type
1.5" Dual Diaphragm Air Operated Pump
Inclusion
Santoprene Diaphragm, balls, and seats

Compressor
Engine
Kohler SH265, 6.5 HP Gas Engine , 196 CC
Compressor Pump
2 Piston, Single Stage
Compressor Tank
9 US Gallons
Inclusion
Pressure regulator and gauge
Max Working Pressure
120 psi
Air Flow
12 CFM

Basket Strainer
Capacity
3 US Gallons
Inclusion
0.1575" (4 mm) Holes

Expansion Tank
Type
2.1 US Gallon Diaphragm Type Expansion Tank

Spray Hose/ Wand
Spray Hose
3/4" x 75' (275 psi max) Sealcoating Hose
Hose Reel
Coxreel - 1125 Series Hand Crank - 3/4" x 100'
Spray Wand
60" Aluminum Spray Wand with 3/4" Full Port Ball Valve

Included Accessories
Type
2.1 US Gallon Diaphragm Type Expansion Tank

Included Accessories
Replacement Strainer Basket
15' Transfer hose
Barrel Adapter for Transferring Sealer
Pump Rebuild Kit
3 Extra Spray Tips

Customer Reviews
Top customer reviews
A wonderful and professional company to work with. Just purchased an AirBoss300, great machine. The customer service was absolutely unmatched. Very highly recommend AK for any asphalt needs!

The Airboss 300 is a great system. The equipment worked really good, and we are satisfied with it.

Helped me with my business

All positive. The AirBoss works well and helped me a lot with my business.

They don't just sell a product, they sell value.

Knowledge is power in this industry and these guys are always willing to share that knowledge. You can count on them to help you through your troubles. They dont just sell a product, they sell value. And if you're reading this review, you will eventually learn how important that is in this industry. - Romans Sealcoating from British Columbia

I called tech support at Asphalt kingdom while on a job yesterday because I was unfamiliar with something on my AirBoss 300. Spoke to Dan and he was awesome and walked me right through it.. Thanks Dan, you da man!
Start your Asphalt Maintenance Business just like Judd did!
Our founder, Judd Burdon, started in the asphalt business by sealcoating driveways and parking lots. It's a great niche service that helps prolong the lifespan of the pavement, and makes it look great. Click to add the Make it A Business resources to your spray system order, absolutely free:
Role-Practice Video:

Judd Burdon walks you through how to pitch sealcoating to prospects, including the questions you should ask them and the most likely questions they will have for you. Learn from the master!

Phone Script:

Swipe this powerful phone script and convert customers faster when you're prospecting. Use it yourself or hire someone to generate jobs while you're out working.

Social Media Templates:

Just add your logos to these great-looking graphics, post on your social media, and spread the word about your sealcoating business. You'll love the action you see from these lead generating images!

Sealcoating Proposal Template:

Use this proven template to fill in, print off and present to prospects. When your business looks professional, you can charge more for your services.

Access to the AK Round Table:

Want to join a group of like-minded people on a journey to build their own asphalt maintenance empire? Get access to our weekly Zoom meeting and get answers to your most pressing questions.
Starting an asphalt maintenance business can be scary if you don't have the resources you need to succeed. Let us do the heavy lifting for you. Make It A Biz!
Customer Questions
What is the best size trailer to use with this spray system?
The unit itself only requires approx. 6' of length - so anything beyond that is basically for storage. 12'-16' would be good, if you are running melters and crack cleaners and other equipment then the 16' would be better. DUAL axle - this unit full weighs approx. 4500lbs - that's without adding melters, rubber, tools and other equipment as well as the weight of the trailer itself.
Can the AirBoss 300 be used for pressure washing with salt water?
We do NOT recommend using salt water in our system. It technically would work, but it would break down all the tank and compressor components prematurely. It was not designed to handle this type of use.