AirBoss 300 Air-Operated Sealcoat Spray System - Base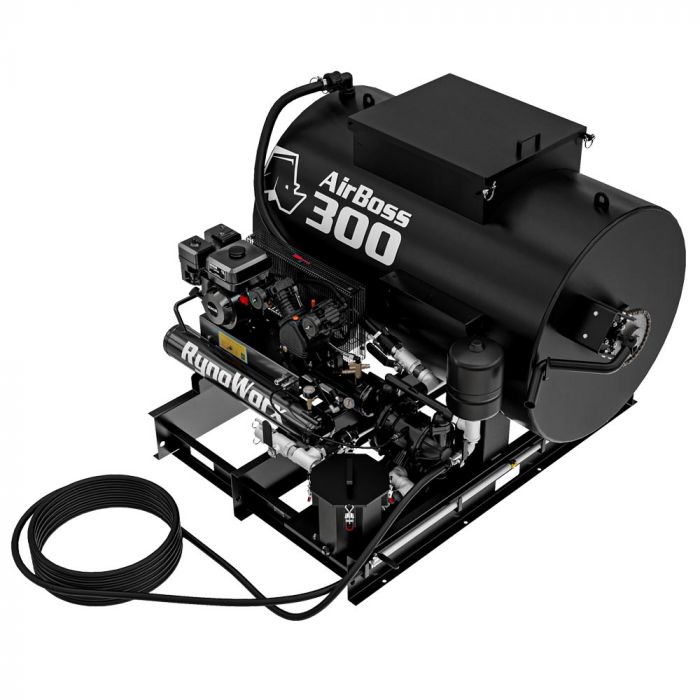 Powerful hand agitated sealcoating spray system for contractors spraying coal tar, asphalt emulsion or acrylic sealers.
Read more
30,000 square feet of coverage per tank
Full sweep manual agitation
3:1 Gear Reduction
Free Shipping to commercial address with a dock or forklift
Delivered in: 20 Business Days
Have questions? We're here to help!

Speak to an Asphalt Expert!
Contact our Experts
From the team that brought you the industry-changing RY10 Pro Crackfill Machine are at it again! This time they've rethought the air-operated spray system, inventing a powerful, professional machine that will revolutionize your sealcoating business.
If you sealcoat parking lots, then you know you need that unbeatable power and capacity. The AirBoss 300 Air-Operated Sealcoat Spray System delivers, with:
304-gallon sealer capacity
1.5" dual-diaphragm air operated pump
6.5 HP Kohler gas engine, 196 CC
2-piston single stage compressor
Getting a smooth finish fast is critical to professional sealcoating. This system has an output of 12CFM. Compare that to spraying with a centrifugal sprayer: you get more power so you can cover more space more quickly.
The sealcoat sprayer's steel tank has manual agitation; 2 rubber paddles attach to a 1.5" bearing shaft. 3:1 gear reduction reduces torque but increases the speed, saving you time and effort. You can agitate sealer with just one arm, so you won't get fatigued keeping your sealer mixed properly.
This sealcoating equipment comes with a 9-gallon compressor comes with a pressure regulator and gauge, delivering a max working pressure of 120 psi and transferring 12 CFM of air flow. You'll complete work faster with this powerful machine.
The 2 piston, single-stage pump has been field-tested to hold up to the toughest sealcoating conditions.
Weight: The AirBoss 300 weighs 1,200lbs empty and 4,240 lbs when filled fully with sealer. We recommend using trucks or trailers with a payload of 5,000 pounds and up. Clients use the F-450, Sierra 3500, Silverado 3500 and Ram 3500, or a trailer to tow this spray system.
What's included: the AirBoss 300 Base Model ships with a 3/4" seventy-five foot hose, and a lightweight, durable 60" aluminum spray wand with a 3/4" full port ball valve. The asphalt sealcoat sprayer's basket strainer holds 3 gallons and features 0.1575" (4 mm) holes to keep particles out of your pump.
The AirBoss 300 sealcoating spray system comes fully assembled on a pallet. Just load it into your truck, add oil to the engine, fill it with gasoline, load it with sealer, and you're all set.
If you're ready to up your game to a high-quality, bulletproof air-operated unit, the AirBoss 300 won't let you down: sealcoat like the pros do with this air-operated spray system.
Looking for more features? Check out the Fully-Loaded AirBoss 300 which includes a transfer kit, replacement strainer basket, pump rebuild kit and 3 extra spray tips.
Have questions? We're here to help!

Speak to an Asphalt Expert!
Contact our Experts
Specification
| | |
| --- | --- |
| Ready To Ship | No |
| Shipping Weight | 1120 |
| Shipping Length | 72 |
| Shipping Width | 72 |
| Shipping Height | 60 |
System
Empty Weight
1100 lbs
Loaded Weight
4140 lbs
Tank
Capacity
304 US Gallons
Sidewalls
1/8" Steel
Endcaps
3/16" Steel
Agitation
Manual Agitation, full sweep with 2 Rubber Paddles
Bearing/Shaft
1.5"
Gear Reduction
3:1

Pump
Type
1.5" Dual Diaphragm Air Operated Pump
Inclusion
Santoprene Diaphragm, balls, and seats

Compressor
Engine
Kohler SH265, 6.5 HP Gas Engine , 196 CC
Compressor Pump
2 Piston, Single Stage
Compressor Tank
9 US Gallons
Inclusion
Pressure regulator and gauge
Max Working Pressure
120 psi
Air Flow
12 CFM

Basket Strainer
Capacity
3 US Gallons
Inclusion
0.1575" (4 mm) Holes

Expansion Tank
Type
2.1 US Gallon Diaphragm Type Expansion Tank

Spray Hose/ Wand
Spray Hose
3/4" x 75' (275 psi max) Sealcoating Hose
Spray Wand
60" Aluminum Spray Wand with 3/4" Full Port Ball Valve

Customer Reviews
Top customer reviews
Customer Questions
What is the best size trailer to use with this spray system?
The unit itself only requires approx. 6' of length - so anything beyond that is basically for storage. 12'-16' would be good, if you are running melters and crack cleaners and other equipment then the 16' would be better. DUAL axle - this unit full weighs approx. 4500lbs - that's without adding melters, rubber, tools and other equipment as well as the weight of the trailer itself.
Can the AirBoss 300 be used for pressure washing with salt water?
We do NOT recommend using salt water in our system. It technically would work, but it would break down all the tank and compressor components prematurely. It was not designed to handle this type of use.