Bensink Rotary Power Broom and Sweeper - Gas Powered Broom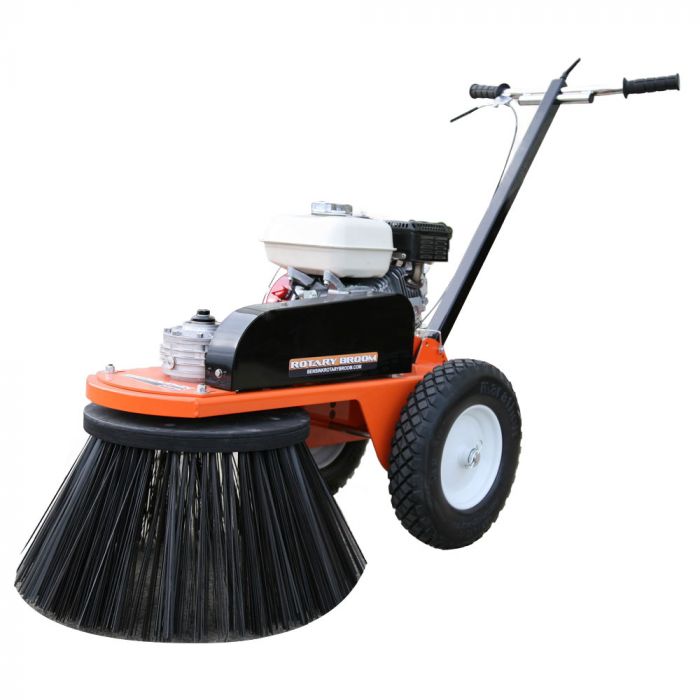 Elevate your asphalt projects' efficiency using a gas powered rotary broom. Swiftly clear dirt, debris, and vegetation with our advanced power broom and sweeper.
Read more
Efficient surface prep machine
Durable steel bristles
Walk-behind design
FREE SHIPPING
Delivered in: 5-10 Business Days
Bensink Rotary Broom - Gas Powered - Efficient Power Broom & Sweeper
Say goodbye to ordinary brooms, scrapers, and other surface cleaning equipment! Prep and clean an asphalt parking lot with the gas powered Bensink rotary power broom and sweeper.
Surface preparation has never been easier
Compact design with adjustable handle bars for convenience
Gas-powered broom in one-way or two-way rotation
Leave behind the traditional methods of cleaning with the state-of-the-art Bensink Rotary Power broom. As the future of surface preparation, this gas-powered broom combines efficiency and robustness to deliver impeccable cleaning.
The Ultimate Power Sweeper for Asphalt Preparation
Prepping a site before sealcoating, re-paving, or resurfacing is vital to your success. Debris needs to be removed and the entire surface needs to be cleaned thoroughly. This is to ensure proper adherence of the sealer material to the surface
Cleaning along curbs and tight spaces, removing nasty oil spills, vegetation and moss have never been easier. Operated at walking speed, it has high-tensile steel bristles that take the brunt of the job. This cordless sweeper makes asphalt surface cleaning a lot easier and faster. Not only used for sweeping off dirt and debris, the rotary brooms can also remove vegetation from cracks efficiently.
Compact design allows for easy loading and unloading of each unit onto your service vehicles. Handle bars can be adjusted to accommodate cleaning along walls and sides of buildings without hassle. Steel bristle brush is durable and can be used for a long time before requiring replacement.
Unparalleled Surface Preparation. No more tedious manual sweeping. The Bensink Rotary Broom ensures impeccable surface prep, making it the ideal choice before sealcoating, re-paving, or resurfacing.
Its effectiveness stems from its ability to remove everything from dirt and debris to stubborn vegetation and moss.
Precision in Compact Design. This power sweeper boasts a compact design that doesn't compromise on performance.
Its adjustable handlebars offer convenience, especially when cleaning along curbs, tight spaces, and building sides. The gas power broom ensures thorough cleaning even in areas typically hard to reach.
Versatile and Efficient. Bensink Rotary Broom's cordless design powered by gas ensures a seamless experience, allowing for faster and more efficient cleaning.
The high-tensile steel bristles on this gas powered broom guarantee longevity and superior performance. This ensures dirt – from the smallest to the largest – is completely removed.
Why Use Bensink Rotary Broom for Asphalt Surface Preparation and Turf Cleaning?
Using an asphalt sweeper is 10x more efficient than using an ordinary broom. Conventional wire brooms are great for cleaning small driveways and parking lots. But what if you're sealing a massive airport or mall parking lot? Only the Bensink Rotary Broom will do so you can make the job faster, more efficient, and less backbreaking.
Do more solo or with fewer workers. Just starting out as an asphalt maintenance contractor and don't have an assistant yet? Then this heavy-duty power sweeper will be your best friend for surface preparation. Get to sealcoat asphalt or stripe lines faster with this power brush.
It cleans asphalt surfaces thoroughly. Whether it's dust, leaves, moss, or three years' worth of dirt, you can be sure that this rotary broom will remove that.
Durable steel bristles. A walk-behind sweeper is only as good as its brush. That's why this machine is equipped with the most durable steel bristles available in the market. Watch it take on dirt and debris, as well as deep-seated dirt that an ordinary broom can't remove.
Heavy-duty construction. The Bensink Rotary Broom is made to last with its robust steel design and reliable engine.
Versatile design. This power sweeper is not just for asphalt contractors. It's also designed to be used by landscapers, parking lot cleaners, property maintenance managers, and more! You can use it to remove snow or clean concrete sidewalks.
Surfaces Can You Clean With The Bensink Rotary Power Broom
Asphalt
Concrete
Artificial turf
Mechanical drive rotary broom model: RBMGX
Mechanical drive rotary broom (Model: RBMGX) features a Honda engine and gear transmission with one-way broom rotation.
Hydraulic drive rotary broom model: RBHGX
Hydraulic drive rotary broom (Model: RBHGX) has the Honda engine and gear transmission with two-way broom rotation.
Replacement Broom Brush
All replacement brushes fit both Bensink Rotary Broom models, and have the same high quality and durability as the ones pre-attached on the equipment.
Specification
| | |
| --- | --- |
| Ready To Ship | Yes |
| Shipping Weight | 325 lbs |
| Shipping Length | 53 in |
| Shipping Width | 26 in |
| Shipping Height | 38 in |
Customer Reviews
Top customer reviews
It has saved us a ton of prep time!

Asphalt Kingdom. We purchased this machine from your team and it has saved us a ton of prep time. This monster does not leave our trailer!
Customer Questions
What is the warranty on the Rotary Broom?
Warranty is 2 years on Honda Industrial engine and 90 days against manufacturing defects and parts on unit.