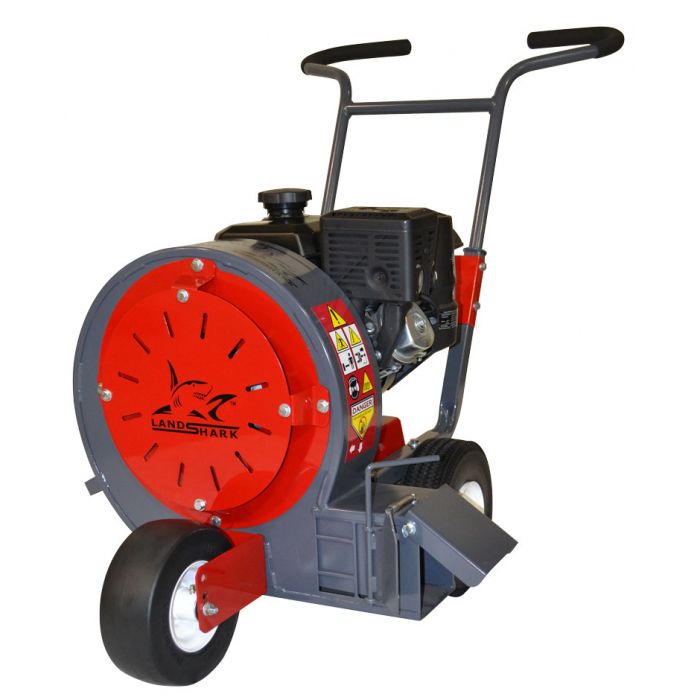 Compact powerful leaf and debris blower, perfect for clearing surfaces for pavement maintenance. Fits easily on trucks and trailers.
Read more
Large-capacity leaf and debris blower that is similar to the High Output series in terms of features, but with a smaller 14-inch blade and 14-inch housing.
Residential & commercial use
Reversible, adjustable handle
12-gauge steel frame with durable powder coat finish
FREE SHIPPING
Delivered in: 5-10 Business Days
Add These To Minimize Your Effort!
Have questions? We're here to help!

Speak to an Asphalt Expert!
Contact our Experts
Powerful & Compact Walk Behind Leaf Blower
When you need powerful leaf blowing in a smaller package, our walk behind leaf blower is the answer. It provides higher output than a backpack blower while still being easy to maneuver. This blower from Landshark's classic series has all of the features from Landshark's High Output blowers but with a 14" blade and 14" housing. The Walk-Behind Blower is powered by 7 HP Kohler Engine.
The adjustable handles are reversible and rubber vibration mounted. The reversible adjustable handles are great ergonomic options for contractors who do commercial parking lot projects or several driveway projects in a day. Flat-free tires are on heavy-duty wheels, and the blower is constructed with 12-gauge steel and finished with durable powder coating to prevent rust and discoloration.
Features
14" 8-blade reverse curve impeller
Reversible adjustable handle
Mountable handle made of rubber vibration
Tires that are flat-free and built for heavy-duty use
Optional wand attachment for hard-to-reach areas
ACCESSORIES
Optional Swivel Wheel

Increased maneuverability
Easy to Install
Heavy Duty

Optional Wand

2 inch diameter flex hose
Directional wand
Storage bracket
</p>
Have questions? We're here to help!

Speak to an Asphalt Expert!
Contact our Experts
Specification
| | |
| --- | --- |
| Ready To Ship | Yes |
| Shipping Weight | 144 |
| Shipping Length | 29 |
| Shipping Width | 22 |
| Shipping Height | 39 |
| | |
| --- | --- |
| Engine | 7 HP Kohler |
| Impeller | 14" 8 Blade Aluminum |
| Fuel Capacity | 4.3 US qt (4.0 L) |
| Oil Capacity | .63 US qt (.6 L) |
| CFM | 1800 |
| Weight | 124 lbs. |
Customer Reviews
Top customer reviews
I started Wyoming Asphalt Repair with Asphalt Kingdom equipment and material. I am very impressed with the how great the equipment runs and how great the material works. Their customer service and sales team is top shelf!!