RY10 PRO Crack Seal Melter & Applicator Machine


We have clients making $2,000+ per day applying hot rubber asphalt crack filler. Make $1 per foot! Start your recession-proof business today.
Read more
2-in-1 crack seal melter and applicator that seals asphalt cracks to be watertight and helps prevent the deterioration of asphalt pavement.
Save time with faster melting
Make more money
Easy: Push like a lawn mower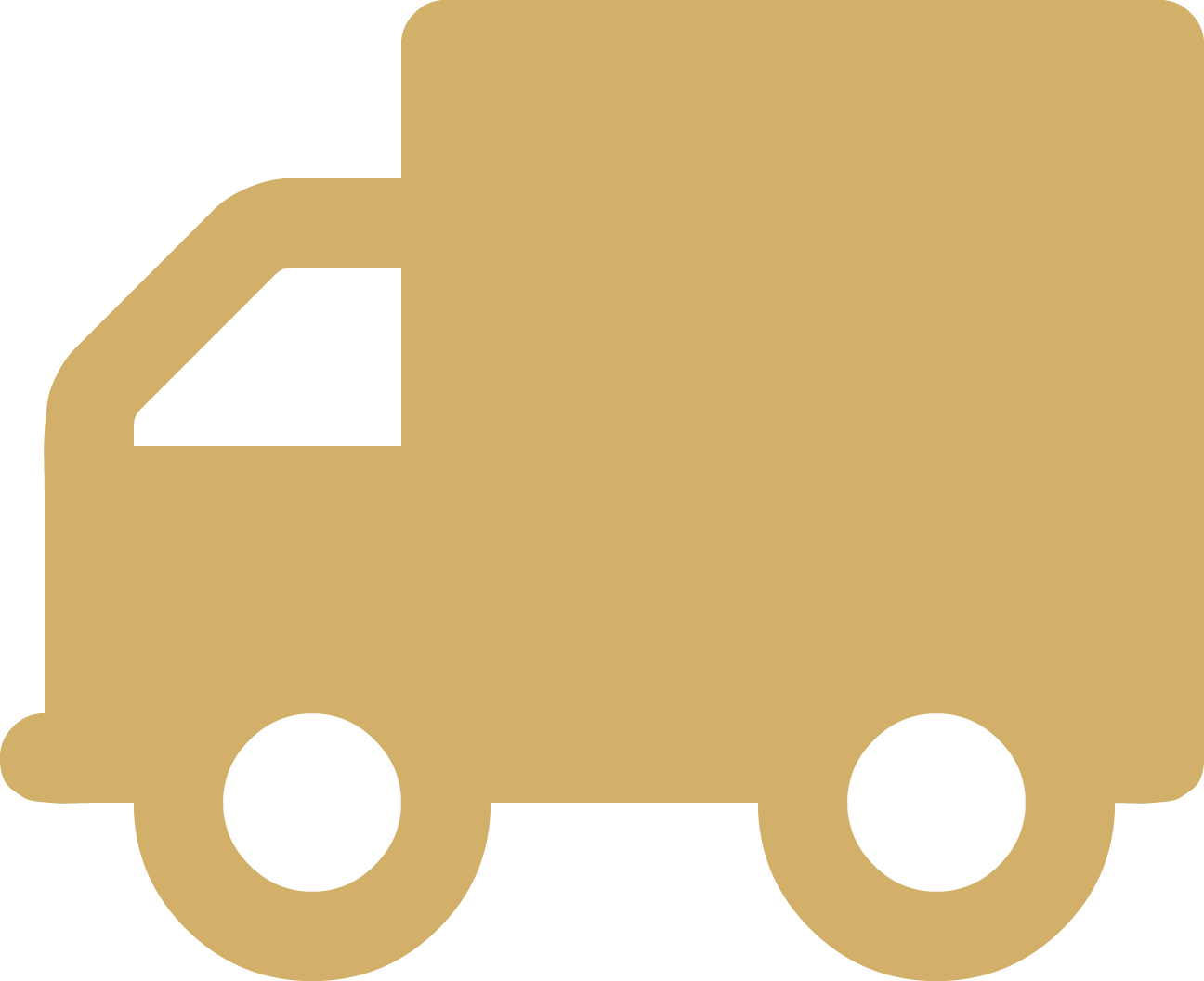 FREE SHIPPING
Delivered in: 5-10 Business Days
Add These To Minimize Your Effort!
The RY10 PRO asphalt crack filling equipment has an enclosed halo base-burner system that prevents flame outs, melts crack filler 50% faster and saves 50% on propane costs. The 4-wheel designed RY10 PRO is safe, reliable, and efficient and by far our hottest seller.
The redesigned RY10 PRO asphalt crack seal machine was presented at the National Pavement Expo 3 years in a row and officially set the new industry standard for professional asphalt crack sealing equipment.
The RY10 PRO will save you time, energy and make you more money.....Guaranteed!
SAFER: Flame-out sensor means you and your crew are always safe.
FASTER: Melts crackfiller 50% faster than traditional torch-fired melters.
TOUGHER: Steel design means virtually no maintenance.
Why Choose the RY10 Pro Melter Applicator?
The RY10 PRO parking lot crack sealer has a flat-bottom steel melting plate that melts rubber crackfiller almost 50% faster than the traditional torch-fired crack seal melters, while also providing more even heat distribution. This allows you to start your crack repair jobs even faster with the RY10 PRO!
The 50,000 BTU burner uses up to 50% less fuel than torch-fired blacktop crack filler melters. Paired with the melting plate, you get more melting power without the heavy fuel usage. Our contractors report that they can run a couple of days on one standard 20-lb barbecue-style propane tank!
This asphalt crack filling equipment has fully electric push-button start design so that you don't need to try to use a striker or lighter to start. And if the flame blows out, our new auto-flame-out sensor will shut the gas off immediately. The sealed burner is equipped with a CSA / UL approved flameout sensor which detects flameouts commonly caused by wind and prevents fuel from flowing to the burner and is fully equipped with CSA/UL approved regulator to provide precise control over fuel flow to the kettle. These features increase the overall safety dramatically.
It's so easy to use with no prior experience necessary to get started!

The RY10 PRO crackfill melter applicator is easy to use
The RY10 PRO parking lot crack sealer is optimized for one-man operation. The Application and Agitation controls are side-by-side, so you can easily keep your product mixed on the go. Melt and apply 3,500 feet or more of crack filler in a day.
The blacktop crack filler machine thermometer is glycerin-filled and vibration-resistant. This means it will last longer than regular thermometers and you'll always have a clear display of the crack filler temperature.

What's the difference between the RY10 Pro and the base model RY10?
Feature

RY10 Pro

Wheels

3

4 for greater maneuverability and stability

Burner

Torch

Halo base burner melts crack filler down 50% faster than torch models

Saves 50% propane vs torch melter

Protected from wind and includes flame out sensor

Starter

Manual flame ignition

Enclosed electrical push-button starter

Agitation

Manual Agitation

Manual Agitation on the Fly

Kettle

12.5 Gallons

12.5 Gallons

Propane Security

Heavy-duty ratchet straps

Heavy-duty ratchet straps

Kettle Tilt

None

Forward tilt in case of overloading

Handlebars

Standard height

Adjustable from 35"-42"

Valve

1.25" RynoValve with Drip Stop

1.25" RynoValve with Drip Stop

The RY10 PRO Crack Seal Machine has many benefits for better performance:
QUIET: This asphalt crack filling equipment uses twin row bearings and grease fittings on the dual front casters, so you get greater tolerance for vibration and debris. Sturdier and quieter equipment lasts longer.
COMPATIBLE WITH MOST PROPANE BOTTLES: The adjustable propane holder supports nearly all 20-30 lb propane cylinders.
EASY TO CLEAN: The flow valve on the RY10 PRO crack filling machine is removable, allowing you to properly clean and prevent old material buildup from slowing you down on the job.
PORTABLE: At just 159 lbs, this asphalt crack sealer machine is highly portable. Easily roll it onto any trailer and you're ready to go.
Operating your PRO model is actually much easier than most people think. Simply use the electric start igniter and heat up your machine to 350°F. Once your machine is at a temperature of 350°F you can then insert the solid rubber cube of crack filler into the main kettle chamber. The crack filler will take approximately 10 minutes to melt down to liquid form. Once it's in liquid form you can now place your application spout above the closest crack that you're wanting to start with. Simply pull the trigger lever on the handlebar and allow the crack filler to flow through the applications spout into the scraper.

Start an asphalt crack repair business with the RY10 Pro crack seal melter and applicator
Asphalt crack repair is a lucrative business that is recession-resistant. After all, when people stop capital projects (new builds), they're interested in maintaining what they have. Asphalt cracks are a leading indicator of asphalt deterioration. Seal them up to be watertight with a machine like the RY10 Pro and earn $1/linear foot.
When you have this machine to melt and apply hot rubber crack filler, you can reap the rewards by getting back 5x-7x your investment on the crackfiller! This pallet of direct fire asphalt crack filler gives you 15,000 linear feet of coverage, which translates to $15,000 in revenue. The initial investment is a small fraction compared to what you can make!
At Asphalt Kingdom, we also provide you with business resources like the Build Your Own Business Blueprint and this free Crack Repair Flyer to help you sell your services.
Watch one of our happy customers use the product: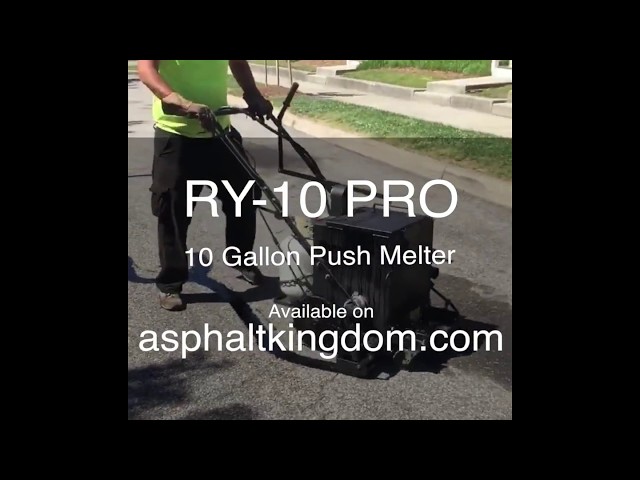 What Our Customers Say: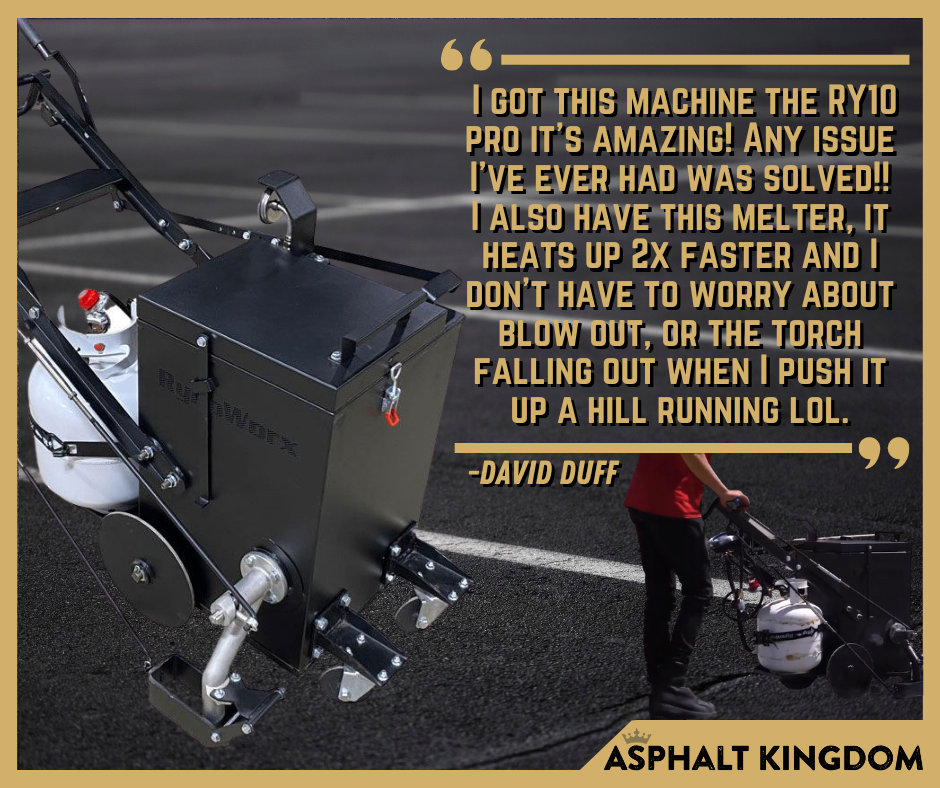 "It's worth the extra money. I have 2 of them. They use 1/2 the fuel and melt twice as fast. And in two years I've never had a blow out." – Stephan M.

Why Choose Asphalt Kingdom for the RY10 Pro?
Asphalt Kingdom is your number one source of crack filler machines, crackfillers, and other asphalt maintenance products. Looking for additional advice on your perfect asphalt crack seal machine or looking for the best asphalt driveway crack filler? Contact us at 1-866-399-5562 and one of our experts will be happy to assist you.
Here at Asphalt Kingdom, we don't want to leave you in the fog. You can contact us for advice on the RY10 Pro and for your crackfiller needs. We also have business resources, videos, and exceptional customer service to help you with all of your asphalt maintenance projects.
Crack filler Calculator
Let us help you determine what you need.
Specification
Fluid Capacity
12.5 US Gallons
Kettle Steel Thickness
14 gauge
Assembled Dimensions
46.3" x 26.6" x 48.8"
Empty Weight
159 lbs / 72.1 kg
Max Capacity Weight
281.5 lbs / 127.7 kg
Fuel Type
Propane
Max Fuel Pressure
5 psi
Burner Type
50,000 BTU/hr
Sealed Cast Iron Burner
Valve Type
1.25" RynoValve™
Agitation Type
On-the-fly
Shipping Dimensions
Box 1: 39" x 26" x 8"
Box 2: 29" x 21" x 20"

Shipping Weight
Box 1: 55 lbs
Box 2: 125 lbs
Total: 180 lbs

Customer Reviews
Top customer reviews
Crackfilling and Sealcoating are really simple

Everything is fine. It took me a little bit of a learning curve. The videos on the website are really helpful for a starter like me. I realize that Crackfilling and Sealcoating are really simple. You just need to get the right equipment for you. I'm happy with my purchase looking forward to doing more business with you in the future

Never had any problems with my orders...

The purchase was great. We never had any problems with it. The equipment works as promised. Overall we're very happy with all aspects of it. My wife and I are doing financing every year and we are planning to make another purchase this year.

RY10 PRO Crack Seal Melter & Applicator Machine was good. Much better if it melts a little faster.

Equipment are helpful for my jobs!

The equipment works great! I have no complaints they've been so helpful for my jobs.

Everything's fine, Everything is good...

Everything's fine, Everything is good...

So happy with my RY10 PRO and great Customer Service

I'm wrapped down for the winter and ready to go for next spring. I'm looking at getting my 2nd machine, ramping up a little bit. This summer was a trial basis, just for sideline. And everything went good...
I'll be honest with you. If I do decide to go with another machine, I'll definitely go with you, folks. I'm very happy with the customer service that you provide, and the equipment I was happy with it. I did have a problem with the RY10 PRO but was picked ASAP.
TalkRead more

to you on Spring! Have a Merry Christmas!

We love the machine. We use it around our facility just doing maintenance on concrete and asphalt. So far the repairs are holding up pretty well!

The RY10 PRO is an awesome equipment!

The machine that we got, I kept, my guys can even keep up with it to get everything crept. It's so fast. The RY10 PRO is an awesome equipment!

The RY10 PRO worked well..

The RY10 PRO worked well and the crack sealers helped us have it sealed. We will just wait for the time that we need to seal again.

Makes the job a lot more easier...

The equipment works great. It makes the job a lot more easier.

The RY10 PRO Crack Seal Melter & Applicator Machine works great as advertise. I never had problems with it.

The RY10 PRO also works excellent.. perfect!

Great service! Expedited shipping quickly!

Great service! Expedited shipping quickly!

We could not be happier with our business relationship with Asphalt Kingdom. The products are top quality and the customer service is excellent. Thanks guys.

Used it on Quiveys driveway and wow what a job!

I've been dealing with them since 2013 and in my opinion the best and most helpful that I could ever have imagined. awesome response rates and awesome equipment and supplies and supoort. will always be with actionseal . Thanks for everything you do .

Glenn is the bomb!!!! Thank you for your wonderful service!

Outstanding customer service and contractor involvement

Customer service and contractor involvement is outstanding. They are really there to support the industry. I have ordered multiple items and will continue to do so. Thanks guys for all you do!

The best and most helpful that I could ever have imagined

I've been dealing with them since 2013 and in my opinion the best and most helpful that I could ever have imagined. awesome response rates and awesome equipment and supplies and supoort. will always be with actionseal . Thanks for everything you do .

My name is Jake young I'm from Kamloops British Columbia, I co own a parking lot Maintenance company called syndicate lines and contracting - we have been using action seal for a few years now! They make sure to go above and beyond with their customer service and try to provide you with what you need in a timely matter, great company to deal with whether you're a small start up or a bigger more established company. They treat you just like you're one of their bigger customers! Coming from a Reta

Read moreil and service background this is very much appreciated as you don't feel like your time is wasted Thanks to Jennifer and Rory from action seal for helping us throughout the years Cheers Jake


I started Wyoming Asphalt Repair with Asphalt Kingdom equipment and material. I am very impressed with the how great the equipment runs and how great the material works. Their customer service and sales team is top shelf!!

The RY10 PRO is super easy to operate especially for someone with no experience at all, the upgraded features make it worth the extra money

I've never seen a crack filler in person let alone operate one. The only training I had was watching AK's YouTube channel..This past Saturday I landed my first job ever.. pulled my ry-10 pro off the trailer and finished the job flawlessly The RY10 PRO is super easy to operate especially for someone with no experience at all, the upgraded features make it worth the extra money

I bought one of these in the spring it is the best crack filler I've ever used and I've been doing this for 30 years.

I bought one of these in the spring it is the best crack filler I've ever used and I've been doing this for 30 years. The heat up time is amazing and it uses half the propane of other models. I just bought my second one. This company is absolutely the best to deal with

The thermometer has a nice easy, clear display for you to see so you can monitor the temperature of the material as you're going. We got the optional torch which is nice so you can take off old crackfill or burn off any grass that's coming through cracks.

One of my favorite features of this machine is the ignitor - once the propane is on, just press and hold the ignitor button and that's it - simple, easy to use, and one less thing to worry about when you are on the job site.

This machine is an absolute work horse. We have used other push melters in the industries, and none hold a candle to the RY10-Pro. Can't recommend it enough.

Just recently purchased the RY 10 PRO and it seems that ryno worx put a lot of thought in this machine. The machine seems to be made very well and I like the halo burner that way u can melt your crack filler evenly and and reducing melt down time. Can't wait to try this machine out this spring! Thanks guys!

I must say to anyone out there in the market looking for a crack filling machine look no further, I purchased mine last summer and it was the best investment I've ever boughten for the price, I do lot of work out on the Island and working by the water it gets very windy .And my old crack filling machine the Wind would non stop blow out my flame. But the way they designed this unit i know longer have that issue, And it does an Amazing job filling in the cracks , And know i do not work for as

Read more

phalt kingdom im just a big fan of this unit. And i Will be purchasing another one this season, for the price Its the best on the market !!

This new melter-crack seal machine is an improvement to our last. good to have four wheels and the gauges facing the operator. the burner style is an improvement as well. WE WILL PROBABLY PUT A TORCH HOSE HOLDER ON , BUT THIS UNIT SHOULD WORK GOOD FOR US.

Nest melter on the market have the 2 ryno 30 and the 10 puts it down as fast as you can walk

I can't believe i didn't buy one of these years ago.
Service was awesome after a few shipping problems. They sent items and got here next day. The product is awesome there are a few bugs but. very pleased with the product. Great service.

Would like to see 1 small tweek

Would have given it a 5 out of 5 stars but have 1 small, minor problem. The battery operated igniter. When melting rubber off from the exit shoot that had dried from the 1st use, I did not even think about the igniter being right around the corner in the front of the machine. It would not be a problem but it is made of rubber. When standing from the back you can not see the igniter. It was an out of sight out of mind kind of thing. I feel 2 things could have happened in the design of th

Read more

is machine. Either the igniter could have been moved farther to the right or a simple metal shield could have been placed around the igniter to protect it.

It's worth the extra money. I have 2 of them. They use 1/2 the fuel and melt twice as fast. And in two years I've never had a blow out.

This machine is an absolute work horse. We have used other push melters in the industry, and none hold a candle to the RY10-Pro. Can't recommend this product enough. The RY30/RY10 combination is a cornerstone of our business.

Precision Asphalt Sealers

This machine is unbelievable in it's all around performance. Easy assembly instructions provided and took just under 1 1/2 hours to put together taking our time! We are excited to buy several other units soon!

Very nicely designed piece of equipment ! Great Value!

Hey Glenn just a quick note. I just received my RY 10 pro that I ordered last week I want to let you know that it is a very nicely designed piece of equipment and for what I paid I feel I got a great value. Looking forward to using it as much as you can look forward too hot pouring. LOL thank you for all your help in guidance and I'm sure we will be doing business in the future. Jim Reese reservice is Cortland Ohio

Good machine, good company

Good machine, good company, good people. This company and people are probably the best I've ever seen. I even called and asked where I could post this review; I rarely do that, but, needed to comment. Get the Pro machine, much better machine. I like the built in burner system in the Pro over the torch. The machine is built like a brick; quality stuff. Each part each came marked of where they go; I usually just get a bag of nuts bolts and screws; each of the parts were in separate bags and

Read moremarked where they go. I've also never seen that before. It came with a broken knob on the igniter, when I called, they overnighted a new one. I bought this machine because I have a 600' driveway. I'm tired of hiring it out and tired of doing the tape stuff with a torch. Email me if you can, I'd be glad to talk to you. I live in Colorado. Love this machine, love this company; good, honest people!!
Allen

Best filler on the market

Iv had the ry10pro for a year now and it's been a great unit. Was going to order the elite yesterday but relized it was not being released till August. That was a real bummer maybe next year. Only problem I have with the crack filler is that I have to heat the spout constantly. And that problem is solved with the elite.

We bought this unit and was delivered within 4 days. We repaired our parking lot cracks just like is shown in the video. Very easy to operated and works well.

I have reviewed various and many of the machines offered on line by various companies since late last year. I have a circle driveway that needs attention for the cracks or face replacement of the drive soon or live with the deterioration. I haven't used the machine yet but have assembled it and the quality is outstanding in my opinion. The burner is an excellent idea, the machine and parts are outstanding. The parts packages are marked for use, the assembly instructions are straight forward

Read more

. No extra brackets or the like as many machines have from the delivery shoot to the ground level. Just take your time with assembly, follow the instructions for assembly and all will go well. My assembly time was around 3 hours or so but I'm good but I'm slow. This is an impressive product and as I see it, an impressive company. The safety features alone are impressive. I have no doubt that the machine will preform at a high level. I am in Ohio. I will be using if for the first time after it warms a little more here. The machine was delivered by truck in two days and no lift truck was requested by me. It came in two boxes and all was packaged well and protected. The boxes were placed outside my garage door. This is a winner in my opinion! Take your time, follow the instructions and assembly will go well and you will be proud of that you have achieved.
Customer Questions
What type of grease do I use to lube up the RY10 and RY10 Pro valve?
White lithium grease.
How long can I keep unopened crack sealant?
Our crack filler has a shelf life of 10 years unopened. It's why so many of our customers choose to take advantage our half-pallet and pallet offerings: the savings are so high it is worth storing them until you need them. It can be stored outside; just cover it with weather-resistant pallet wrap and keep it out of the sun.
I have left over tar in my machine. Is it okay to leave it there and reheat it at a later time?
Absolutely! You just have to heat it up again when you are ready to use it.
If the weather is really hot, should I still be crack filling?
The crack sealant can be used in high-heat situations like deserts, but it has also been proven to stay flexible down to -0°F.
Once the temperature hits 380 on the RY10 pro, how do I stop it from getting hotter?
Turn the regulator down. We do not recommend leaving the material at high heat for long periods of time: it can be cooled and reheated as needed, but prolonged heating can damage the sealer.
What type of Grease do I use to lube up the RY10 and RY10 Pro valve?
White lithium grease
How do you assemble the RY10 Pro or RY10 Elite?
This video
shows you step by step how to assemble the RY10 Pro or RY10 Elite Crackfill Melter Applicator.
What is a thermocouple? How do I replace it?
Thermocouple is responsible for shutting off the propane to a burner in the unlikely event of a flame out. This prevents unburned gas from flooding into the combustion chamber or a small spark might cause an explosion. It is an essential part of keeping you safe while working. Watch the
instructional video
on how to re-seat the thermocouple.
How often should I clean my crack repair machine?
It's good to clean it out completely after 5 uses; otherwise there is a possibility of charring rubber in areas where there may be multiple layers of rubber built up.
To clean it, heat it up and scrape it out with a scraper on a broom handle. Then start fresh with a brand new box of crackfill.  
How To Identify RynoWorx Melter Applicator and Features