Torch & Adaptor Accessory For Burning Crack Vegetation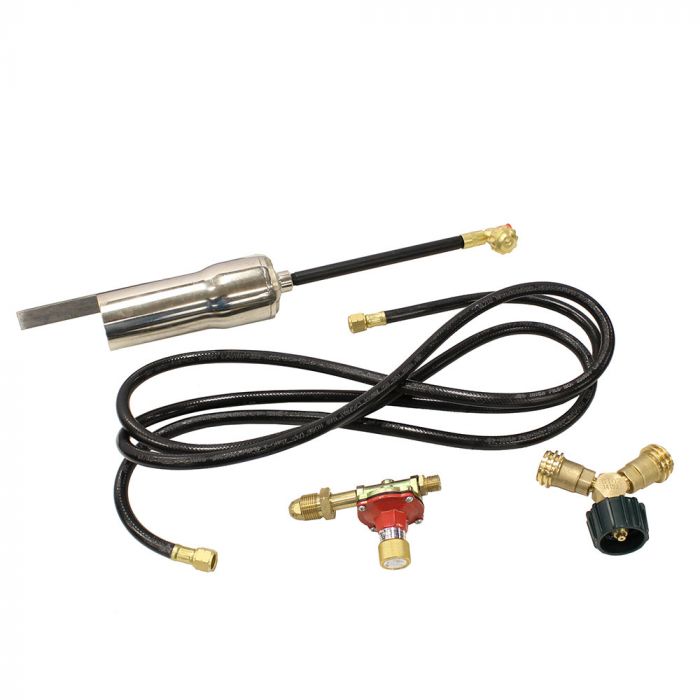 Burn vegetation out of the crack for proper crack cleaning. Melt rubber build up off your push melter wheels so they don't lock up. Saves you downtime!
Read more
This high-quality torch will work with any melter with a standard propane tank (not included). It lets you clean cracks on the fly, gives the valve some extra heat at startup, and helps you keep your equipment clean. Need to heat old crackfill seams to remove them? This is the right tool for you! Save time and make money. Comes with everything needed to add to the RY10 Pro including a Y-splitter/adaptor that allows for the RY10 Pro to operate and the torch to be engaged or shut off at a whim.
Clean material off of tools and equipment easily.
Light-weight handheld; makes it easy to control.
Adjustable flow valve so you can control your flame
If you have an older (pre-2017) RY10 Pro, you can weld a bracket onto it to use this torch accessory. Current RY10 Pros come standard with the bracket.
Why should you purchase the Torch and Adaptor Accessory with an RY10 Pro?
There are 2 great reasons why you should always get the torch accessory with the purchase of an RY10 PRO.
1. Quality Jobs
The torch is a must for burning out vegetation from the cracks so that proper crack sealing is complete. If vegetation is popping out of the crack sealer, water can still get in and feed it making it an eyesore and still allowing water to get down into the foundation which leads to unsafe and expensive to repair potholes.
2. Save Time
After hours of use, your RY10 PRO will end up of having melted crack sealer build up on the steel wheels as you run through it during operation. This crack sealer builds up to the point that it can jam the rear wheels locking the wheels up and that isn't very fun to push around. Use the torch to simply melt the rubber build up off the wheels in less than a minute and you're good to go. Doing this without the torch isn't fun and would take an hour to scrape away with a screwdriver.
Customer Reviews
Top customer reviews
Precision Asphalt Sealers

A must have addition without a doubt!