RY10 Asphalt Crack Fill Machine - Base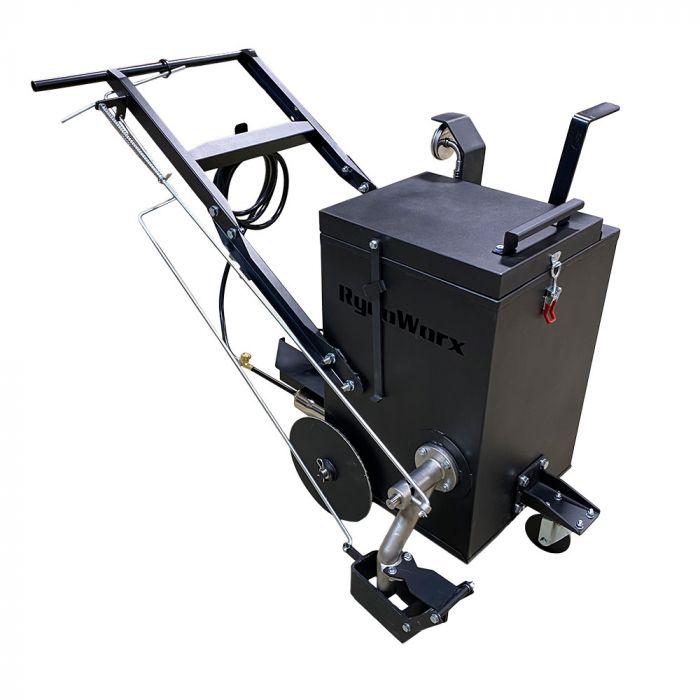 Entry-level crack fill machine to heat blocks of sealer and fill cracks while you walk.
Read more
Safe, reliable and easy to use: if you are looking for a machine to take the back-breaking work out of occasional crack filling jobs, this is a great entry-level machine.
Melt crackfiller and apply it from the same machine
Field-tested equipment designed to make crackfilling easy
Ships to your door or job site
It's easy to use: simply put bricks of hot pour crack filler in the machine, heat them up to 350°F, and then walk along the cracks, applying the crack fill from the handlebar squeeze valve. If you can mow the lawn, you can use this machine.
Start by thoroughly cleaning out all the cracks on the pavement. If any cracks are deeper than ½", top them up with sand and gravel. Make sure you have burned out any vegetation. Then heat the rubberized crack filler and go. Remember to agitate the crack filler in the kettle every few minutes to prevent it from burning.
The RY10 Base Model features a valve control arm to adjust the spring tension, making it easier to control how much sealant you are releasing. It's 150,000 BTU torch melts rubber sealant fast. You can also pull it out of its holster and use it for melting vegetation or burning built-up sealant off the machine's wheels.
The machine also features:
Glycerin thermometer so you can read the gauge while you walk
Rear wheels with double bearings for increased stability
Fuel pressure regulator on the hose
Latching lid for easy transportation
Ratchet strap to keep your propane tank in place
Fully Equipped with CSA/UL approved regulator to provide precise control over fuel flow to the kettle
If you plan to crackfill more than one property, we'd recommend you upgrade to the RY10 with the Ergokit. It has handlebar agitation controls that will let you work more efficiently, stirring your crackfill without having to stop.
If you plan to do crackfilling professionally, look at the RY10 Pro or Elite for more features to save money on fuel, and time on melting.
Know the key differences between the RY10 Base and the RY10 Pro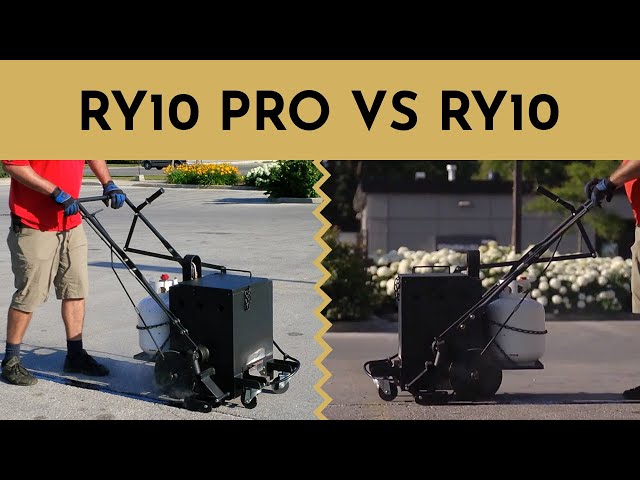 Specification
Construction
14 gauge powder-coated steel

Side Wheels
12" Diameter
1/4" thick steel

Front Caster
1/8"-thick steel wheel with twin row bearings and a grease fitting for greater tolerance of vertical and horizontal force, vibration and debris

Bushings
Constructed with a nickel/bronze mix

Premium Accessories
Manual Agitation.
Heavy-duty temperature gauge bracket.

Assembled Dimensions
48"D x 24"W x 36"H

Capacity
12.5 US gallons
Weight
134 lbs
Shipping Dimensions
Box 1: 26" x 26" x 10"
Box 2: 26" x 26" x 20"

Shipping Weight
Box 1 75 lbs
Box 2 98 lbs
Total 173 lbs

Manual

Download the RY10 Assembly and Operations Manual
Customer Reviews
Top customer reviews
I was impressed with the quality of the build

The unit I bought was delivered earlier than thought. But there was a couple missing pieces. This took a couple days to get to the right people but it was taken care of appropriately. I got the ry10 base unit and i was impressed with the quality of the build.
Customer Questions
I have left over tar in my machine. Is it okay to leave it there and reheat it at a later time?
Absolutely! You just have to heat it up again when you are ready to use it.
How soon can you drive on newly filled cracks?
As soon as the crackfiller comes down to ambient temperature - sometimes as soon as 30-45 minutes when it is hot, and more quickly in cooler temperatures. Test with a stick: if you push down on the crackfiller and the crackfill doesn't tack to the stick, you're good to drive on it.
Does machine come with burner?
This unit comes with an external torch as its burner system. The RY10's big brother, the RY10 Pro, has an enclosed halo base burner.
How long does it take to melt a full pot on start up?
It takes approximately 30 minutes to get a full pot on start-up. If this is your full-time business, we'd recommend upgrading to the RY10 Pro which cuts melting time in half with its halo-shaped burner. For occasional repairs, the RY10's melting time is probably not an issue.
The torch will not ignite or the torch will not stay lit
Possible Causes
1) The fuel level could be too low
2) The propane cylinder valve could be partially or fully closed, which can restrict fuel flow
3)The pressure regulator valve may be in the off position or may not be providing sufficient fuel flow

Known Solutions

1) Check and refill your fuel tank
2) Ensure your fuel valve is fully open. You can do this by turning the knob fully counter-clockwise
3) You may increase the pressure from the regulator by turning the knob clockwise
If the weather is really hot, should I still be crack filling?
The crack sealant can be used in high-heat situations like deserts, but it has also been proven to stay flexible down to -0°F.
What type of grease do I use to lube up the RY10 and RY10 Pro valve?
White lithium grease.
When melting the rubberized crack filler, does the whole block with plastic wrapper go into the melter kettle?
Yes, you can put the whole block into the melter kettle along with the plastic cling film. Don't worry because including and melting the plastic film is 100% safe. Plus, it will not affect the adhesion or the performance of the rubberized crack filler.
How do I clean the rubber off the RY10's shoe and wheels?
Use the RY10's torch to soften the crack fill on the shoe and wheels. You can then use a scraper (you can use a flathead screwdriver for this) to remove the softened rubber.
The asphalt comes out too quickly even by barely touching the release valve, is there something I can do to get the flow slower, or the release less touchy?
To make it a little easier to control the flow of the crackfill:
Lower the temperature of the kettle and it will cause the rubber to flow more slowly.
Lengthen the control arm for the valve by adjusting the turnbuckle. That way, you will be able to have the handle closer to the handlebars, and your hand will be more closed, which should provide more control for the valve operation.
How often should I clean my crack repair machine?
It's good to clean it out completely after 5 uses; otherwise there is a possibility of charring rubber in areas where there may be multiple layers of rubber built up.
To clean it, heat it up and scrape it out with a scraper on a broom handle. Then start fresh with a brand new box of crackfill.  
How To Identify RynoWorx Melter Applicator and Features