Bensink Rotary Broom with Hydraulic Drive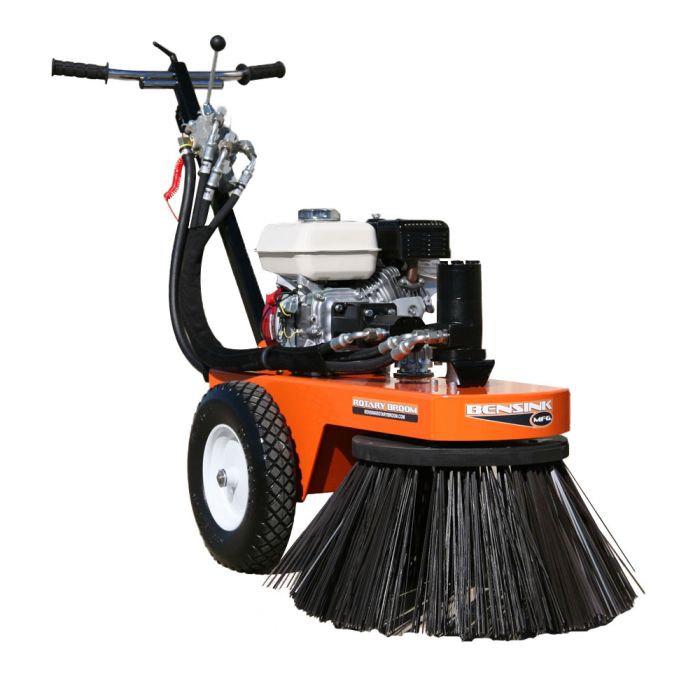 Prep your asphalt jobs fast with a gas-powered rotary broom to sweep off dirt, debris and remove vegetation efficiently.
Read more
Removing weeds, moss, and debris before asphalt maintenance is a breeze with this heavy-duty Bensink Rotary broom.
Efficient surface prep machine
Durable steel bristles
Walk-behind design
FREE SHIPPING
Delivered in: 5-10 Business Days
Asphalt Cleaning Becomes More Efficient with the Bensink Rotary Broom
The Bensink Rotary Broom with Hydraulic Drive is an efficient surface prep machine that will revolutionize the way you clean and prepare surfaces for asphalt maintenance.
Surface preparation has never been easier
Compact design with adjustable handle bars for convenience
Gas-powered broom in two-way rotation
Say goodbye to traditional push brooms, scrapers, propane burners, and torches, and say hello to the gas-powered Bensink rotary broom. This powerful machine is designed to make surface preparation a breeze, with its compact design and adjustable handle bars for added convenience.
The gas-powered broom features two-way rotation and a durable steel bristle brush, making it easy to remove debris and dirt from any surface. With its powerful Honda engine and gear transmission, the Bensink rotary broom effortlessly cleans along curbs and tight spaces, removing oil spills, vegetation, moss, and other debris with ease.
Whether you're a sealcoating contractor or a full-service asphalt maintenance company, prepping your site before sealcoating, re-paving, or resurfacing is crucial. This machine ensures that your surface is thoroughly cleaned and prepared for proper adherence of the sealer material.
The compact design makes it easy to load and unload onto your service vehicles, while its adjustable handle bars allow for easy cleaning along walls and the sides of buildings. The high tensile steel bristles on the brush are extremely durable and can withstand heavy use before requiring replacement.
Specification
| | |
| --- | --- |
| Ready To Ship | Yes |
| Shipping Weight | 325 lbs |
| Shipping Length | 53 in |
| Shipping Width | 26 in |
| Shipping Height | 38 in |
Customer Reviews
Top customer reviews