Deery Super Stretch Crack Filler- 300 Boxes / 9,000 lbs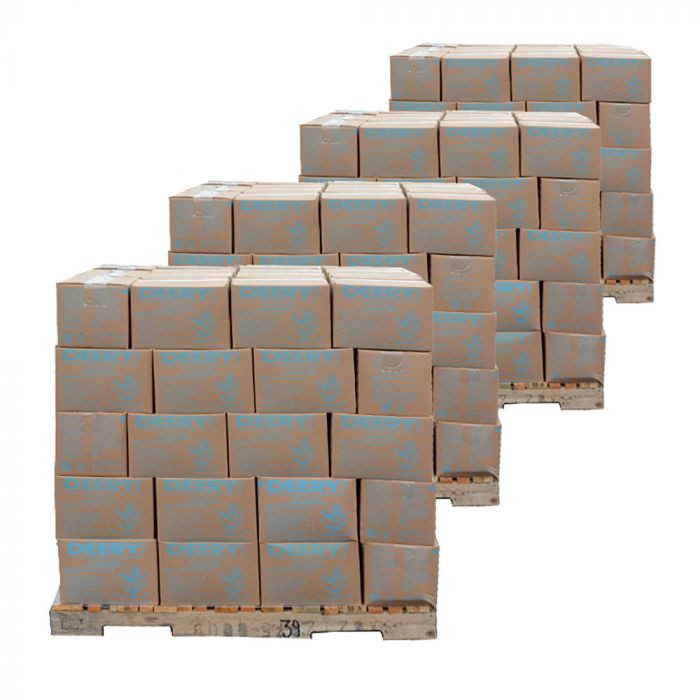 Add AK Make it a Biz Success Pack - Free With Purchase
Unlock your asphalt maintenance business's full potential with the AK Make it a Biz Success Pack, equipping you with expert-crafted tools and exclusive access to the AK Roundtable for accelerated growth and profitable opportunities.
Learn More

Make it a Biz Success Pack
You save 80% when investing into this bulk buy instead of 1 box at a time.
Read more
Four pallets of Deery Super Stretch crack filler totalling 9,000 lbs (300 30-lb boxes) covers 60,000 linear feet of cracks.
Make $60,000 with 4 pallets
3 to 4 year crack seal
10 year shelf life
Free Shipping to commercial address with a dock or forklift
Delivered in: 5-10 Business Days
Add These To Minimize Your Effort!
Stock Up and Save with 300 Boxes of Deery Super Stretch Crack Sealer
The contractor's choice when it comes to high-quality, long-lasting crackfill. Use this parking lot crack sealer with a melter-applicator like our RY10, RY10 Pro, RY10 Elite. Or you can use a larger melting machine and put some product in a crack pour pot to apply.
The trusted asphalt crack filler for airport runways and government buildings coast to coast
Prevents cracks from becoming dangerous, expensive potholes
Saves money over buying individual pallets: buy bulk and save
Why Choose Deery Super Stretch Crack Filler?
If you repair cracks regularly, buying crack sealers in bulk is a great way to save money. (And we know that lowering your cost of goods improves your bottom line without you having to increase your price!)
Deery 8905 Crack Sealer can be safely stored for up to ten years, and it is fine to freeze and thaw.
When it's time to sealcoat, heat it to 380-400°F and apply. Be careful not to overheat the product which could damage it.
The Super Stretch crack sealant from Deery will create a long-lasting seal. Just make sure it is applied in cracks that have been properly cleaned (no loose debris or weeds). Finally, allow it to dry thoroughly.  We recommend you use a blower or a crack cleaner rather than a pressure washer to clean cracks.
When It's Time to Fill Asphalt Cracks
There's no better time than now to fill asphalt cracks. Whether you're dealing with cracks 1/2-inch wide or larger cracks that will become potholes in a few years. Save asphalt pavements with the Deery Super Stretch Crack Sealant.
Stock up now, and have everything you need throughout the season and beyond. Deery Super Stretch is easy to use and has a long shelf life. It doesn't deteriorate in the summer or become frozen and unusable up in the winter.
What Other Customers Say:

"Top Shelf! I started Wyoming Asphalt Repair with Asphalt Kingdom equipment and material. I am very impressed with the how great the equipment runs and how great the material works. Their customer service and sales team is top shelf!!"


Johnny Bublich




President, President of Wyoming Asphalt Repair, LLC
Preserving Asphalt With Deery Super Stretch Crack Filler
Why do you have to seal cracks? Cracks grow because pavements shrink when it's cold. They also shrink in the first couple of years after being put down. If left untreated, the pavement condition worsens in the long term.
The US Federal Highway Administration says that 70% of unsealed cracks turn into potholes within 3 years. Prevent water from getting into cracks by sealing them with Deery crackfill, the most effective crack sealing product on the market. Flexible in cold weather, solid in hot weather, it's a durable, reliable product for filling asphalt cracks.
Shop the best asphalt driveway crack fillers online here at Asphalt Kingdom. We offer bulk crack sealant for those who wish to conduct asphalt repair themselves. Our crack fillers are also available for busy contractors who want to turbocharge their business. Use our crack filler calculator below or reach out to us to determine how much bulk crack sealer you need.
Note: We are happy to offer FREE SHIPPING for Deery Super Stretch Crack Filler and other asphalt maintenance products to the Continental United States (Alaska and Hawaii are not included; please call for a shipping quote.) Residential, limited access, lift-gate, and deliveries to remote areas will be subject to extra fees. An additional $150 per pallet of crack filling is also required for West coast shipments - Arizona, California, Colorado, Idaho, Montana, Nevada, New Mexico, Oregon, Utah, Washington, and Wyoming.
Crack filler Calculator
Let us help you determine what you need.
Specification
| | |
| --- | --- |
| Ready To Ship | Yes |
| Shipping Weight | 9560 lbs. |
| Shipping Length | 48 |
| Shipping Width | 40 |
| Shipping Height | 48 |
| | |
| --- | --- |
| Flow @ 140°F (60°C) | 1 mm maximum |
| Low Temperature Flexibility | Pass @ 0°F (-18°C) |
| Softening Point | 200°F (93°C) minimum |
| Resilience | 60% minimum |
| Curing Time | 30 minutes maximum |
| Recommended Application Temperature | 380 - 400°F (193 - 204°C) * |
| Maximum Heating Temperature | 400°F (204°C) |
| Warranty | Manufacturer warrants that these products meet applicable ASTM, AASHTO, Federal or State specifications at time of shipment. Techniques used for the preparation of the cracks and joints prior to sealing or filling are beyond our control as are the use and application of the products; therefore, manufacturer shall not be responsible for improperly applied or misused products. |
| Safety Data Sheet | Download here |
Customer Reviews
Top customer reviews
The product is good and it works well
Start your Asphalt Maintenance Business with the most in-demand service!
Looking at doing crack repair as a business? Make your success inevitable with these valuable add-ons, yours free with purchase at Asphalt Kingdom!
You get:
Role-Playing Video

with Judd Burdon: find out exactly what to say when you pitch your business to customers, and how to answer their most common objections.

Crack Filling Proposal Template

: a professionally designed form that you can fill in and print off — convert more business when you look pro from the get-go.

Customizable Social Media Templates

: swipe these great graphics and post them on your Facebook or Google My Business pages — get valuable leads with these proven templates!

Phone Script

written by Judd Burdon for you or your sales team to use when prospecting new business.

Exclusive Access to AK Round Table Meetings

: join us on a weekly Zoom call and get answers to any questions you have about your business.
You don't need to spend valuable time learning in the school of hard knocks — take advantage of the experience we've gained helping 1000s of clients start their own business.
Just click 'Make it a Biz' when you add this product to the cart, and we'll send you all of the above absolutely free. Welcome to your asphalt kingdom.
Customer Questions
How long can I keep unopened crack sealant?
Our crack filler has a shelf life of 10 years unopened. It's why so many of our customers choose to take advantage our half-pallet and pallet offerings: the savings are so high it is worth storing them until you need them. It can be stored outside; just cover it with weather-resistant pallet wrap and keep it out of the sun.
I have left over tar in my machine. Is it okay to leave it there and reheat it at a later time?
Absolutely! You just have to heat it up again when you are ready to use it.
How soon can you drive on newly filled cracks?
As soon as the crackfiller comes down to ambient temperature - sometimes as soon as 30-45 minutes when it is hot, and more quickly in cooler temperatures. Test with a stick: if you push down on the crackfiller and the crackfill doesn't tack to the stick, you're good to drive on it.
What type of sand can I put on top of the cracks if traffic needs to drive on it and it is not completely hardened yet?
Silica Sand is best.
After applying crackfill, how soon can you seal coat?
Whether you used liquid cold-pour crack filler or rubberized hot-pour crack filler, it is best to let the product dry completely before applying sealer. Depending on ambient and surface temperatures, the actual drying time of the crack fill can vary. We usually recommend allowing crack fill to dry for 24 to 48 hours before applying sealer.
How many gallons of material does each "block" of rubber melt down to?
Each box of rubberized crack filler contains a 30-lb. cube.
When melted, each cube yields about 3.6 gallons of liquefied rubber crackfill. This means that if you own a RY10 Pro, you will need about 3 cubes to fill the 10-gallon capacity of this melter applicator.
When melting the rubberized crack filler, does the whole block with plastic wrapper go into the melter kettle?
Yes, you can put the whole block into the melter kettle along with the plastic cling film. Don't worry because including and melting the plastic film is 100% safe. Plus, it will not affect the adhesion or the performance of the rubberized crack filler.
Can the hot pour rubberized crackfiller be used over latex paints?
The sealant might stick to the paint ok, but if the paint comes up then the sealant will come up. The sealant is only as good as what it bonds to.