KM 55 Stationary Crack Filling Rubber Melter Kettle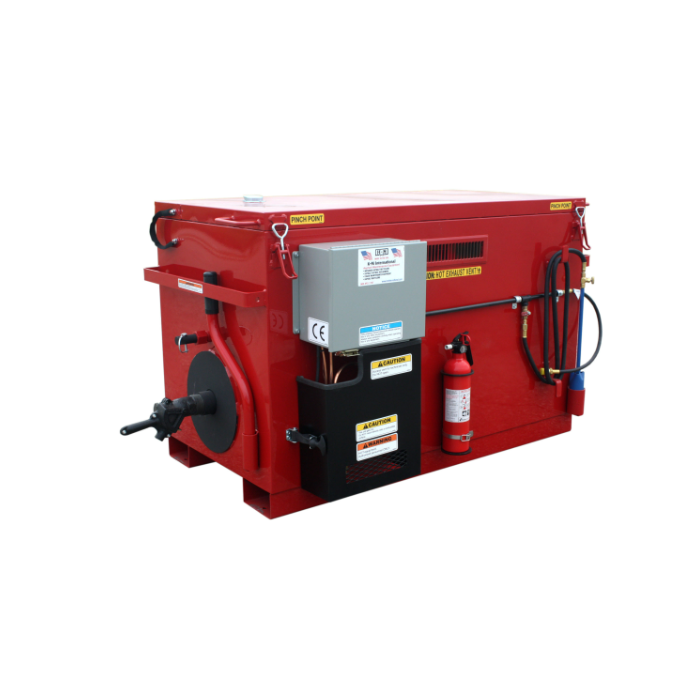 KM55 Rubber melting kettle is a unique and full-featured hot rubber asphalt crack filler melter.
Please call to request a shipping quote (Note: $75 pallet charge applies)
Read more
No blow-out kettle burner feature
Manual hand agitation
For mid to large scale crackfilling
Delivered in: 5-10 Business Days
Have questions? We're here to help!

Speak to an Asphalt Expert!
Contact our Experts
KM55 stationary crack filling melter kettle is the best contractor's dream machine for mid-size to large asphalt crack maintenance and repair jobs. With its no blow-out burner and with thermostatic control and that's just one of the important features.
KM55 Melter Kettle Features
Compatible with direct fire or oil-jacketed crack filler
Thermostatically Controlled: No more babysitting your direct fire melters
360 Manual Hand Agitation handle
FAST: First load ready in 45 minutes to 1 Hour
Fuel-Efficient: Consumes 1/2 the propane as direct fire melters
Excellent Heat Retention due to is air jacketed unit with high-efficiency insulation
Flame WILL NOT blow out going down the road
Versatile Flow valve that can switch places with the hand agitation handle and the molasses valve.
Utility hand torch to heat flow valve, tools, pour pots, etc… INCLUDED!
This 55-gallon rubber melter kettle has a built-in manual hand agitation for a fast mix of the melter rubber material inside achieving the right viscosity level for a perfect asphalt crack sealing.
KM55 crack filling melter kettle is equipped with a hand torch that you can easily access on the side, a very handy tool you can use to heat the molasses valve, tools, applicators, and other applications that need heating to free up hardened crack rubber.
Being a stationary crack filling melter kettle does not mean that it does not have a versatile function. This KM55 is designed to have a universal valve for the hand agitator and the molasses valve. This means, you can change it to your desired setup on what end will the hand crank and molasses valve is in place.
All these features are readily available in this asphalt crack filling machine. You can just imagine having the ideal asphalt crack sealing equipment that does the job right and saves you time and money for its efficiency. Leaving you with a satisfied customer, a well-done asphalt repair job, and a melter kettle that can pay for itself and give you profit for your business.
Have questions? We're here to help!

Speak to an Asphalt Expert!
Contact our Experts
Specification
Dimensions (L x W x H)
77.5' x 34' x 34'
Weight (Empty Unit)
340 lbs
Capacity
55 Gallons
Thermostat
100-500˚F
Warranty
1 year limited warranty
Heating Element
50,000 BTU propane heating system
Insulation
High efficiency insulation with reflective metal
Agitation
360˚ agitation paddle. Universal handle can be placed on either side of machine
Construction
16G Skin, 14G Funnel, 20G Lid
Specifications are subject to change without notice
Customer Reviews
Top customer reviews