Gator Patch Pallet (36 pails)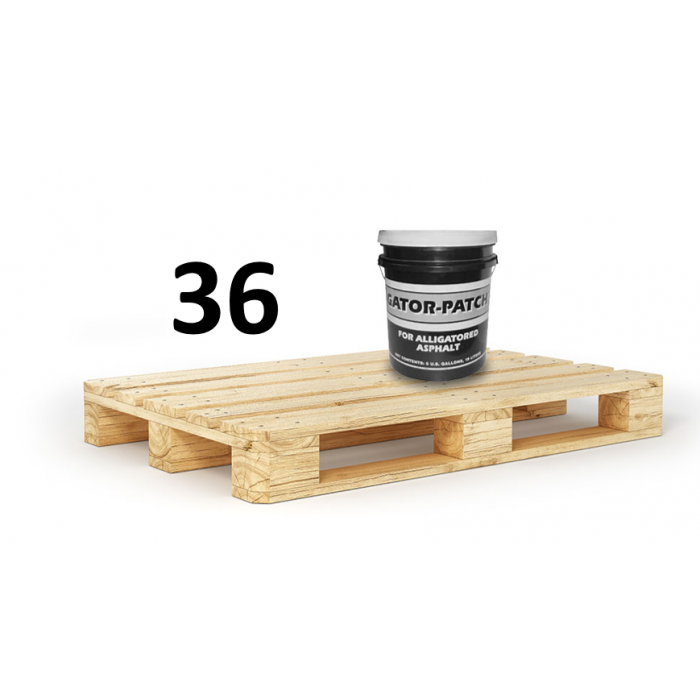 Add AK Make it a Biz Success Pack - Free With Purchase
Unlock your asphalt maintenance business's full potential with the AK Make it a Biz Success Pack, equipping you with expert-crafted tools and exclusive access to the AK Roundtable for accelerated growth and profitable opportunities.
Learn More

Make it a Biz Success Pack
Up to 3600 sq ft of alligator patching for contractors to have on hand for repairing gator cracks.
Read more
Best-selling asphalt patch to fix alligatored asphalt and shallow cracks. Transforms a driveway or parking lot from damaged to new again.
Cost-effective way to fix asphalt pavements
1 gallon can cover up to 20 sq ft of alligatored asphalt
Last up to 4 years
Free Shipping to commercial address with a dock or forklift
Delivered in: 5-10 Business Days
Add These To Minimize Your Effort!
Have questions? We're here to help!

Speak to an Asphalt Expert!
Contact our Experts
Gator Patch is Asphalt Kingdom's best-selling asphalt driveway repair product. Each 5-gallon pail can cover up to 100 square feet of alligator cracks. This pallet contains 36 pails so you can fix multiple parking lots or one large parking lot without worrying that you will run out in the middle of a job.
A Quick and Easy Way to Fix Alligator Cracks
Alligator cracks are usually the first sign that there is something wrong with an asphalt driveway or parking lot. Fortunately, this type of asphalt damage is easy to fix.
Whether you're planning to patch your asphalt parking lot on your own or you're a contractor looking for a reliable product to use throughout the season, then Gator Patch is for you.
Gator Patch contains petroleum asphalt, sand, clay, and water.
Petroleum asphalt mixed with water binds sand and clay together to form a strong and long-lasting product with mud-like consistency. When applied, it produces a smooth and impenetrable surface. Give your old and damaged asphalt parking lot or driveway a makeover with Gator Patch!
No need to repave the damaged area – all you need is Gator Patch
Produces a smooth finish
An affordable solution to prolong pavement lifespan
Where you can Use Gator Patch?
Alligator cracks
Shallow holes
Cracks wider than 1/2"
Using Gator Patch
This asphalt patch is ready to use right out of the bucket. And it's easy to use too!
All you need is a 16-inch steel wire broom, a gas blower, a 24-inch asphalt squeegee, some traffic cones, and an attention ribbon.
Clean the entire alligatored area with your steel wire broom. Carefully remove loose aggregate, debris, leaves, and dust from the cracks and entire surface.
Use a gas blower to ensure that the surface is 100% dust-free.
Once the entire area is clean, open a bucket of Gator Patch and apply a small amount of the material onto the alligatored surface. Take your squeegee and apply Gator Patch on the damaged asphalt. Apply a thin, even coat for faster curing time. Wipe excess product off the sides and ensure that the entire surface is even.
Apply a second coat 30 minutes or so after applying the first coat.
Let the patched area dry and cure by blocking the area from vehicle and foot traffic with traffic cones and attention ribbon. Drying and curing will take about 2 to 4 hours (under favorable conditions).
Wait 48 hours before sealcoating the repaired area.
This product is compatible with asphalt emulsion and coal tar sealers.
Do not use Gator Patch after it has rained or if rain is in the forecast.
Note: We are happy to offer FREE SHIPPING to the Continental United States (Alaska and Hawaii are not included; please call for a shipping quote.) Residential, limited access, lift-gate, and deliveries to remote areas will be subject to extra fees. An additional $150 per pallet is also required for West coast shipments - Arizona, California, Colorado, Idaho, Montana, Nevada, New Mexico, Oregon, Utah, Washington, and Wyoming.
Have questions? We're here to help!

Speak to an Asphalt Expert!
Contact our Experts
Specification
| | |
| --- | --- |
| Ready To Ship | Yes |
| Shipping Weight | 2095 |
| Shipping Length | 48 |
| Shipping Width | 36 |
| Shipping Height | 48 |
| | |
| --- | --- |
| Color | Black |
| Odor | Bland asphaltic |
| Weight per gallon @ 77°F. ASTM D1010, (lbs) | 9.60 ± 0.20 |
| Nonvolatile %, ASTM D2939 | 70.00 - 72.00 |
| Viscosity @ 77°F, ASTM D562 (Kreb's Stormer Unit) | 125 min. |
| Penetration (0.1 mm), ASTM D5 | Pass |
| Resistance to water, ASTM D2939 | No blistering, no re-emulsification |
| Ductility, 77°F 5 cm/min. cm., ASTM D113 | Pass |
| Flammability | Non-flammable |
| Shelf Life (yrs) | 1-2 |
| Cure Time | Dries for traffic in 2-4 hours in normal conditions; Cures completely in 24 hours. |
| Minimum Application Temperature | +50°F (DO NOT apply when rain or frost is forecast within 12 hours) |
| Application | Cold applied with squeegee |
| Clean-up | Water and soap. Use solvent for dried material. |
| Note | Coverage up to 20 sq. ft. for patching alligatoring areas and up to 150 linear feet of 1/2" x 1/2" depth cracks per gallon. (Coverage will vary, depending on size and frequency of cracks in alligatored areas." A second application of Gator Patch will give cosmetic benefits in terms of smooth, consistent appearance and virtually hiding the outline of the cracks in the alligatored areas. |
Customer Reviews
Top customer reviews
Start your Asphalt Maintenance Business with the most in-demand service!
Looking at doing crack repair as a business? Make your success inevitable with these valuable add-ons, yours free with purchase at Asphalt Kingdom!
You get:
Role-Playing Video

with Judd Burdon: find out exactly what to say when you pitch your business to customers, and how to answer their most common objections.

Crack Filling Proposal Template

: a professionally designed form that you can fill in and print off — convert more business when you look pro from the get-go.

Customizable Social Media Templates

: swipe these great graphics and post them on your Facebook or Google My Business pages — get valuable leads with these proven templates!

Phone Script

written by Judd Burdon for you or your sales team to use when prospecting new business.

Exclusive Access to AK Round Table Meetings

: join us on a weekly Zoom call and get answers to any questions you have about your business.
You don't need to spend valuable time learning in the school of hard knocks — take advantage of the experience we've gained helping 1000s of clients start their own business.
Just click 'Make it a Biz' when you add this product to the cart, and we'll send you all of the above absolutely free. Welcome to your asphalt kingdom.