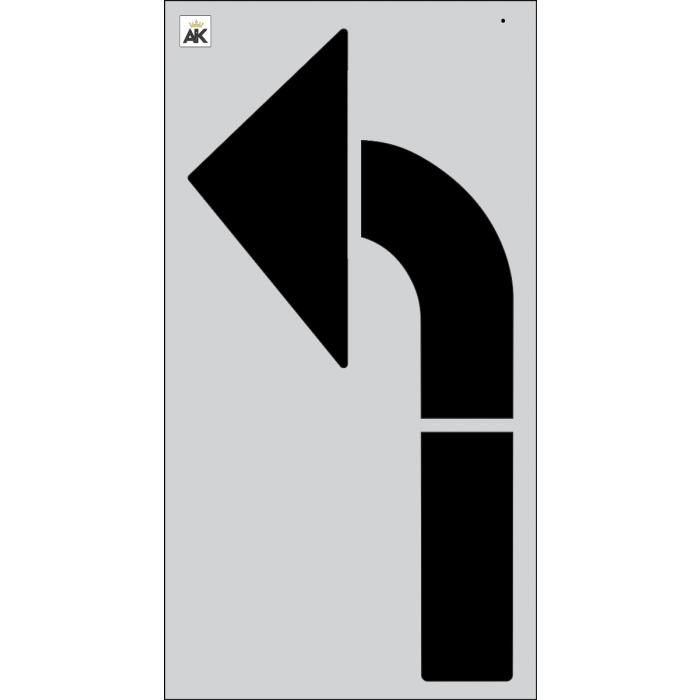 84 TURN ARROW Stencil

Read more
The 84" turn arrow stencil is a common and useful stencil for any roadway or parking lot project. Stripers who are invested in public or private stencil projects can find this arrow a useful and affordable tool to add to their collection. It can be used in parking garages, turn lanes, large lots, and more. It is approved to be painted on any roadway with a speed limit of 25 mph or less. The stencil comes in two easy to use pieces that are easy to apply, easy to clean, and easy to transport. Each stencil is crafted in America and is delivered with a warranty that guarantees it to be free of any defects or impediments.

The measurements and specifications of each stencil meet industry standards and are compliant with Federal requirements. When painted, the combined stencils reach a width of 84" and a height of 53" for easy visibility. The tail has a stroke of 18" to make a bold statement. The material measures 44" wide by 48" high for the arrow head, and 48" wide by 48" high for the turn tail, allowing plenty of extra room for overspray.

Choose from four different material grade options for the composition of your stencil. If you want the stencil to last forever without ever wearing or tearing, invest in the affordable .080 ALU. This 5052 aluminum material is indestructible and can withstand thermoplastic extruding. The next option is the ?" LDPE, which is named PRO-Grade LDPE as it is the most recommended material in the industry. It is a common material for this type of stencil as it offers thousands of uses over several years. The 1/16" LDPE is a thinner version of the PRO-Grade, which is just as durable but also adds flexibility for custom projects. The thinnest grade available is the .030" HIPS, which is a common PVC material that adds ultra thin flexibility and lays flat out of the box for a one-time or sparing use.
Specification
| | |
| --- | --- |
| Ready To Ship | Yes |
| Stencil Name | Turn |
| Stencil Height | 84" |
| Stencil Width | 42" |
| Stencil Type | Directional Stencil |
Customer Reviews
Top customer reviews
Customer Questions
are these one time use? or can they be cleaned and used multiple times?
Most contractors clean them and use them a few times. If you are rough with stencils in general, it is possible they would crack on the first go but in general that hasn't been our experience. If you're looking for something with more reusability, we can provide a heavy-duty version of these - just let us know.