90" x 24" Hopscotch Pattern Stencil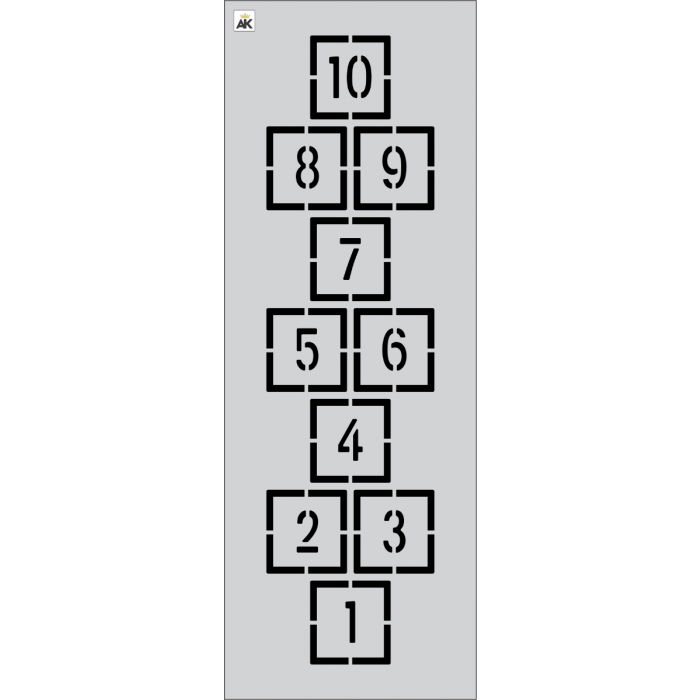 90" x 24" Hopscotch Playground and Stencil is durable and reusable.
Read more
Professional-looking, clean, crisp markings, directions, and signs on parking lots, roads, curbs, and driveways can be easily attained with the aid of stencils. Made from high-quality LDPE, the 90" x 24" Hopscotch stencil offers an effortless solution to an otherwise difficult and time-consuming job. This stencil kit includes 1 sheet depicting a hopscotch pattern. Overall size is 100" x 36". Not only aimed for property owners and line striping professionals, our stencils are also ideal for do-it-yourselfers and homeowners. Reusable flexible LDPE material effortlessly lays flat on pavement, wood, glass, hard plastic, and other non-porous surfaces. Available in three varying thicknesses - 1/16" (.060"), 1/10" (.100"), and 1/8" (.125") - simply flex stencils to remove dried paint, and then roll up for easy storage.
Specification
| | |
| --- | --- |
| Ready To Ship | Yes |
| Stencil Name | Hopscotch |
| Stencil Height | 90" |
| Stencil Width | 24" |
| Stencil Type | Playground Stencil |
Customer Reviews
Top customer reviews
Customer Questions
are these one time use? or can they be cleaned and used multiple times?
Most contractors clean them and use them a few times. If you are rough with stencils in general, it is possible they would crack on the first go but in general that hasn't been our experience. If you're looking for something with more reusability, we can provide a heavy-duty version of these - just let us know.