Billy Goat Force 18 "Ultimate" Wheeled Blower - F1802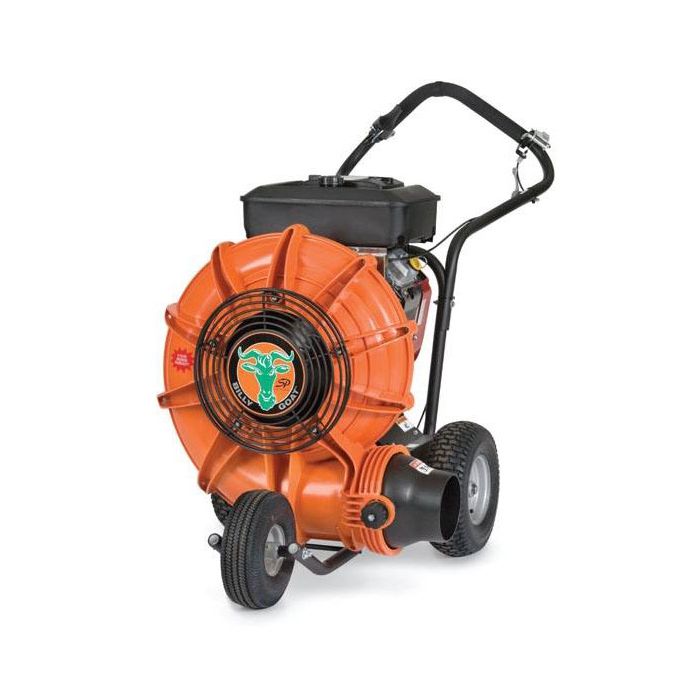 This product is not in stock in USA. If you'd like a quote on getting it delivered to you, please fill out your information.
The Ultimate Billy Goat Blower is here! With its 570cc Briggs and Stratton engine and large gas tank, the Force 18 is a powerful machine to be reckoned with! Call (855) 554-4386 to order!
Read more
If what you're looking for is the "Ultimate" in cleaning power, look no further! The Billy Goat Force 18 "Ultimate" Wheeled Blower combines power and efficiency in one brand that's trusted by a wide range of contractors in the maintenance industry. Equipped with a 18Hp VanGuard engine from Briggs and Stratton, the F18 features a larger gas tank compared to other Billy Goat wheeled blowers. This means less time spent refueling, and more time spent on the job!
The F18's 6-inch discharge has an air velocity of just under 200 mph (322 kph) can blow and push leaves and debris farther, which means clean up gets done faster and more effectively compared to any other blower in the Billy Goat line up.
Billy Goat's patented Aim N Shoot™ nozzle operation allows you to adjust its direction by means of a manual lever positioned on the right-hand side of the padded handlebar. A soft-touch locking pin allows you to lock your preferred nozzle position in place.
The Force 18 Ultimate is equipped with a 16-blade close-faced fan housed in a rounded casing that's rust and dent-proof. This design helps get rid of air void while ensuring a smooth and powerful, yet quiet airflow.
The F18 Ultimate Blower comes in 2 different models that can help you get large-scale jobs done faster, thus, greatly increasing your productivity and profitability!
Model F1802V packs a powerful punch with its 570cc VanGuard engine, while staying true to the traditional principles of a push blower on wheels.
On the other hand, Model F1802SPV has an added self-propulsion mechanism that allows you to set the blower to work unassisted, while you take care of other tasks on the job site. With the same 570cc VanGuard engine, this self-propelled version can get more jobs done while minimizing operator fatigue.
Both models of the Force 18 series of blowers are mounted on pneumatic tires that ensure stability, even when used on rugged terrain. The large treads innate to pneumatic tires help absorb shock and tremors while the blower's motor is running, which greatly minimizes the chances of shaking and toppling over during clean up jobs.
Specification
| | |
| --- | --- |
| Ready To Ship | Yes |
| Shipping Weight | 200 |
| Shipping Length | 58 |
| Shipping Width | 29.50 |
| Shipping Height | 45 |
Velocity (mph): Just under 200
Fan Material: 17 16-blade Single Shot Composite
Discharge (in): 6
Displacement (cc): 570
Weight (lbs): 189 (F1802SPV); 179 (F1802V)
Length (in.): 58
Width (in.): 29.5
Height (in.): 32.5 (housing), 45 (handle)
Front Tire Size (in.): 10 x 3
Front Tire Style: Pneumatic
Rear Tire Size (in.): 13 x 5
Rear Tire Type: Pneumatic
Engine: 570cc Vanguard
Customer Reviews
Top customer reviews