Commercial Stencil Package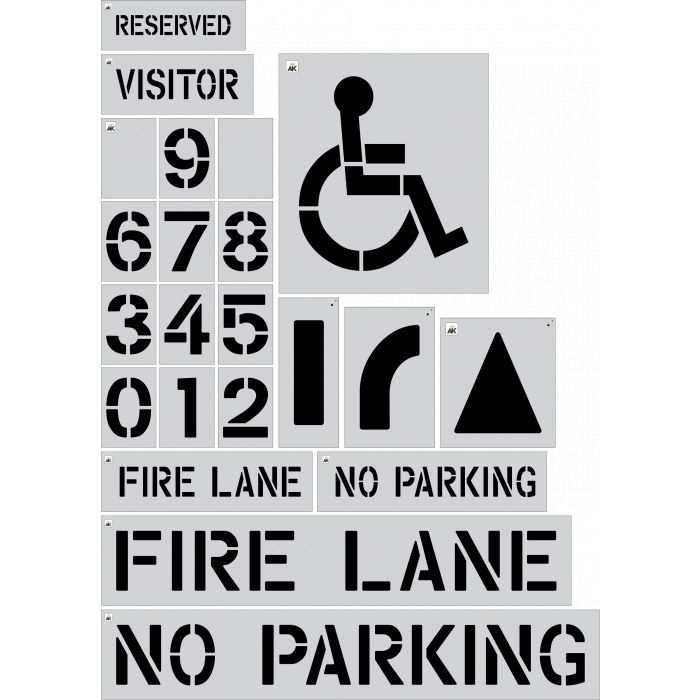 Commercial stencils kit with a combination of 1/8" thick stencils for parking lot owners and property managers.

Read more
Ideal for DIYers and contractors
Complete stencil package
Thick and durable LDPE stencils
Delivered in: 5-10 Business Days
Save money by painting your own parking lots! This kit has all the stencils you need to properly label handicapped parking spots, numbered parking spots, no parking areas, fire lanes, driving directions, as well as reserved and visitor parking spots.
Includes these 1/8" thick pro-grade LDPE stencils:
39" Handicap
12" Numbers (0-9)
6" and 12" No Parking
6" and 12" Fire Lane
6" Visitors
4" Reserved
42" Arrow Combo Kit (for straight and curved arrows)

You can customize your stencils kit by selecting your own quantities.
All of these stencils are made from professional grade 1/16th or 1/8" thick low-density polyethylene (LDPE), ensuring the durability that parking lot owners need so they can continue to use these again and again. Choose 1/16th if you stencil irregularly; choose 1/8th for durable, long-lasting regular stenciling.
Customer Reviews
Top customer reviews
Customer Questions
are these one time use? or can they be cleaned and used multiple times?
Most contractors clean them and use them a few times. If you are rough with stencils in general, it is possible they would crack on the first go but in general that hasn't been our experience. If you're looking for something with more reusability, we can provide a heavy-duty version of these - just let us know.