Billy Goat Force 14 Wheeled Blower - F1402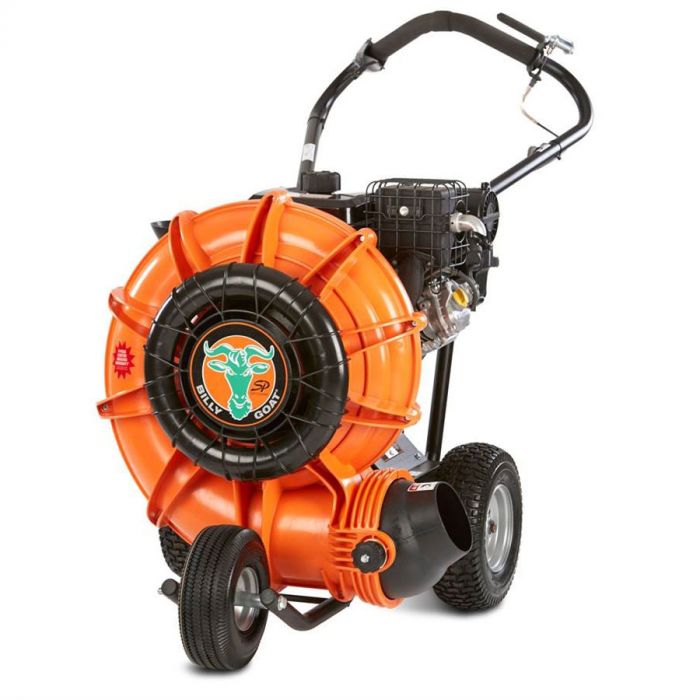 This product is not in stock in USA. If you'd like a quote on getting it delivered to you, please fill out your information.
Cleaning and maintenance of large Contractor/Municipal level jobs become effortless with this F14 series Billy Goat blower! Call (855) 554-4386 to order!
Read more
The Billy Goat Force 14 Wheeled Blower is equipped with a 14 Hp VanGuard engine from Briggs and Stratton. This Contractor/Municipal level blower is favored by seal coating professionals, landscapers, and pavement maintenance companies. With its high-performance rate and durability, the F14 is widely used for maintenance and upkeep of golf courses, schools, parks, cemeteries, resorts, estates, and other establishments with large, open areas of operation.
The F14 Blower is designed with a cyclonic air filtration system that better protects the machine from debris. Its air filter is rated for up to 600 hours of use, which is twice the capability of other engines in the market.
The F14's advanced fan technology features a single shot close-faced fan with 16 blades, which is twice as many as most blower fans in the market. Its rounded housing is streamlined to prevent denting and rusting, while eliminating air voids for a smooth and quiet airflow. This design allows for the machine to operate more quietly than its competitors, and is considered a welcome relief among operators and neighbors in the vicinity of the job site.
Billy Goat's patented Aim N Shoot™ technology allows you to fully control the nozzle direction – whether upward, downward or mid-level – using the hand-operated lever mounted on the right side of the handlebar. You can choose to shift the nozzle from one direction to another while you work, or lock it in place by simply pressing the locking pin. For easy cleaning along fences and walls, the blower comes with a standard rubber forward discharge that easily installs in a snap.
The F14 Blower is available in 2 different models:
The F1402V is the standard push version equipped with a 14Hp 408cc VanGuard engine.
The F1402SPV is the self-propelled version that allows you to set the machine to operate independently. This model is also equipped with the same 14Hp 408cc VanGuard engine.
Both F14 models are mounted on pneumatic tires – 2 in the rear and 1 in front – that fully absorb shock from uneven terrain, giving this machine more stability and lessens the likelihood of tipping over while in use.
Specification
| | |
| --- | --- |
| Ready To Ship | Yes |
| Shipping Weight | 171 |
| Shipping Length | 58 |
| Shipping Width | 29.25 |
| Shipping Height | 45 |
Velocity (mph): Just under 200
Fan Material: 17 16-blade Single Shot Composite
Discharge (in): 5
Displacement (cc): 393
Weight (lbs): 173
Length (in.): 58
Width (in.): 29.25
Height (in.): 32.5 (housing), 45 (handle)
Front Tire Size (in.): 10 x 3
Front Tire Style: Pneumatic
Rear Tire Size (in.): 13 x 5
Rear Tire Type: Pneumatic
Engine: 408cc Vanguard
Customer Reviews
Top customer reviews