McDonald's 6-pc Stencil Kit (Thank You Drive Thru and Arrow)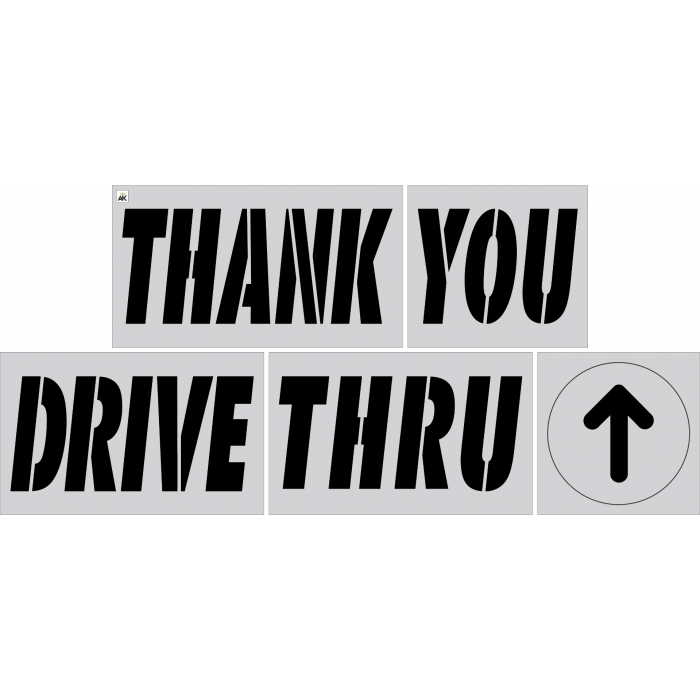 Set includes: 34" THANK, 34" YOU, 34" DRIVE, 34" THRU, and an Arrow in the 42" Circle. Compliant with McDonald's franchising specifications.
Read more
When specifying the appropriate drive thru section in a McDonald's outlet or store, the McDonald's 6-pc. Drive Thru/Thank You Stencil Kit will prove to be most helpful. This 6-piece stencil set includes the following pieces: 34" THANK, 34" YOU, 34" DRIVE, 34" THRU, and an Arrow in the 42" Circle (2 pcs. which includes the cutout arrow), all made from durable clear LDPE.
Our stencils are available in 3 different thicknesses: The 1/8" (.125") PRO-Grade LDPE is the thickest option, and generally used and favored by professional contractors and line stripers, mainly due to its ability to withstand multiple uses on a daily basis. The 1/10" (.100") Light-Duty LDPE is half as thick as the Pro-Grade and is generally meant for use a few times a month, making this option ideal for contractors that only offer pavement marking as an add-on service on top of their pavement maintenance business. The thinnest stencil variant is the 1/16" (.060") Light-Duty LDPE, which is meant to be used only once or twice a year. This type of stencil is great for McDonald's franchisees that prefer to do their own pavement markings instead of hiring contractors.
LDPE material is the best choice when making stencils since it is highly resilient, very durable, easy to clean, and can withstand up to 3000psi of spraying pressure from most line striping machines in the market. Stencils are rolled and packed in cardboard boxes for easy shipping, but since LDPE is flexible, the stencils easily lay flat after allowing to "rest" for a few minutes after getting taken out of their packaging. To clean the stencils, simply peel off dried paint and store the stencils by either rolling loosely, hanging them against a smooth surface, such as a wall or by laying them flat inside a sturdy box.
Customer Reviews
Top customer reviews
Customer Questions
are these one time use? or can they be cleaned and used multiple times?
Most contractors clean them and use them a few times. If you are rough with stencils in general, it is possible they would crack on the first go but in general that hasn't been our experience. If you're looking for something with more reusability, we can provide a heavy-duty version of these - just let us know.