Pro 200 C Liquid Asphalt Spray System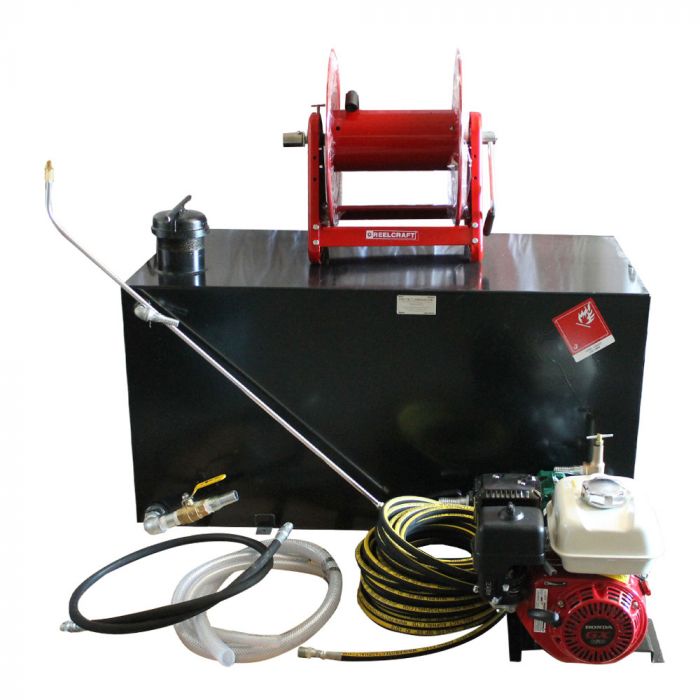 This product is not in stock in USA. If you'd like a quote on getting it delivered to you, please fill out your information.
A top-mount oil based sprayer perfect for contractors with limited space in a truck or trailer.
Please call for shipping quote.
Read more
The Pro 200 C Oil Based Liquid Asphalt Spray System is designed for contractors that need an oil-based spray system that has powerful yet easy to prepare and store away.
Instead of having its accessories like pump and engine unmounted like in the Pro 100 C, the Pro 200 C has them mounted on top of the tank.
Anti-dampening is included on the operating system to minimize and relieve the stress of vibrations.
This unique design of the Pro 200 C versus other liquid asphalt spray systems means that you can set-up and pack-up without too much effort. Storing is a breeze too because it requires less space and is one complete unit.
Just like the Pro 100 C, you'll get a 10 GPM Albany pump and Honda engine, with its easy-care self lubricating gears, as well as a pressure relief valve for accurate dispersion without experiencing unwanted build-up. You won't have any problem with liquid capacity and flow because the tank is rated at 440 liters, and has baffles.
Other tools included in this system is the 100' hose and hose reel. Accessories like filter and tips and spray wand are also available too.
Note: We strongly recommend adding the Barrel Sealer Transfer Kit to your spray system in order to transfer sealer from drums to your tank.
Specification
| | |
| --- | --- |
| Ready To Ship | No |
| Shipping Weight | 350 lbs |
| Shipping Length | 48 |
| Shipping Width | 48 |
| Shipping Height | 60 |
| | |
| --- | --- |
| Weight - Empty | 340 lbs. |
| Weight - Full | 1340 lbs. |
| Capacity | 440 Litres |
| Tank Type | Steel With Baffles |
| Sealer Type | Oil Based Black Mac |
| Hose Length | 100 Ft 3/8 Commercial Grade Hose with Crimped Fittings |
| Engine | Honda |
| Pump | 10 GPM Albany Pump |
Customer Reviews
Top customer reviews
Customer Questions
How do I remove or clean off the sealer stain when it dried out?
It's best to always have a bucket of soap and water handy. If there are stains, try an orange based hand cleaner available at any auto parts store. Apply to the overspray and let it work in for several minutes before removing with soapy water. You may have to repeat this application several times.