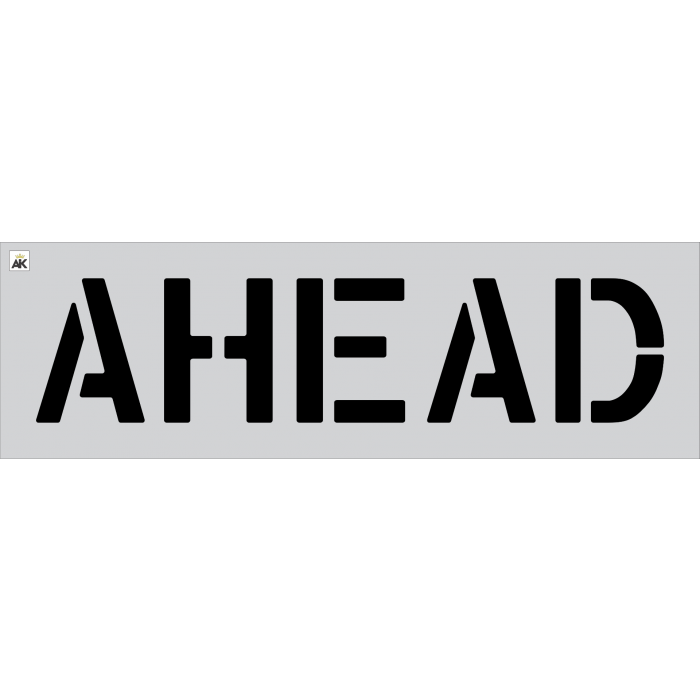 12 AHEAD Stencil

Read more
Delivered in: 5-10 Business Days
Have questions? We're here to help!

Speak to an Asphalt Expert!
Contact our Experts
The 12" AHEAD stencil is a single stencil that is commonly used by all professionals in the industry. Any serious contractor or striper will want to add this useful stencil to their collection, as it can be painted in a variety of projects. It can be used alone, or it can be paired with other industry standard signs such as "STOP", "X-ING", "LANE", "PARKING", and more. Since the stencil runs on the smaller side of industry standard sizes, it is recommended for driving lanes with a speed limit of 10mph or less. The tall lettering is elongated so that oncoming traffic can see it from a distance, and will be alerted as to what type of directions are coming up next. The stencil is made in the USA with a warranty that guarantees it to be free of any impediments or defects.

The measurements and specifications of this stencil are CNC cut for precision and accuracy, and meet all industry standards. When printed, the stencil measures 52" in width by 12" in height for easy readability. The material itself measures 58" in width by 18" in height, giving 3" of room on all sides to allow for overspray. Each letter has a stroke width of 2" when printed, to add clarity and give a bold statement.

There are four material grade options to choose from when considering the make of your stencil. The .030" HIPS is the thinnest option, and is flexible for one-time uses. The 1/16" LDPE is an industry standard that offers both flexibility and durability, and can be used infrequently or for custom projects. The ?" PRO-Grade LDPE is the most recommended option, as it offers durability, longevity, and affordability. It can be used over many years without showing any signs of wear. The most rigid material grade is the .080 ALU, an aluminum grade that is indestructible and allows for thermoplastic extruding.
Have questions? We're here to help!

Speak to an Asphalt Expert!
Contact our Experts
Specification
| | |
| --- | --- |
| Ready To Ship | Yes |
| Stencil Name | Ahead |
| Stencil Height | 12" |
| Stencil Width | 52" |
| Stencil Type | Word Stencil |
Customer Reviews
Top customer reviews
Customer Questions
are these one time use? or can they be cleaned and used multiple times?
Most contractors clean them and use them a few times. If you are rough with stencils in general, it is possible they would crack on the first go but in general that hasn't been our experience. If you're looking for something with more reusability, we can provide a heavy-duty version of these - just let us know.