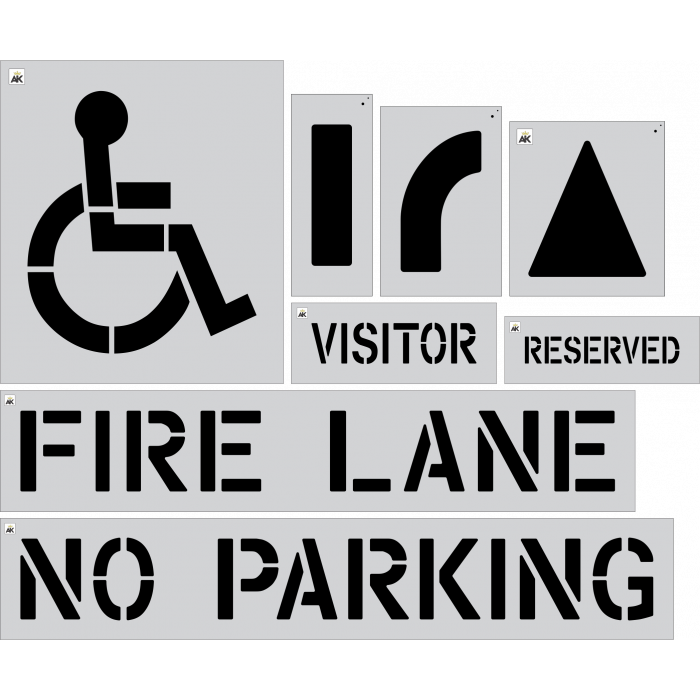 Starter kit for line striping contractors.

Read more
Kickstart Your Line Striping Business with the Starter Stencil Kit
If you're starting your own line striping or asphalt sealcoating business, this starter stencil kit is just the thing you need to get started. It covers the necessary basics with a 48" handicap stencil, which is necessary for working on parking lots. You also get a 42" arrow combo stencil, allowing you to paint curved or straight lines to direct drivers. The included word stencils also allow you to mark off special parking and no parking areas.
These durable stencils lay flat for precise painting. Constructed from professional grade LDPE, you'll be able to use these stencils over and over again.
This starter stencil kit includes:
48" Handicap
42" Arrow Combo (Straight and Curved)
12" No Parking
12" Fire Lane
6" Visitors
4" Reserved
Customer Reviews
Top customer reviews
Excellent service, fast response, and support.
Customer Questions
are these one time use? or can they be cleaned and used multiple times?
Most contractors clean them and use them a few times. If you are rough with stencils in general, it is possible they would crack on the first go but in general that hasn't been our experience. If you're looking for something with more reusability, we can provide a heavy-duty version of these - just let us know.