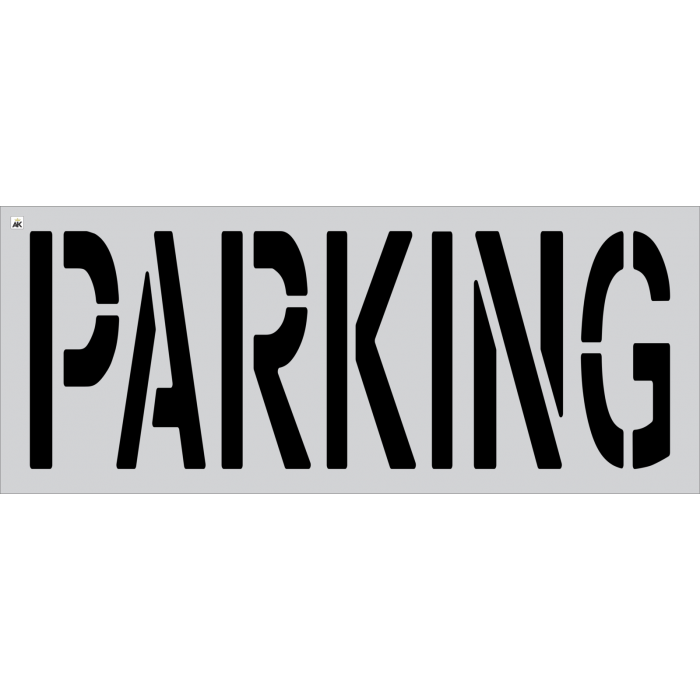 24-inch PARKING Stencil is ideal of specifying parking spots in any facility.

Read more
Whether a space is designated for handicap-accessible or regular parking, properly marking the spot is important to let drivers know which areas are allowed for parking or and which aren't. The 24" x 9" PARKING stencil is very useful for this purpose. When used with other word stencils such as "No", "Area", "Reserved", "This Way", "Valet", "Staff", "Employee," and many others, this 24-inch pavement marking pattern becomes more effective in providing additional information and traffic direction. Since "Parking" is a very flexible word stencil, it can be combined with many others to convey specific parking slots and who are what they are for.

With 3-inch overspray borders included on all sides, the 24" Parking LDPE stencil has an overall size of 30 x 96 inches, making it ideal not just for pavement markings but also for signs due to its large size. When painted using highly reflective traffic marking paint, large signs are visible even from afar.

Available in 3 different thicknesses, this 24x9-inch Parking stencil can fit any project or job you may have. For professionals and contractors, the 1/8" (.125") PRO-Grade LDPE would be highly recommended since this stencil grade is very durable and can endure multiple uses per day without showing signs of damage and deterioration. The 1/10" (.100") Light-Duty LDPE is half as thick as the Pro-Grade and slightly less expensive. This stencil variety is meant for medium to light use and will greatly benefit DIYers who do not need to use stencils daily. The thinnest option is the 1/16" (.060") Light-Duty LDPE, and is ideal for custom-fit jobs or very rare usage. Property owners and managers who only need to restripe their parking lots once or twice a year can greatly benefit from this stencil grade.
Specification
| | |
| --- | --- |
| Ready To Ship | Yes |
| Stencil Name | Parking |
| Stencil Height | 24" |
| Stencil Width | 65" |
| Stencil Type | Word Stencil |
Customer Reviews
Top customer reviews