36" EV Electric Charging Station 2-pc. Stencil Kit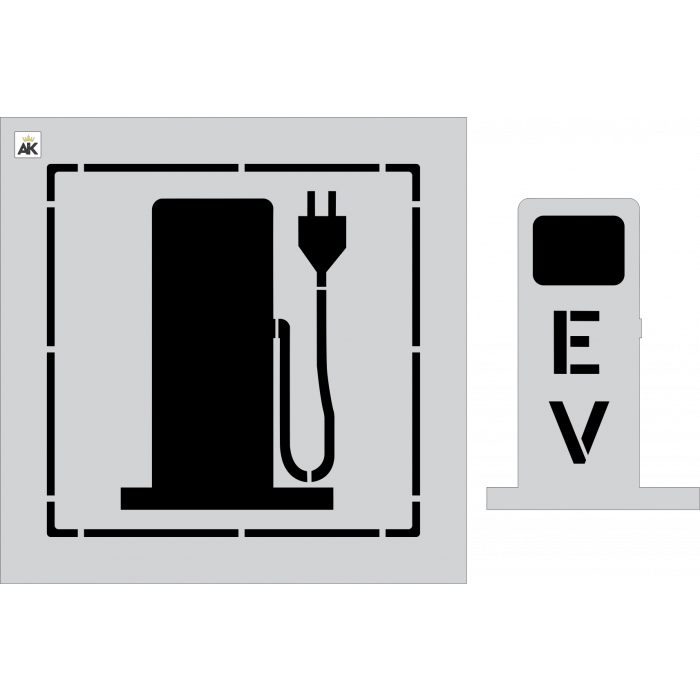 Stencil kit includes 2 reusable LDPE sheets that form the charging station icon when laid over each other.
Read more
This 36" EV Electric Charging Station 2-pc. Stencil Kit comes in handy when specifying charging stations for electric vehicles in your establishment, property, or parking lot. This stencil set allows you to mark the section(s) clearly so EV (electric vehicle) owners know that you offer such a service.
The 2-piece EV Charging Station stencil set is made from durable and flexible clear LDPE material, so painting pavement markings are more accurate and can be done faster. With an overall size of 42 x 42 inches, the stencil sheets have 3-inch overspray borders to ensure that no excess paint drops smear your output. Since LPDE is easy to clean and reusable, you will be able to use these stencils for many years, so long as proper maintenance and storage are practiced.
With 4 different thicknesses to choose from, you will surely have the stencil type to fit your job and project requirements. The .080" ALU is made from Type 5052 corrosion-resistant aluminum alloy, making it rust-proof and ideal for jobs in cold locations where there is plenty of moisture from rain and snow. For most professional contractors and line stripers, the most ideal option is the 1/8" (.125") PRO-Grade LDPE. This stencil grade is durable and tough enough to hold up against constant use without showing signs of deterioration. At half as thick as the Pro-Grade variety, the 1/10" (.100") Light-Duty LDPE is ideal if you need to use stencils a few times a month. The thinnest variant is the 1/16" (.060") Light-Duty LDPE which is ideal for infrequent or one-time use per year.
Make sure to remove dried paint on the stencil surface before storing. Not only will this help the stencil last longer, but it will also keep your work output clean and sharp every time. Caked paint on the stencil can accidentally come off while you work, and smear freshly applied paint or cause uneven finishes. Proper cleaning and maintenance is key for any stencil grade to last a long time.
Specification
| | |
| --- | --- |
| Ready To Ship | Yes |
| Stencil Name | Parking |
| Stencil Height | 36" |
| Stencil Width | 36" |
| Stencil Type | Directional Stencil |
Customer Reviews
Top customer reviews