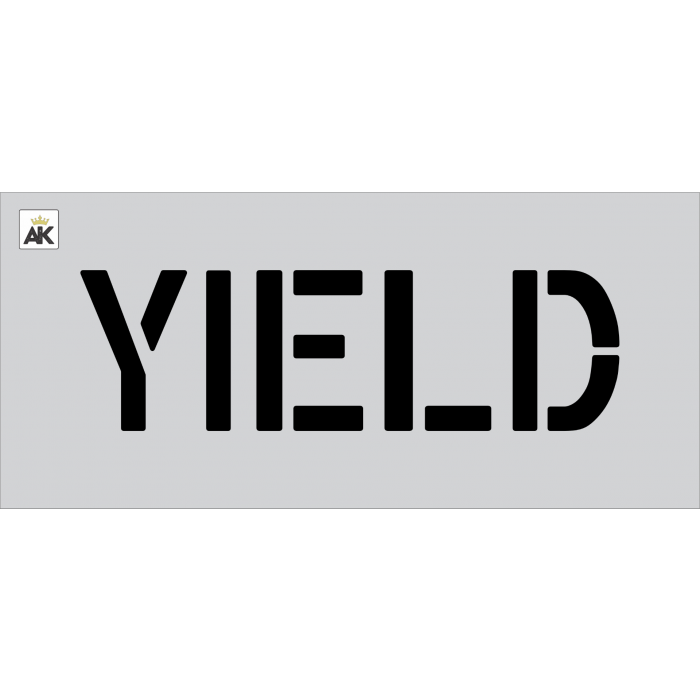 6 YIELD Stencil

Read more
For a versatile and useful stencil, invest in the 6" YIELD stencil that can be beneficial for a variety of projects. Beginners and professional stripers alike will want this stencil for their collection, as it is perfectly designed for several walking paths, bridges, pathways, and more. It is often placed in public spaces with heavy traffic, giving clear direction to passersby. It can be used in warehouses to allow walking workers or forklift drivers to follow safety directions, or it can be placed in bike lanes and crosswalks to help both drivers and pedestrians stay alert and aware on the road. It can be used alone or paired with other industry standard signs that include "TO", "TRAFFIC", "ONLY", and much more. This stencil is made in America and comes with a warranty that guarantees it to be free of any impediments or defects.

The measurements and specifications of this stencil comply with all industry requirements and are made to be placed in smaller public or workplace spaces. When painted, the stencil measures 24" in width and 6" in height for easy readability. The stencil itself measures 30" in width and 12" in height, so make sure to keep that in mind and allow yourself plenty of working room before placing the stencil. The material allows several inches of extra space on each side of the stencil to allow for overspray.

There are several material grade options available for the make of your YIELD stencil. The most common material is the ?" LDPE, which is named PRO-Grade. This is the industry standard and the most common material for this type of stencil. It is durable and rigid, allowing for thousands of uses over several years before ever showing any signs of wear or tear. A thicker option is the .080" ALU, which is a rigid aluminum with an indestructible grade. Use it over and over for heavy duty projects without ever having to worry. This material can also withstand thermoplastic extruding and preformed striping for a stencil that will last against the pavement. If you are interested in a smaller or more custom projects, the thinner grades may be more cost effective. The 1/16" LDPE and the .030" HIPS PVC materials are good for flexibility while laying flat for easy application.
Specification
| | |
| --- | --- |
| Ready To Ship | Yes |
| Stencil Name | Yield |
| Stencil Height | 6" |
| Stencil Width | 21" |
| Stencil Type | Word Stencil |
Customer Reviews
Top customer reviews
Customer Questions
are these one time use? or can they be cleaned and used multiple times?
Most contractors clean them and use them a few times. If you are rough with stencils in general, it is possible they would crack on the first go but in general that hasn't been our experience. If you're looking for something with more reusability, we can provide a heavy-duty version of these - just let us know.