84" Arrow Combo Stencil Kit 3-pc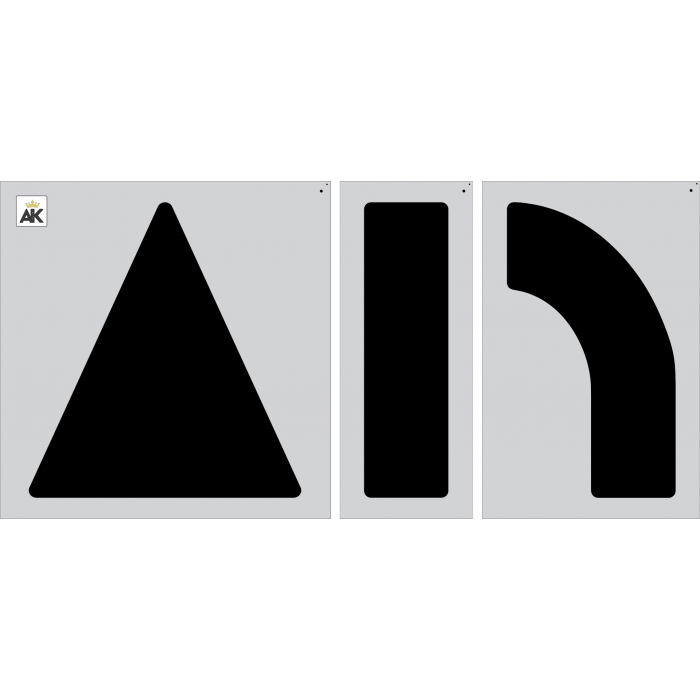 84 ARROW COMBO KIT Stencil

Read more
FREE SHIPPING
Delivered in: 5-10 Business Days
Have questions? We're here to help!

Speak to an Asphalt Expert!
Contact our Experts
The 84" arrow combo kit stencil is a large stencil kit that offers versatility and variety to any professional contractor's collection. The kit comes with three distinct pieces that include the arrow head, a curved tail, and a straight tail. Stripers can make any type of arrow they prefer, and the large specifications of the pieces can easily cover up old or smaller arrows on the road. These stencils are commonly used on streets, turn lanes, parking garages, exits, and more. Each stencil is made in America with a guarantee that it will be delivered without any defects or impediments.

The measurements and specifications of this arrow kit are on the larger side of industry standards and can be used on all public and private roads. When painted, the head measures 36" in width by 42" in height. The straight tail measures 42" wide by 16", and the curved tail measures 43" wide by 48" high. The tails have a stroke width of 16" to make a clear and bold statement against the pavement. The material itself is larger than the stencil, offering several inches of space on all sides to allow for overspray and easy placement.

Choose a stencil grade for the material of your kit. The .080 ALU will last forever, offering durability and longevity for heavy-duty use. The ?" PRO-Grade LDPE is an industry standard, offering durability and affordability. You can reuse the stencil thousands of times and over several years before it needs replacement. The 1/16" LDPE is a lighter-duty version of the PRO-Grade LDPE, offering flexibility without sacrificing durability. This is good for smaller projects or sparing uses of the stencils. The .030" HIPS is an ultra thin PVC material grade that lays flat out of the box and offers flexibility for custom or single-use projects.
Have questions? We're here to help!

Speak to an Asphalt Expert!
Contact our Experts
Customer Reviews
Top customer reviews
Customer Questions
are these one time use? or can they be cleaned and used multiple times?
Most contractors clean them and use them a few times. If you are rough with stencils in general, it is possible they would crack on the first go but in general that hasn't been our experience. If you're looking for something with more reusability, we can provide a heavy-duty version of these - just let us know.