Billy Goat Force 10 Wheeled Blower - F1002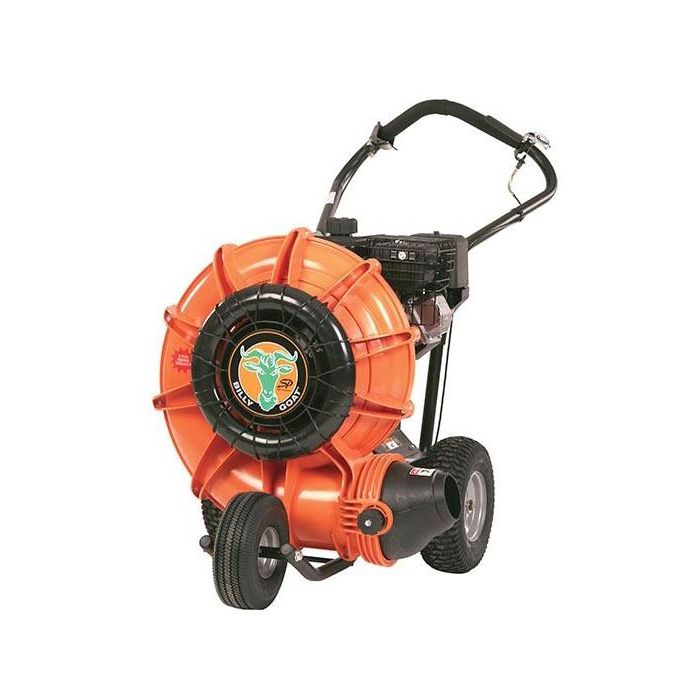 This product is not in stock in USA. If you'd like a quote on getting it delivered to you, please fill out your information.
Get up to 30% more jobs done using this powerful Billy Goat Force 10 Blower and increase your profit margin exponentially! Call (855) 554-4386 to order!
Read more
The Billy Goat Force 10 Blower is designed for medium-sized maintenance contractors and property owners who want superior cleaning power in their blowers. Equipped with a 305cc Vanguard engine by Briggs and Stratton, this F10 blower will surely have you zipping through up to 30% more projects!
Smooth, rounded housing doesn't rust or dent while ensuring a smooth and quiet yet powerful airflow. Patented Aim N Shoot™ nozzle allows you to direct airflow where you need it. The nozzle has 3 aiming positions that can be adjusted using the lever on the right section of the handlebar and locked into place by the locking pin.
This blower's advanced technology boasts of a single-shot 16-bladed closed-face fan that has twice as many blades compared to that of competitors in the market. With an air velocity of just under 200 mph (322 kph), you will be able to easily take care of stubborn debris or wet vegetation that refuse to budge!
The F10 Blower is equipped with 3 sturdy pneumatic tires that easily absorb unevenness in the terrain, allowing for smoother operation with less bumping and shaking. Pneumatic tires have thicker treads, which provide better traction over loose and uneven surfaces, so you are assured that your blower wouldn't wobble even when going over rutted or cracked pavement surfaces.
Fitted with a rubber forward discharge that installs in a snap, the Force 10 blower becomes the ideal equipment for cleaning along walls and fences. Compared to backpack-type and steel blowers, the F10 operates quietly, which is a welcome relief for both operators and other persons in the job site.
Choose the Force 10 model type that best suits your job requirements:
Model F1002V is the standard push version of the Force 10 blower and weighs only at 143 lbs. (65 kg.).
Model F1002SPV weighs 164 lbs. (75 kg.) and features an additional control lever that allows you to set the machine to a self-propelled mode so you don't have to manually push the blower when in use.
Specification
| | |
| --- | --- |
| Ready To Ship | Yes |
| Shipping Weight | 153 |
| Shipping Length | 58 |
| Shipping Width | 29.25 |
| Shipping Height | 45 |
Velocity (mph): Just under 200
Fan Material: 17 16-blade Single Shot Composite
Discharge (in): 4
Displacement (cc): 305
Weight (lbs): 143 (Model F1002V); 164 (Model F1002SPV)
Length (in.): 58
Width (in.): 29.25
Height (in.): 32 (housing), 45 (handle)
Front Tire Size (in.): 10 x 3
Front Tire Style: Pneumatic
Rear Tire Size (in.): 13 x 5
Rear Tire Type: Pneumatic
Customer Reviews
Top customer reviews
Billy Goat Force 10 Wheeled Blower

The Billy Goat Force 10 Blower from Asphalt Kingdom is an essential part of the productivity for our business. It's tremendous for clearing debris on both both mid to large sized driveways and absolutely necessary for commercial parking lots.
Love this new toy! Gets the job done better than any hand held blower.