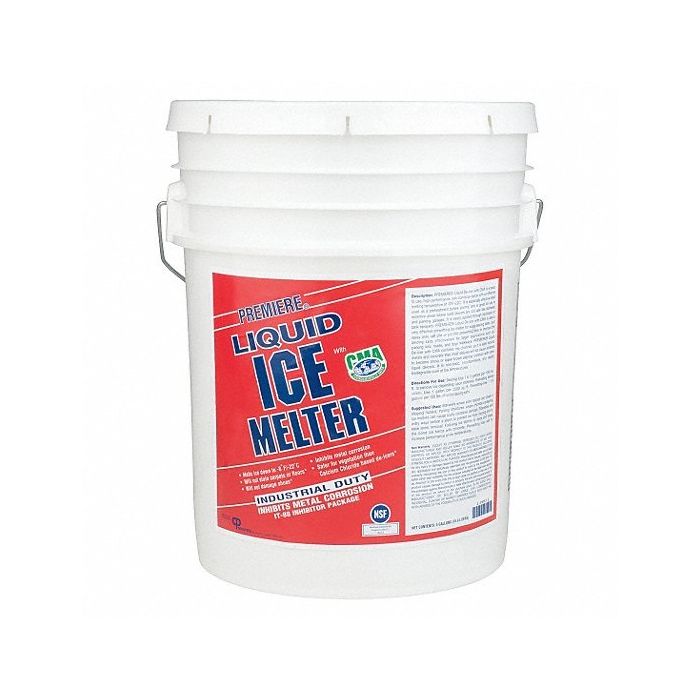 This ice melting liquid allows you to melt ice, reduce snow accumulation, and prevent surfaces from icing over. Available in 5-gallon buckets.
Read more
FREE SHIPPING
Delivered in: 5-10 Business Days
Have questions? We're here to help!

Speak to an Asphalt Expert!
Contact our Experts
Getting rid of snow on your client's asphalt driveway? Or maybe you're a homeowner who wants to make sure your sidewalk is snow-free in time for the holidays when family members are visiting? Then check out the Liquid Ice Melter.
Available in 5-gallon buckets
Non-corrosive — ideal for use on asphalt parking lots and driveways
Can be used on concrete sidewalks and entryways
Hassle-free application — just use a garden pump sprayer and you're good to go
Can be applied using a tractor or truck-mounted de-icing sprayer
Doesn't damage shoes, carpets, and other floorings
This ice melter contains sodium acetate and potassium acetate — two compounds commonly used to deice airport runways and other pavements. These are organic compounds and are non-hazardous chemicals that meet OSHA standards.
The Liquid Ice Melter gets rid of ice quicker than urea and chloride-based melters. This makes it ideal for contractors who have a lot of properties to service, as well as busy homeowners who want to get it over with quickly. Even better, it works its magic long after it is applied as it prevents ice from forming again for longer.
Unlike other ice melters, it doesn't emit a noxious odor. Plus, this non-chloride-based deicer is plant-friendly and non-corrosive to asphalt, concrete, and metal.
Working in freezing weather? No worries! This ice melter can be used down to -20°F (-29°C). Use it in stairs, sidewalks, concrete driveways, and best of all, asphalt pavements. Apart from melting ice from the get-go, it can also be used before a snowstorm to prevent ice from forming on the pavement.
How To Use The Liquid Ice Melter?
Deicing - Use 1 to 3 gallons per 1000 sq ft to remove ice depending upon thickness.
Pre-treating before storms – Use 1 gallon per 2000 sq ft
Pre-wetting – Use 1 ¼ gallons per l00 lbs of solid deicing salts
Have questions? We're here to help!

Speak to an Asphalt Expert!
Contact our Experts
Customer Reviews
Top customer reviews